Return to blog
A Beginner's Guide To Stand Up Paddle Board Surfing
Posted by Luke Green
Stand up paddle board surfing is a variation on traditional surfing that involves pretty much exactly what it says on the tin… That's riding waves on a stand up paddle board, whilst using a paddle to propel yourself through the water. The benefit of stand up paddle board surfing is that you get the thrill of catching waves with the added advantage of a paddle to help you balance and power through the water plus you are already stood up which can be a barrier when starting to surf. Tempted to give it a go? These are the key factors to consider as you get started:
Assess Your Experience Level
Paddling in wavy or choppy water is inevitably more challenging than paddling in flat water conditions, and so we would only recommend stand up paddle board surfing for experienced paddlers. You need to be confident enough to have full control of the board in less than ideal conditions, as your balance and strength will be tested more than usual by the waves. When you first start stand up paddle board surfing, you should make sure to get plenty of practice in small waves (go for white water first) before launching into bigger waves.
Choose The Right Board…
While it's possible to surf on pretty much any board. If you are looking for good performance in the waves, you'll need a board that's shorter than your regular all-round SUP, with a narrower nose and tail. This makes it easier to manoeuvre in the surf. Red Paddle Co's 8'10" Whip MSL Inflatable Paddle Board features a lightweight yet durable design that's specifically designed for the surf. An embossed deck pad enhances grip whilst a removable, adjustable fin made by the world's leading surfboard fin creators FCS, offers maximum stability and manoeuvrability. That's not the only reason this is the best inflatable stand up paddle board for surfing. A rounded nose helps you get through white water with ease, and the board fits easily into a backpack so you can surf in the best locations in the world!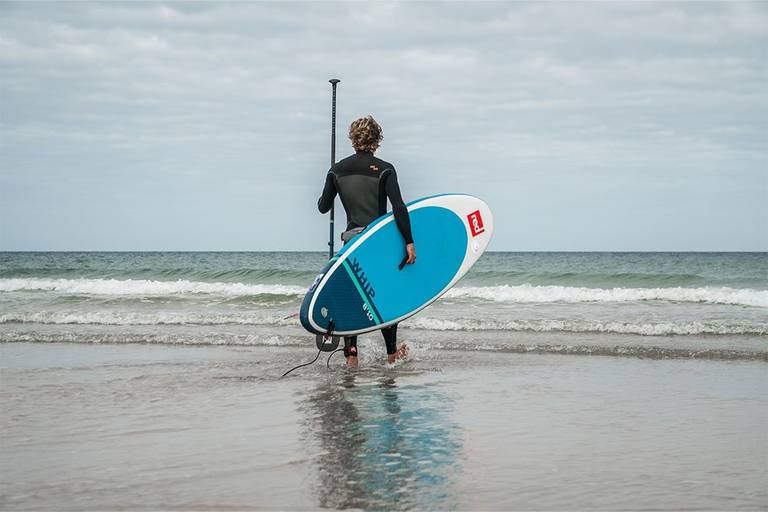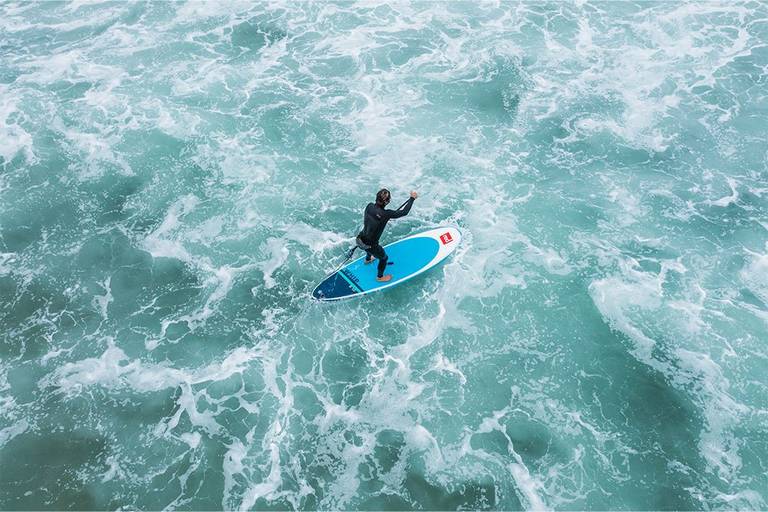 …And The Right Paddle
As a general rule of thumb, SUP surfing paddles should be a lot shorter and more lightweight than a touring paddle. This gives you greater control, allowing you to paddle more quickly and adjust your position for turns etc. If you purchase the Red Paddle Co Whip Inflatable SUP as part of a package, you'll be given guidance on selecting the best paddle to suit your individual requirements. Both our Hybrid and Prime Paddles are lightweight, giving you flexibility and allowing you to paddle faster, with more power.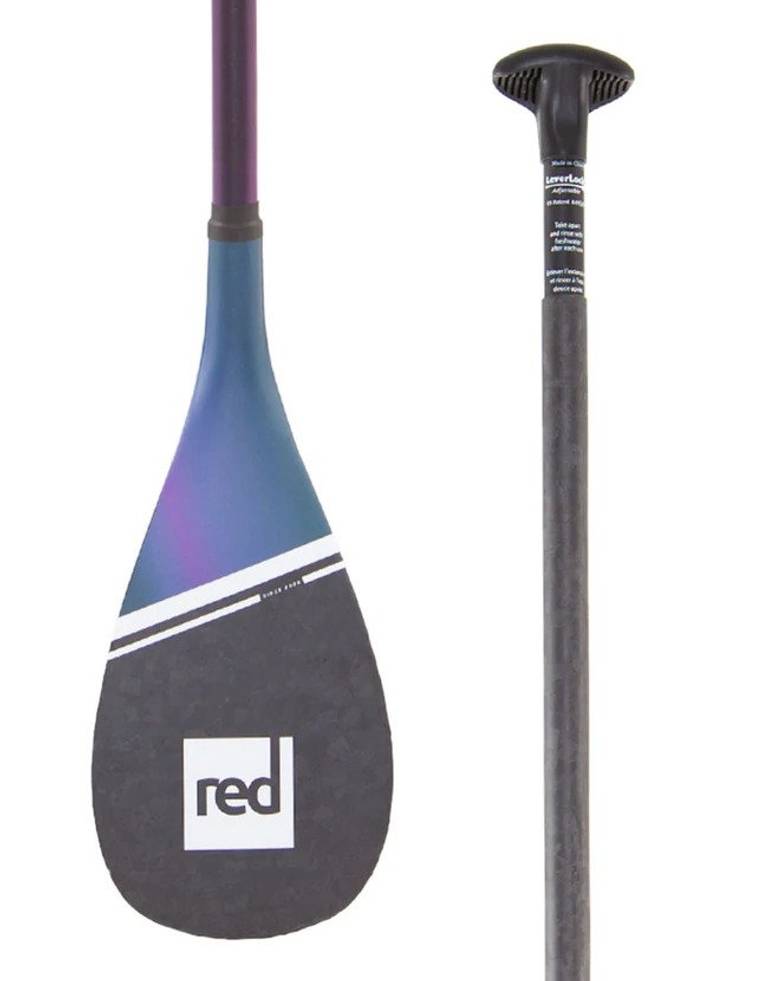 Get The Necessary Safety Gear
Safety should always be a top priority when stand up paddle board surfing, and so make sure you have the following items of safety gear:
Straight Surf Leash
A leash is an essential piece of safety equipment for any type of paddle boarding, and SUP surfing is no exception to this. The leash is the only thing connecting yourself and the board if you end up in the water, providing you with a float or enabling you to detach yourself quickly from the board in the event of an emergency. For stand up paddle board surfing you need a Straight Ankle Surf Leash rather than a coiled leash. A straight leash is used for surfing as it is less likely to get tangled when paddling through waves and will avoid the board being recoiled to you like a coiled leash. Surf leashes are also slightly longer in length. This is to keep the board away from you if you do fall in, in order to prevent it from hitting you.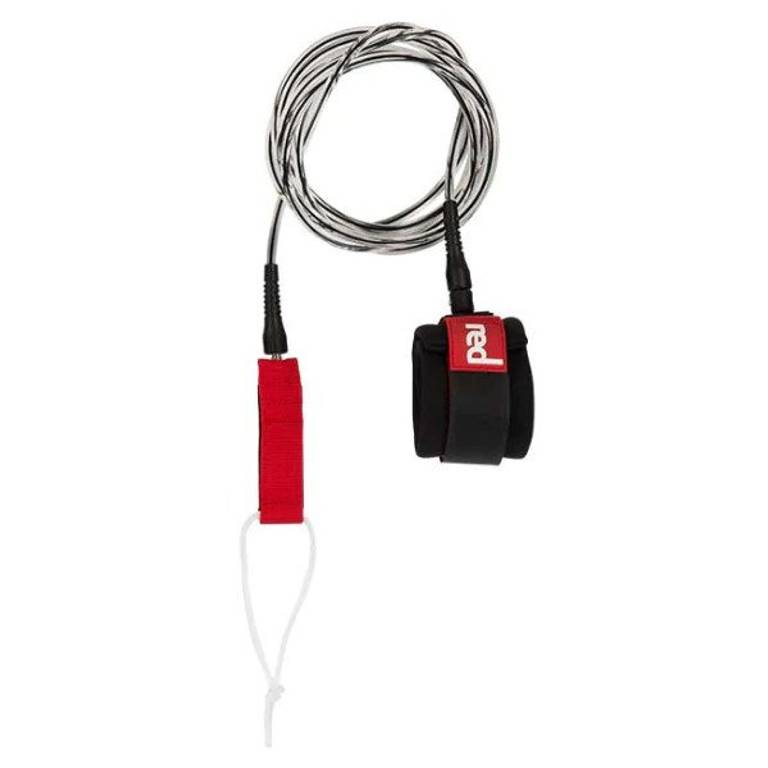 Personal Flotation Device (PFD) - Optional
Depending on your experience level and confidence in moving water. You may want to wear a 50N buoyancy aid when learning how to stand up paddle surf. Even if you are an experienced paddle boarder, the surf presents its own set of challenges and hazards, meaning it's always best to air on the side of caution to begin with. Once you progress and are more confident in the waves you can look at riding without for improved range of motion.
Wear The Right Clothing
The best clothing to wear for paddle board surfing will depend on when you're planning on surfing. In the autumn/winter, we would always advise wearing a full-length wetsuit with gloves and neoprene boots and even a neoprene hood. When learning the basics of paddle board surfing there's a high chance you'll end up in the water, and so you want to make sure you're keeping your body warm. During the warmer spring and summer months you may prefer a thinner summer wetsuit or shorty or if the weather is really warm then we'd recommend wearing board shorts with a lightweight Performance T-Shirt that will dry quickly in the event that you do end up in the drink!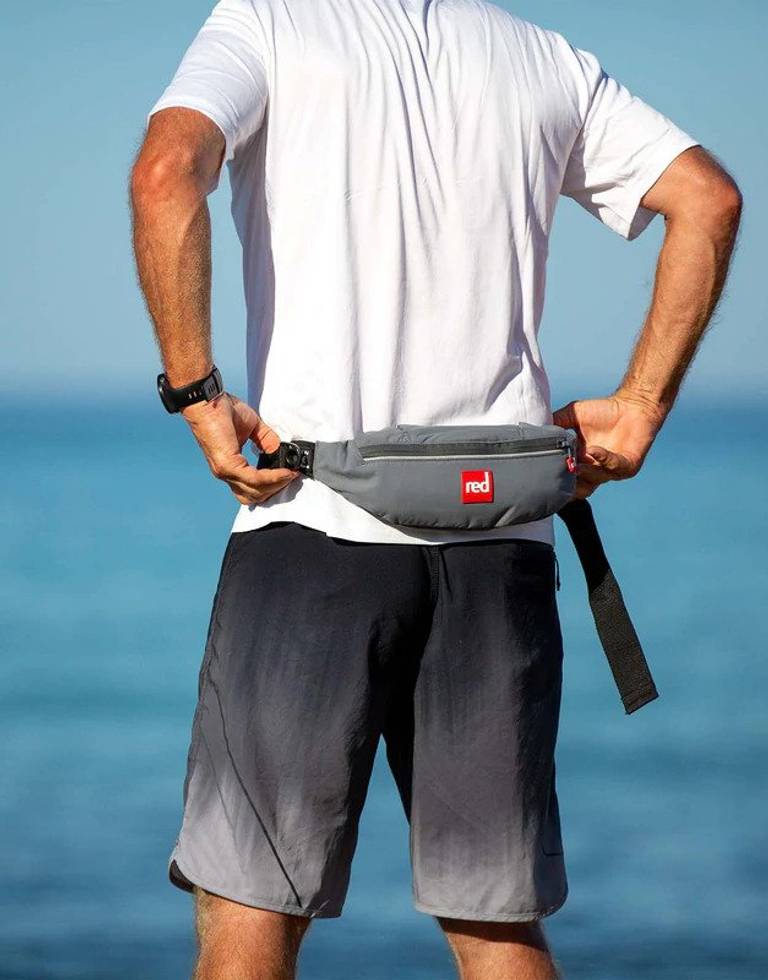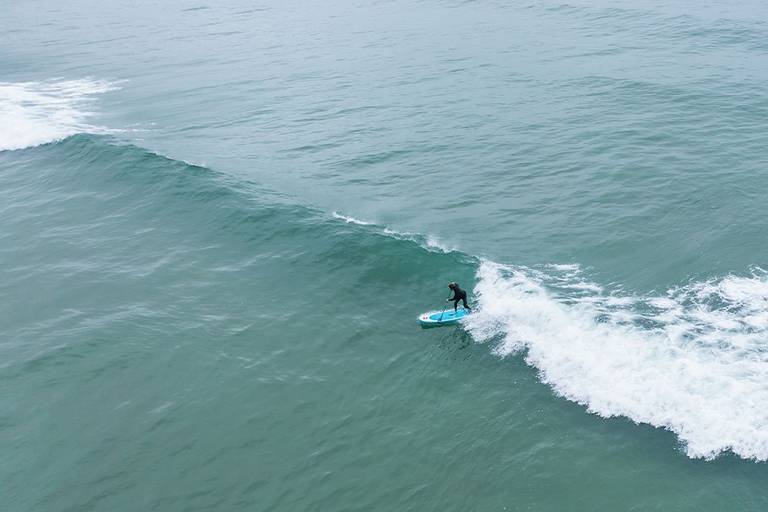 Consider Location
If you're new to stand up paddle board surfing then you'll want to start in small waves that are only a foot or so tall. This will give you the opportunity to build up your skills under safe conditions. Look for beaches with sandy bottoms and plenty of space away from other surfers and swimmers. You also want to avoid beaches that are rocky or experience high offshore wind. The safest way to start stand up paddle board surfing is to take a few lessons to learn the basics of where to surf safely, and build your technique before branching out on your own.
Learn Your Technique
As we mentioned previously, the safest way to learn stand up paddle board surfing is to take lessons. Through this, you'll learn all the best techniques for getting out into the water, paddling through whitewater, positioning yourself for waves and standing up on the board. Once you've been taught the basics, it will be alot easier to practise on your own and become a confident and safe SUP surfer.