Return to blog
6 Great Places To Paddle Board In The UK For Beginners
Nature
Outdoor
Paddle Boarding
Posted by Luke Green
WE SHARE THE BEST BEGINNER LOCATIONS FOR PADDLE BOARDING IN THE UK
Paddle boarding is quickly becoming the hottest water activity to try in 2020, which means that there are lots of beginners willing to give it their all and start a new hobby. However, there are much better places than others to start paddle boarding in the UK. Here are our top 6 places to paddleboard in the UK for beginners.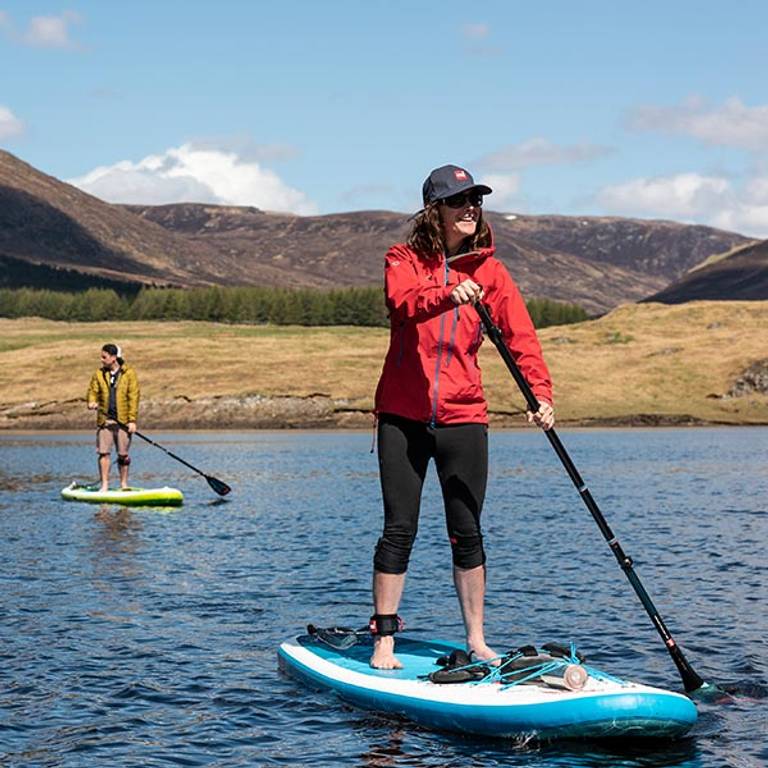 Cuckmere Haven, East Sussex
Cuckmere Haven (also known as the Cuckmere Estuary) is an area of floodplains in Sussex, England where the river Cuckmere meets the English Channel. This is a perfect place for beginners to start as this is a flat, lazy river is perfect for a chilled-out paddle watching the many birds that nest close to the river.
You can also enjoy the beautiful scenery that Cuckmere Haven has to offer. The Seven Sisters cliffs that are nearby and also at low tide you may see the breath-taking wreck of the Polynesia.
Black Rock Sands, Gwynedd
Black Rock Sands in Gwynedd is the perfect place to paddleboard, especially for beginners. You can peacefully paddle around the shores, and take your time to learn the ropes of the sport. Paddleboarders can also find a spot to pull over and explore this enchanting attraction or admire its beauty from a distance with a pit stop at Ynys Gifftan island further downriver, before looping back towards Black Rock Sands.
River Cam, Cambridge
The River Cam offers a peaceful and calm paddle past some beautiful sites, offering stop-off opportunities at cafes along the way. The River Cam is the main river flowing through Cambridge in eastern England and flows for 40 miles from Cambridge to the sea. You can paddle by the beautiful Colleges of Cambridge, past Magdalene, St Johns and Trinity, as well as King's, Queens and St Catharines College.
Ullstwater, The Lake District
The Lake Districts Ullswater is both flat and calm, ensuring it is the perfect paddle for those who may not yet have the skills that are needed to deal with choppy waters. This lake is perfect for people who like a relaxed paddle downwind. There is also more than enough room to paddle, as this lake is nine miles long and 0.75 miles wide, making it the second-largest lake in the English Lake District! The lake is long and thin and has been described as a 'Ribbon Lake", it has also been compared to Lake Lucerne in Switzerland. So, if you are having a whole day Paddleboarding you'll need to bring a picnic.
Woolacombe Sands, Devon
One of North Devon's best-loved hangouts, Woolacombe is a beast of a beach with miles of uninterrupted golden sand and is a favourite with surfers, paddle boarders and families. Woolacombe Sands is not only a great location for beginners to start stand up paddleboarding, but it also provides SUP lessons on the beach so you can listen to the experts to help you brush up on your technique and also enjoy the views!
Penzance, Cornwall
Penzance, Cornwall, is a great place for beginners to start a paddle. Glide over glass-clear waters of Mount's Bay heading toward St Michael's Mount, keeping an eye out for sea life on the way. Jellyfish and starfish are among the most common species to inhabit the shores, as well as the occasional seal bobbing in the waves, while dolphins and basking sharks are known to show their fins further afield during summer through to autumn. Be sure to approach St Michael's Mount to the south end, avoiding any possible collision with the walkway that connects it to the mainland at low tide, before circling back to shor