Return to blog
Choosing The Right Outdoor Changing Robe
Outdoor
Products
Red Original
Posted by Ross Montandon
A new kid on the block, the changing robe is a welcomed addition to the kit list for any outdoor enthusiast. With many options available, from the cheaper scraggy towels that don't last a season all the way up to the Red Original Pro Change Robe, which can handle years of rigourous outdoor use.
We thought we'd help you decide which would work best for you, comparing the many features of our Luxury Towelling Robe and the Pro Change Robe! So let's get straight to it!
What Activity? Surfing, Paddle Boarding, Swimming Or Walking
Changing robe wearers were once laughed at for a Yoda look a-like at your local beach, but those early adopters stood their ground and have since convinced many outdoor lovers of their benefits. Jump ahead to 2019 and changing robes are now part of the landscape at any beach or wild swimming event, due in no small part to the convenience and comfort they provide.
Nowadays the changing robe is a go-to item and for most of us at Red Original, it's one that we always try to keep close to hand. Whether it's a muddy walk gone wrong or you want something to throw on to stay warm during your kid's football game, changing robes are amongst the most useful and versatile watersport accessories.
No matter what activity you enjoy, changing robes and jackets are now overtaking the use of towels. Here at Red Original, we've got two options that are ideal to take care of anyone's changing woes. Both the Pro Change Robe and the Luxury Towelling Robe are ideal for getting changed in while staying warm and preserving your modesty, however, there are some qualities that you may prefer between each.
Red Original Luxury Towelling Robe
Available in Men's, Women's, and Kid's sizes, the Luxury Towelling Robe is the lightweight option of our two changing robes. The comfortable throw-over-the-head robe is a snuggly, easy-to-wash robe that packs down and can be easily stored in a deck bag or the like. This makes them perfect for situations where space is tight or you're looking for something that can be thrown in the car as a just in case item.
Unlike many other towelling robes, our pre-washed fabric is ready to go with super-soft moisture wicking fibres for quick and easy drying making it a great option for taking the kids swimming or days at the beach during the summer. The deep pockets and drawstring on the hood provide an ample opportunity to bunk on down in the warmth or even snuggle up with a movie on a lazy Saturday evening.
Luxury Towelling Robe Size Guide
Unlike conventional sizing, the size of the Luxury Towelling Robes is based on height and not chest. Don't worry though; they are designed to provide plenty of room to get changed with ease without the base of the robe trailing.
Small / Kids: Recommended for 4"- 5'1" (122cm - 155cm)
Medium: Recommended for 5'1"-5'10" (155cm - 178cm)
Large: Recommended for 5'11" - 6'5
Red Original Pro Change Robe
The heavy hitter of the two, this mothership packs a punch when it comes to features. Unlike its little brother, the Pro Change Robe has a waterproof outer shell making it perfect for those long rainy days at the sports field. This combined with a waterproof pocket for valuables and deep fleece-lined pockets for keeping wearer's hands warm makes the Pro Change robe the perfect all-weather accessory for watersport enthusiasts and outdoor adventurers alike.
The tough outer shell and moisture-wicking liner help to draw water away from the body whilst insulating it against extreme temperatures. What's more, the 4-way zip and button wind baffle prevents the wind from ripping in on those really wild days, along with the fur-lined hood to really nestle on down.
Pro Change Robe Size Guide
Medium: Recommended for 5'3"-5'10" (155cm - 178cm)
Large: Recommended for 5'11" - 6'5" (179cm - 195cm)
Choosing your Changing Robe
So what to choose? The Luxury Towelling Robe is the fast and light choice. Its towelling fabric excels at drying the body, which is perfect for a day at the beach or open water swim. Its baggy style allows you to get changed easily and get warm and dry quickly, making it the ideal solution for those who want to get changed and dry as fast as possible.
The Pro Change Robe offers the same function of drying you and getting changed, with the added bonus of the waterproof outer layer, deep fur-lined pockets and a 4-way zip. While the Luxury Towelling Robe can be used to quickly get changed, the insulating properties of the Pro Change Robe are second to none. This makes it an ideal choice for those looking to camp out in the wet and wind. Whether you're at a sports game or wearing a damp wetsuit waiting for the surf to pick up, the Pro Change Racket is much more than just a changing jacket.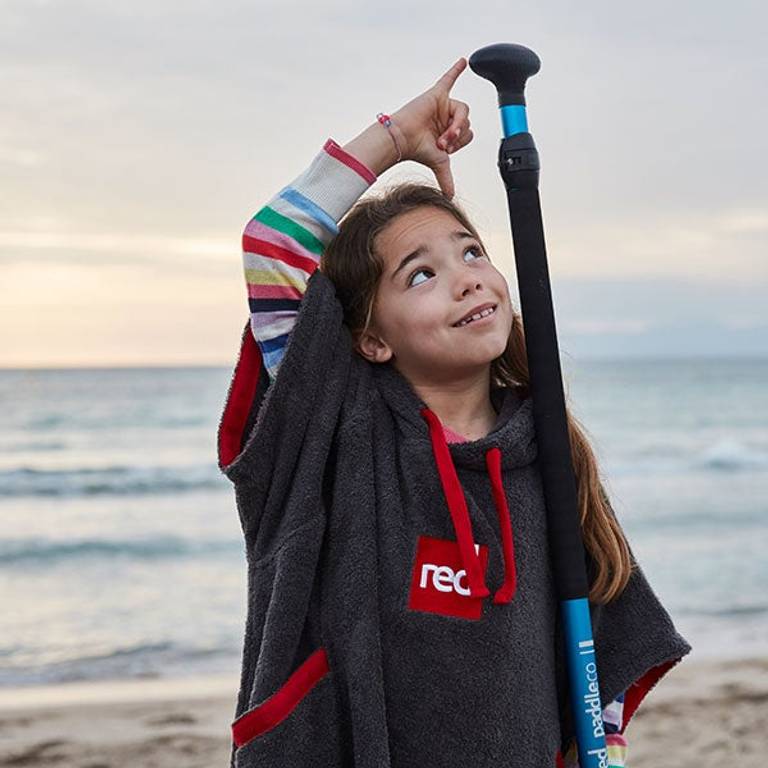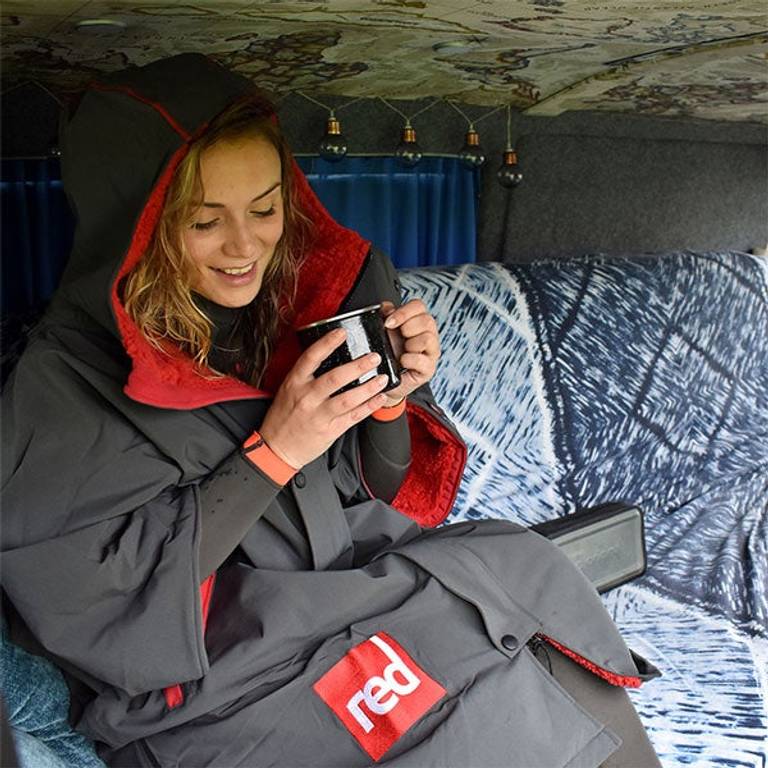 How Does It Compare To Its Competitors?
There are plenty of other brands out there to choose from, so what is it about the Red Original Pro Change Robe that makes it stand out? Well, like all of our products, it's designed from the ground up with comfort and functionality in mind. It's 9% lighter than its competitors and it actually packs down into our 10-litre Roll Top Dry Bag, which is incredibly handy. We've also added a front baffle windshield that sits over the zip, which protects against heavy winds. We've also avoided the uncomfortable zips on pockets that can be found on other jackets, which scratch your wrists whilst you're trying to keep your hands warm. Stretch panels on the side make changing easier by allowing you to move more and the additional length at the back of the robe keeps your modesty protected whilst getting changed. Oh! and we've thrown in a waterproof chest pocket for your essentials, because we didn't want to have to open the jacket every time we needed our car keys or phone.
Get Changed in Comfort
So whether your sailing, surfing, dog walking, swimming, or mountain biking, getting changed has never been easier and more comfortable. If you've got any questions about any of our range, feel free to get in touch and we'll point you in the right direction.