Return to blog
How Long Do Inflatable Paddle Boards Last?
Posted by Luke Green
If you're thinking of investing in a new paddle board then one of the questions you may have is "how long do inflatable paddle boards last?". When talking about Red Paddle Co inflatable SUPs the answer is easy. All our 2022 boards come with a 5 year warranty that's activated when you register your board. So if we're referring to a Red SUP, the answer to the question "how long do inflatable paddle boards last" is of course 5 years, as a minimum. Whilst this is a straightforward answer for us, there are two main factors that will influence the lifespan of an inflatable paddle board. In order to help you get the most out of your inflatable SUP, let's take a look at what these factors involve.
Technology & Materials
One of the main factors influencing "how long do inflatable paddle boards last" is the technology and materials that are used to make the board. This has a huge impact on its longevity and durability. When it comes to making the most durable paddle boards we know that the devil is in the detail. That's why every single one of our inflatable SUPs take 72 hours to manufacture using our exclusive MSL technology and TecAir manufacturing process.
MSL is recognised as the industry's leading construction process and is exclusive to Red Paddle Co. Unlike mass produced boards that use weak linear drop stitch that cannot hold high pressure, we exclusively use high density drop stitch for a stronger and stiffer core. Our attention to detail on the inside of the board is matched by our detailed work on the outside of the board. We coat the thread structure in a layer of adhesive that has been specially formulated to create both a seal and a bonding layer. Next, we machine laminate a high-density PVC to the adhesive layer before applying our world class fin system. We choose to use moulded fins so that users don't require any tools or spares and to ensure they are ultra durable. Before we release any of our SUPs into the world, we put them through extensive quality control checks. (We've even driven over our boards with a 22 tonne digger and they survived!). When asking the question "how long do inflatable paddle boards last", as you can see, the materials and process used to create the board plays a huge role.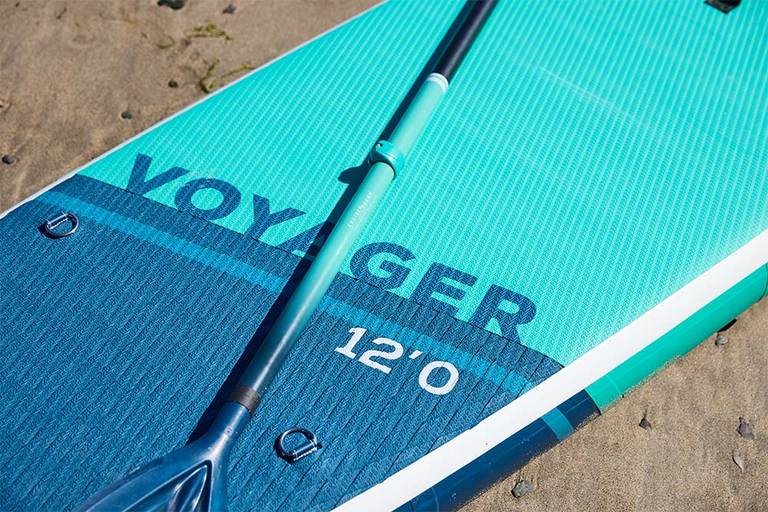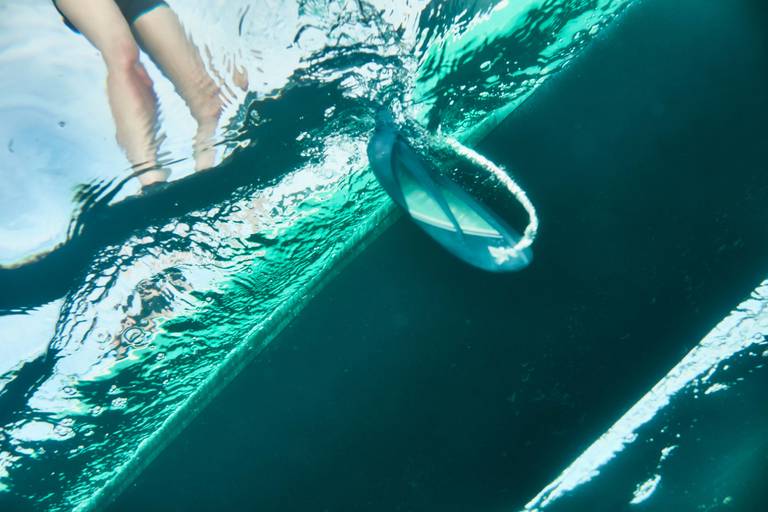 Maintenance & Care
The next factor that plays a hugely significant role in answering the question "how long do inflatable paddle boards last" is maintenance and care. You've probably already guessed that the better you look after your SUP, the more use you will get out of it. Why? By maintaining your SUP correctly, you're preventing it from damage and enhancing the innovative technology features that were implemented during construction. These are just a few of our top tips for maintaining your Red Paddle Co board:
Rinse your SUP with fresh water before packing it away to remove any grime that could cause scratching or decay. Make sure to pay extra attention to the area around the valve and fins where it's easy for dirt to build up.
We don't advise cleaning your SUP with soap every time you use it, however if your board gets stained or is going to be stored away for an extended period of time, we'd recommend cleaning it with a non-abrasive soap, making sure to scrub gently in order to avoid scratching the surface of the board.Once you've finished cleaning, remember to rinse your inflatable paddle board thoroughly in order to remove any soap residue.
When thinking about "how long do inflatable paddle boards last" one of the key factors involved in good maintenance is storage technique. Always ensure the board is completely dry before storing, and choose a location that isn't in direct sunlight and that isn't extremely hot or extremely cold. The safest way to store your SUP is in our ATB Transformer Board Bag that keeps it protected whilst enabling you to store your board and paddles all in one place.
Avoid leaving your SUP inflated all the time. Whilst it's okay to leave your SUP inflated, to ensure that you prolong the life of your board we would recommend deflating or at least removing the majority of the pressure. This relieves pressure on the material, preventing the risk of punctures.
If you have any further questions concerning "how long do inflatable paddle boards last", or would like further guidance on maintenance, please don't hesitate to get in touch with the team.