Return to blog
How To Avoid Sunburn While Swimming
Posted by Alex Clasper
People often wonder "can you get sunburned in the water?".When swimming it's all too easy to forget that our skin is still being exposed to the sun's harmful UV rays. However, the water offers minimal protection from UV. In fact, it's estimated that approximately 40% of UV radiation can still reach the body, almost half a metre below the water. In addition to this, the sun's rays are even stronger when reflected off the water. So how can you protect yourself from the harmful effects of UV exposure when in the water? Sunscreen is key, but that's not the only thing. Find out how to avoid sunburn while swimming with these top tips:
Apply Sunscreen
It might seem pretty obvious, however the importance of using sunscreen can't be stressed enough when discussing how to avoid sunburn while swimming. Make sure to apply plenty of sunscreen to your entire body 20 minutes before going outside or swimming, so that it has time to soak in. Ensure you're using a water-resistant sunscreen and are re-applying regularly. Check the packaging to see how often you should re-apply when in water. Most sunscreens will need to be reapplied approximately every hour.
Wear Protective Clothing
Wearing UV-resistant clothing will provide you with an extra layer of protection, on top of your sunscreen. Made from lightweight, moisture wicking material, the Red Original Performance T-Shirt has the highest rating of protection from UV radiation - 50+ UPF. Ideal for throwing on before you head in the water, the T-Shirt will provide that extra level of protection for your shoulders and back, and the Dri-Release™ fabric used means the material will not cling to skin when wet. For kids, a UV swimsuit with long sleeves is important for keeping them protected from the sun while they're swimming. Knowing how to avoid sunburn while swimming is particularly important for little ones whose skin is more sensitive to the sun's rays.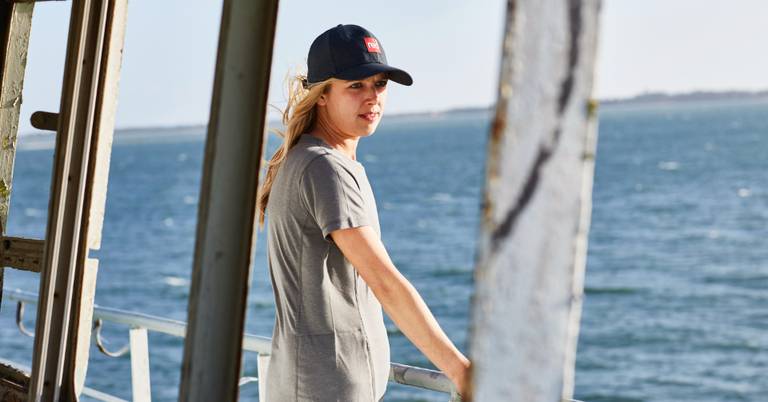 Wear A Hat
It's important not to neglect your head when thinking about how to avoid sunburn while swimming. If you're planning on putting your head under the water then wearing a swimming cap will help to keep your scalp protected as you swim. If you're not planning on getting your hair wet, then a sports cap will do the job in providing coverage for your head, face and neck. Red's fast drying Paddle Cap is ultra-lightweight and moisture wicking meaning it will dry off quickly if dropped in the water. Perfect for throwing on before a swim, invisible ventilation prevents overheating whilst the sleek cap helps to protect your eyes and face from the sun's rays.
Cover Up While Drying Off
Once you're out of the water, make sure you're keeping your skin protected as you dry off.Knowing how to protect your skin when you leave the water is just as important as knowing how to avoid sunburn while swimming. Towels can remove sunscreen and so it's best to keep your skin covered as you're drying off, before you can reapply more sunscreen. The Red Original Microfibre Changing Robe for men, women or kids is perfect for keeping you covered, without overheating. Made from 200gsm premium suede microfibre that's soft and gentle on skin even when wet, this lightweight changing robe absorbs 4 times its weight in water and offers effortless changing at the beach or by the waterside. Helping to keep the sun off your skin, whilst helping you dry off quickly, this is a really practical piece of kit for staying sunsafe around the water.