Return to blog
How To Choose The Right Surfboard Leg Rope For You
Posted by Alex Clasper
A surfboard leg rope is an essential piece of equipment for keeping you and fellow surfers safe when you're riding the waves. A simple but incredibly effective piece of kit, the leg rope is what prevents your board from floating off in the surf when you come off it. This prevents nasty accidents caused by your board hitting either yourself or other water users. Keeping you attached to your board, this also ensures you'll have a float to hold onto in the event of emergencies.
So, we've established that a surfboard leg rope is most definitely something that you can't go without. The next big question is, how do you choose the right one for your requirements?
Coiled Vs Straight
There are two distinct types of leg rope that you'll see used in water sports - coiled or straight. Coiled leg ropes are used for paddle boarding in flat water conditions (the coil prevents drag in the water and ensures that the paddle board does not drift too far away). For any kind of surfing, including stand up paddle board surfing, you'll need a straight leg rope. The reason that leg ropes for surfboards are straight is because this ensures that the board is kept farther away from you if you fall off, so that it's less likely to bounce back on you in rough conditions.
Length
Another key factor to consider when choosing the correct surfboard leg rope is length. Choosing the right length will ensure that the board remains at a safe distance away from you if you fall off - not too far away that it becomes more dangerous for others or could get tangled in rocks, but not so short that it restricts your movement or may ping back at you with force.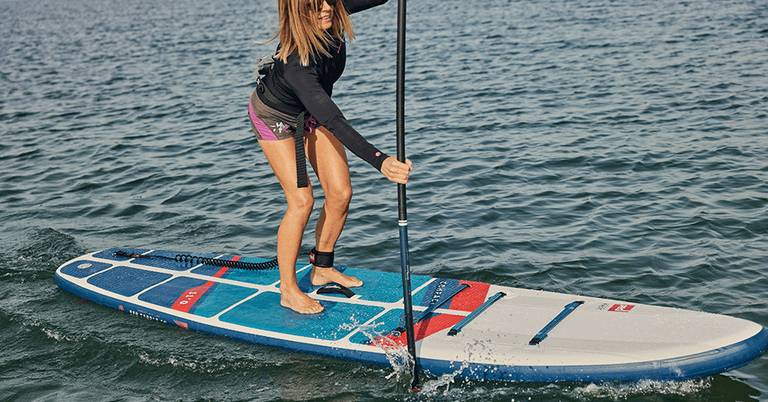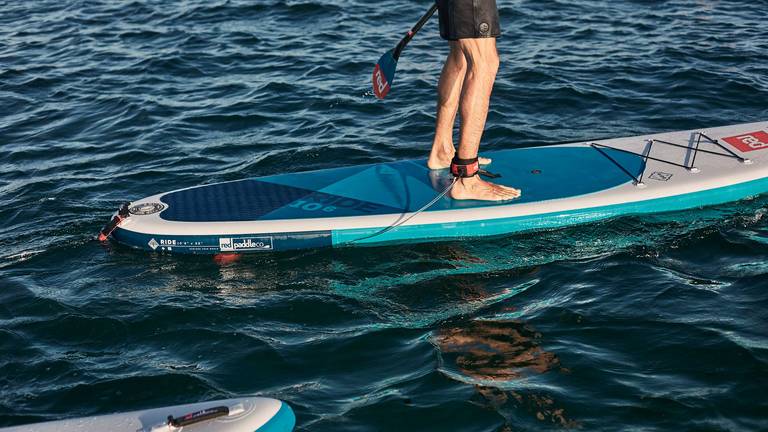 As a general rule of thumb, your leg rope should be roughly the same size as, or slightly longer than the board you're riding. So, if your board falls in between two size brackets, always size up rather than down.
Here's a simple leg rope size chart to help with this:
5'6'' Surfboard = 5'6''-5'8''
6'2'' Surfboard = 6'2''-6'4''
7' Malibu = 7'-7'2''
9' Longboard = 9'-9'2''
10' SUP or XL Longboard = 10'-10'2''
What Are The Components Of A Surfboard Leg Rope?
The size and thickness of leg ropes for surfboards will of course vary in thickness and length, however they all share a few key crucial components:
Cuff
This is the part that attaches to your lower calf/ankle. They are usually made from neoprene with adjustable velcro.
Swivel
The swivel allows the surfboard leg rope to spin and twist in order to avoid tangling, and sits between the cuff and the cord, or between the cord and the rail saver.
Cord
The thickness and length of the cord will vary depending on the type of surfboard that you're using. It's important that the cord is thick enough so that it will not break in tough conditions, but not so thick that it will drag in the water and slow you down.
Rail Saver
The rail saver is how your surfboard leg rope is attached to your board. A leash string at one end of the rail saver attaches to the D-ring/ attachment point on your board, and the other end of the rail saver is attached to the cord. The rail saver protects the board from the leash string when it's under strain.
Red Paddle Co's Surf Leg Rope
Our carefully engineered surf leg rope is 10ft in length making it perfect for use with surfing stand up paddle boards, or for very sizeable longboards. Key features include a quick release loop for unsafe situations and a comfortable and easy to use ankle cuff made from durable neoprene, including a practical integrated key pouch. Pivot points are in place to reduce twist, and the cord is 7mm in thickness to ensure durability whilst ensuring you can maintain top speed.
If you would like any further advice on how to choose the right leg rope for your requirements, please don't hesitate to get in touch with the Red Paddle Co team.