Return to blog
Introducing the 3-in-1 Snapper Kids Paddle Board
Posted by Alex Clasper
Here at Red Paddle Co, one of our core beliefs is that water sports are for everyone, which includes the little ones too. That's why we're so proud to introduce you to the new Snapper 3-in-1 Kids Paddle Board! Able to seamlessly switch between a board for SUP, surfing or windsurfing, the Snapper is the ultimate tool for getting kids out and enjoying the water. Made from our exclusive MSL technology, this incredible kids paddle board boasts incredible durability to keep kids going, while being super easy to use.
Effortlessly Switch Water Sports with this 3-in-1 Adaptable Kids Paddle Board
It's never been easier to get involved with so many different water sports. The Snapper Kids Paddle Board is easily interchangeable between three different configurations. The removable handles and centre fin, as well as the easy to use windsurfing mast base plate make it simple to switch between an inflatable board for SUP, windsurfing or surfing at your leisure.
Awesome Durability Keeps Your Board Going Strong
When it comes down to durability, the Snapper brings one word to mind: 'tough'. You won't have to worry about wear and tear with the incredible endurance packed into this little board. Being designed for kids, we set out from the get go to make it as child-proof as possible, and in that the Snapper certainly delivers. Making use of our exclusive MSL material which is made from a high-density drop stitch manufactured in accordance with our specific needs and quality in mind, and featuring a set of indestructible iFins to boot, the 3-in-1 Snapper Kids Paddle Board is ready to handle whatever you might throw at it.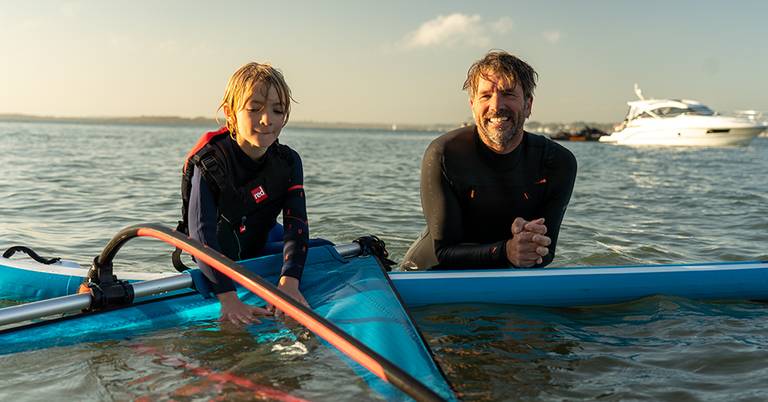 Specifically Made to be Easy to Manoeuvre
The 3-in-1 Snapper Kids Paddle Board has been designed with ease of manoeuvrability for kids in mind. The dimensions and weight of the Snapper are tuned to ensure that kids will get all of the ease of movement and versatility that an adult would be able to find on their own board. Because of this, the Snapper is a great option for kids looking to get into SUP.
Stay On Board with Fantastic Grip and Stability
The Snapper boasts some incredible grip. The deckpad is made out of highly durable and extremely grippy EVA, which will help prevent any slipping. Meanwhile, the diamond cut tail section features a raised kick pad and provides fantastic stability when in surf mode. You can be sure that children will stay on board with this premier paddle board, so get on the water and join them as their confidence skyrockets.
Everything Needed For An Authentic SUP Experience
Bundled with all the essential equipment needed to enjoy the water, it's easy to see why the Snapper is such an amazing board for kids wanting to get into SUP. The Snapper includes a comfortable backpack and the best-selling Titan 2 pump, as well as Red's 8ft coiled leash to ensure kids stay safe and secure. Just pair with a bright Red Original SUP Buoyancy Aid on the water and dry off in the Kid's Quick Dry Microfibre Changing Robe for fuss-free adventures.
It's durable, beginner friendly and has great manoeuvrability. What more could you want in a kids paddle board? If you have any questions about the Snapper, or you're looking for any other assistance, don't hesitate to get in touch with our awesome team at Red for expert advice today.