Return to blog
Top 5 Peaceful Paradises For Paddle Boarding In Byron Bay
Posted by Luke Green
Byron Bay is one of Australia's most iconic coastal spots. Known for its bohemian vibe and stunning natural wonders, there's no shortage of magical places to go paddle boarding in Byron Bay. If you're looking to escape the crowds of Main Beach then this guide is for you. We've picked our top 5 most peaceful spots to go paddle boarding in Byron Bay and the nearby area. These are just a few of the best kept paradises that are waiting to be discovered by SUP…
Wategos Beach
There are plenty of gorgeous sandy beaches to choose from in Byron Bay, however Wategos is top of our list for SUPing. Not only is it one of the prettiest spots in all of Byron, it's also one of the more peaceful and sheltered beaches in the area. Nestled between Cape Byron and the Fisherman's Lookout, it's the calm and sheltered conditions that make Wategos such a good location for stand up paddle boarding in Byron Bay. This is a particularly good choice for beginner SUPers looking to try out their skills for the first time. There's a lovely route down to the beach via the Cape Byron walking track.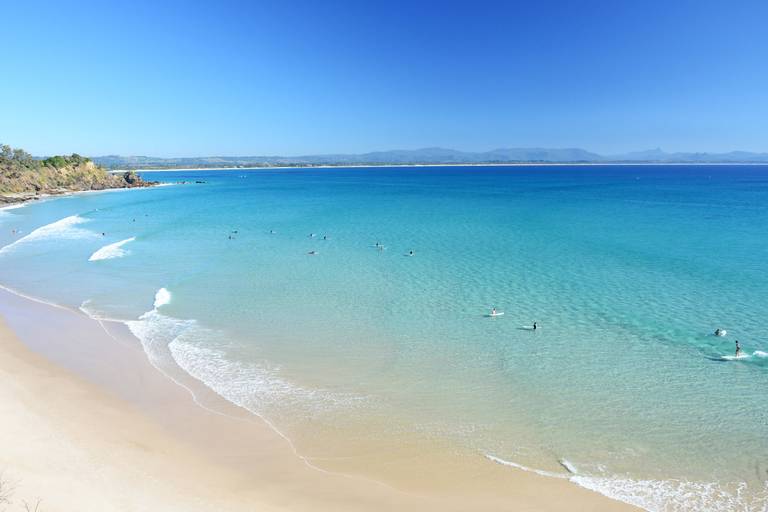 Lake Ainsworth
With so much incredible coastline to explore in Byron, it can be all too easy to forget all the stunning lakes and waterways that exist in the local area. One of the best places to go paddle boarding in Byron Bay that shouldn't be overlooked is Lake Ainsworth. This tranquil spot is commonly referred to as the 'tea tree lake' due to the natural colouring of the water that's caused by the surrounding tea tree plants. It's a unique spot for paddle boarding that's located just a 20 minute drive from the centre of town. The surrounding area has plenty of facilities for picnicking so make sure to bring a cooler bag with all of your favourite drinks and snacks in to enjoy post-paddle.
Cudgen Creek
If you're up for exploring a little further outside of Byron, then you don't want to miss Cudgen Creek. This is a tranquil spot for a gentle paddle that's located in Kingscliff which is just over a half an hour drive from Byron Bay. You'll be paddling through miles of crystal clear waters, whilst saying "hi" to some of the creek's local pelican population along the way. Once you've finished your paddle, there's plenty to explore in the small town of Kingscliff, including some delicious places to eat and drink.
Belongil Creek
Another one of the best places to go paddle boarding in Byron Bay has to be Belongil Creek. This is a particularly amazing spot for any wildlife enthusiasts to explore. Belongil is home to a diverse range of beautiful birds including the Osprey, Brahminy Kite, Tern, Striated Bittern, Pied Oystercatcher and Kingfisher to name just a few. You can access the mouth of the creek from Belongil Beach, where you'll discover calm waters that are a little more off the beaten track. Just be cautious to avoid disturbing the native bird colonies as you paddle through.
Brunswick River
If you fancy paddling through a unique and diverse nature reserve then you need to get yourself (and your SUP!) to Brunswick River. The river meanders from the eastern foothills of Mt Jerusalem National Park and through the Byron Hinterland before joining the Pacific at Brunswick Heads. The waters are crystal clear, giving you plenty of opportunity to spot fish, dolphins and turtles among other unique species. It's not just the incredible nature that makes Brunswick one of the best places to go paddle boarding near Byron Bay. The tranquil conditions make this a peaceful spot for paddlers of all abilities to practise their SUP skills.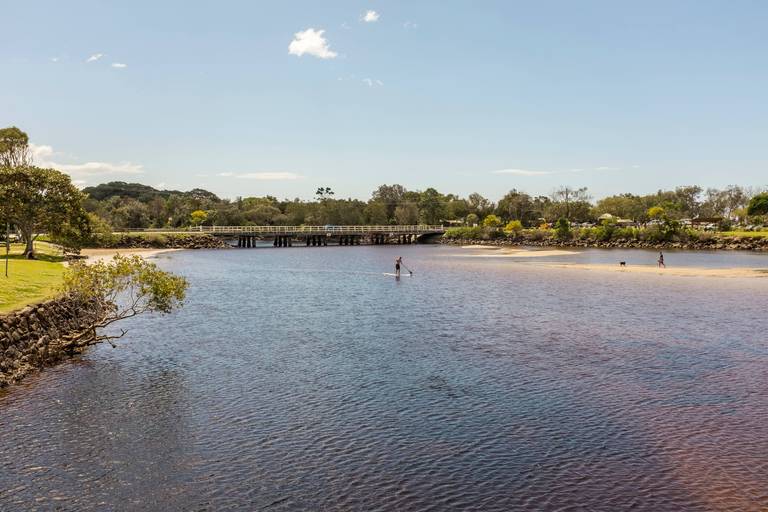 For more recommendations on the best places to go paddle boarding in Byron Bay please don't hesitate to get in touch with the team at Red.