Return to blog
10 Reasons Why The Red Original Change Robe Is The Best Change Robe In The World
Brand
Red Original
Posted by Catherine Morris
A rare combination of form and function, waterproof changing robes have become incredibly popular in outdoor sports circles and can frequently be seen wrapped around competitors and spectators alike. In fact, anyone wanting to get changed outdoors or hoping to stay warm and dry will find these handy, as they can be quickly thrown on to keep wind and rain at bay. Finding the right change robe is a real gamechanger, so whether you're looking for a replacement change robe or thinking about getting your first one, you'll want to make you get the very best.
If you are in the market for a new change robe and are thinking about which one to go for, chances are you are already aware of how amazingly versatile a warm, waterproof changing robe is. Whether you're searching for something to throw on over wet kit to quickly warm up & get dry, or a little extra to shield you from the elements while sitting on the back of a boat, standing on the sidelines, or walking to the shower block, a good change robe is a like a comforting warm blanket; only a whole lot more practical!
At Red Original, we like to do things a bit differently. As a team with a huge amount of experience from competitive athletes to qualified instructors or purely enthusiastic participants over a vast array of outdoor sports, we like to think we know our kit. Combine that with our company ethos of a completely no-compromise approach and what we pride ourselves on is creating kit that is intuitive and high performing, but also practical for any number of watersports and outdoor activities. We really think about who is using our gear & what for, so we pack our products full of useful features that make them stand out from the crowd.
In essence, we look to do things better, so you can focus on squeezing every drop out of what your outdoor adventures have to offer!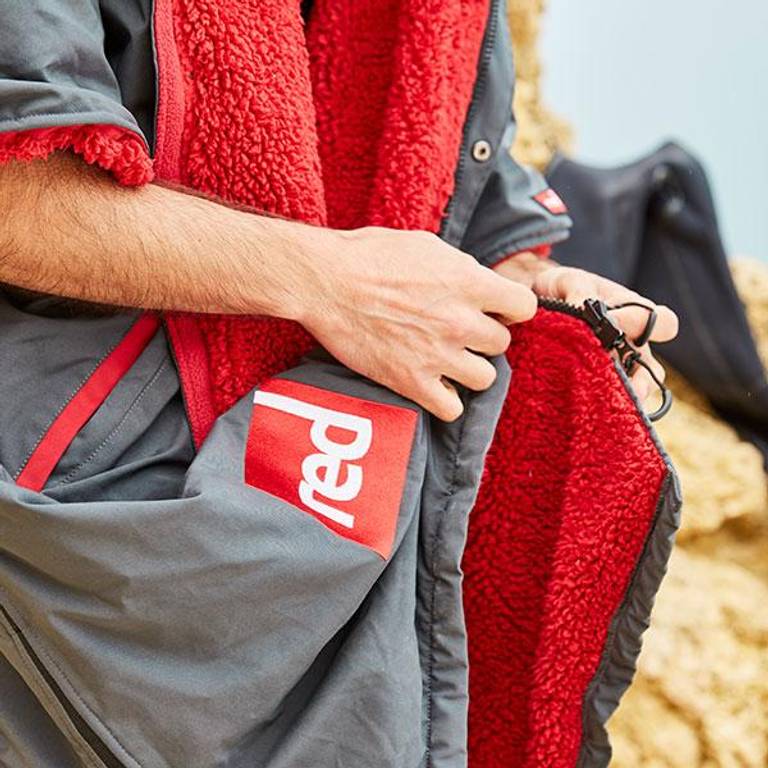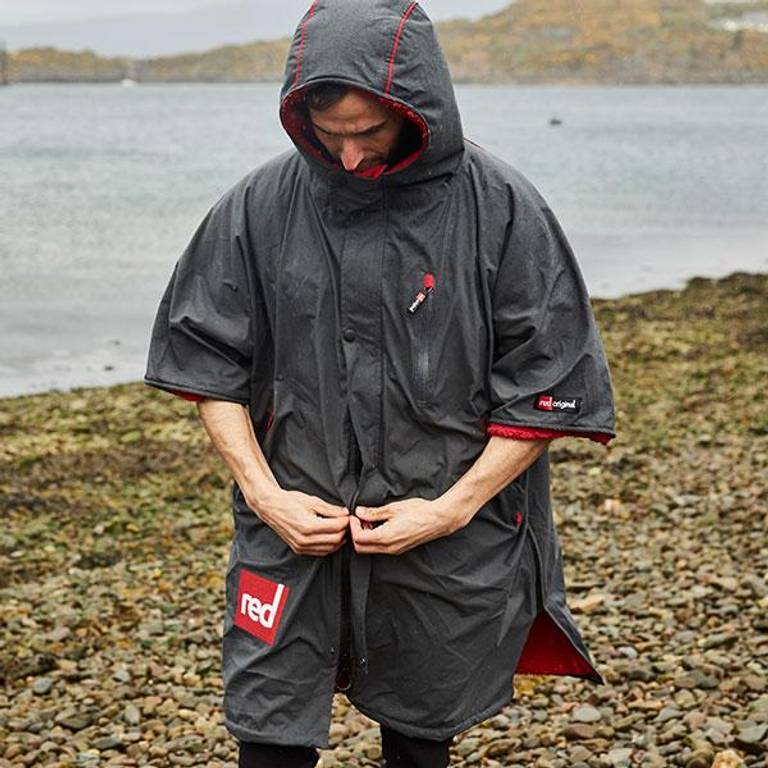 When we were initially designing the Men's Pro Change Robe and Women's Pro Change Robe, we knew we wanted to create the best waterproof changing robe in the world and like to think we succeeded. You don't need to take our word for it either, as we're more than happy to explain why in excruciating detail (and we're going to).
When it comes to judging exactly what makes ours the best, we came up with at least 10 categories where the Red Original Pro Change Robe blows the competition out of the water.
1. Breathability
In a nutshell - the Pro-Change Robe's outer shell is made from a technical fabric that breathes. This means that, unlike our leading competitor's, when you put the Red Original Pro Change Robe on while wet (for example when getting out of the water or after a heavy training session outside), moisture can escape through the outer layer of the fabric. By allowing moisture to pass through inner-layer unhindered, wearers will dry off more effectively and your robe will dry out better too. Technical fabrics can do some amazing things these days, so of course, we decided to use one in our robe – it is also lightweight, completely waterproof and looks super premium too.
2. Waterproofing
A lot of people wear waterproof changing robes like ours with the express purpose of keeping dry, so you might think talking about waterproofing is a little redundant. We'd beg to differ, however, as no one thing makes a waterproof change robe like ours waterproof. As a matter of fact, a lot of thought goes into ensuring there is absolutely no way water can creep in. For example, some change robes only have a waterproof outer layer and nothing more, so wearers may still find themselves getting wet even though what they're wearing is technically waterproof.
What makes the waterproof element of the Red Original Pro Change Robe stand out is that we've covered all of the bases. While the high-performance waterproof membrane on the outer layer will effectively shield wearers from any rain or splashing water that lands on it, it isn't the only thing that protects wearers from getting wet. Other features that contribute and play an active role include robust YYK zips and taped seams, which have been used to reinforce areas that are typically easy for water to get in through. We've also included several thoughtful additions, such as external waterproof pockets that we'll talk about next...
3. External Waterproof Pocket
You can guarantee you will have an external pocket on any other waterproof coat or jacket, so why not this one? Well, we couldn't agree more …. No matter what you want a waterproof change robe for there will almost always be a time where you need a pocket, and by the necessity of the conditions you will want that pocket to be waterproof. If it is cold & wet, the last thing you'll want to do is open your robe every time you need to check your phone; this is why we added an external easy access pocket to our change robe – sorted.
4. Comfort
We've already mentioned how our outer shell is breathable, lightweight and waterproof. It also has a degree of stretch in it, and has a beautifully soft finish, so it feels fantastic to the touch and 'moves' really nicely so it doesn't feel stiff or bulky. We didn't stop there though, our soft fleecy lining is not scratchy or squeaky – it just feels much nicer than alternatives, even next to the skin. So overall, the Pro Change Robe feels amazing to wear – soft, comforting, not bulky despite its size, and it moves with you. Much more practical than some alternatives for any activity where you are moving about – even if it is just walking the dog.
5. Portability
While we love our change robe and take it everywhere, having a large change robe as well as everything else that goes along with you on a trip can really take up space. On top of that, you don't always have a safe, dry place to leave your valuables if you're heading out onto the water for a prolonged period. By using more premium performance fabrics that are lightweight but perform harder, the Red Original Pro Change Robe is capable of folding down into a tight 10ltr dry bag, a massive reduction in size when compared to its closest competitor (which comes in at 3 times the size). Our change robe fits perfectly into our own compact 10ltr roll top dry bag, allowing you to take your changing robe out on the water with you.
6. Aesthetics
Available in grey with red lining and navy blue with grey lining, we've chosen to avoid the bland monotones that are so prevalent in other brands' outerwear. Thanks to the stylish colour combinations of the outer-shell and inner-linings, our hooded changing robes never look out of place and can be proudly worn before, between, and after sessions on the water, pitch, or track. They are also ideal for those spectating from the sidelines, as wearers can keep themselves and their clothes dry while watching outdoor activities and sporting events.
One of the main aesthetic features of the Red Original Pro Change Robe is its raglan sleeves, which provide a flatteringly athletic silhouette. It also features taped seams that not only look great but also help to prevent the ingress of water through the holes made by stitching.
7. Stretch Panels
As we've said before, at Red Original we want to give you products with the improvements we want to see. For change robes, this means making sure you can stay completely warm, dry, and covered when actually using the robe to change. A lot of our competitors cut large V shapes into the sides of their robes to allow you the freedom of movement necessary to change. While this might solve one problem it opens up even more and we set out to find a way to rectify it. By adding stretch panels into the side of our Pro Change Robe we were able to allow for all the essential wiggling and shimmying that goes on when you're trying to wrestle your way out of a wetsuit, without exposing you to the wind and rain. Simple, but effective!
8. Double Baffle
Another place where we saw what our competition was offering and realised, they'd missed a trick. Designed to be used in cold or wet conditions, it's a given that you won't want to fiddle around with small, tricky zips while not being able to feel your fingers. To help get around this, we made our changing robes with chunky 2-way YKK zips, complete with easy-hold zip pulls. As an added layer of protection, we've also included wind-stopper flaps with big, easy-to-use poppers that let you do them up and pop them open with a minimum of fuss.
This lowers the chance of wind sneaking its way through as you dry off to practically zero, while also giving you a way of keeping yourself wrapped up in especially cold conditions. The poppers are also super handy if you want to partially do it up quickly – great if you are throwing it on in a rush or for a short period, and a lot less fiddly for day to day use.
9. Temperature Regulation
While warming wearers up might be one of its main functions, the Red Original Pro Change Robe has actually been designed to help regulate their body temperature. This may not seem like much, but it's actually a very important distinction to make.
You see, while athletes and watersport enthusiasts may wear theirs to warm up and dry off, spectators watching from the shore or sideline may be more worried about overheating. With this in mind, we've designed our changing robes so that they insulate wearers rather than focus solely on warming them up. Features such as the moisture-wicking fur lining, taped seams, and breathable outer shell all contribute to this feature, as they shield the body from wind and rain on the outside while drawing moisture on the inside away. This helps the body regain and maintain a comfortable temperature, thereby ensuring the wearer's comfort.
10. Designed For Men *& Women*
You'd be surprised (or possibly not) to discover that a lot of commonly used safety equipment and sports attire has been designed with primarily male bodies in mind. Often, these designs are simply tweaked to suit the typical differences of the female form, but we believe the best way to cater to women is to build our products around them. The Red Original product development and design team is made up of men and women who regularly take part in outdoor activities and watersports, and they use their firsthand experiences to help shape and improve our range of equipment and clothing.
Thanks to the invaluable input of the entire product development team, the cut of our waterproof changing robes have been designed to accommodate the physique of whoever is wearing it, regardless of sex.