Return to blog
A Beginner's Guide
Responsibility
Posted by Maxine Smiles -Cooke
Tips for using your inflatable SUP for the first time
You've just bought your very first inflatable paddle board and you are understandably pretty pumped about learning to paddle board and putting your newly acquired SUP skills to the test.
While it can be inviting to just unpack and unroll your paddle board and rush out to your local lake or river, we recommend you take a moment to get to know your new SUP kit and plan ahead, so you get the very best on water experience. If you are in any doubt, we'd recommend heading to your nearest SUP school who will be able to provide expert tuition.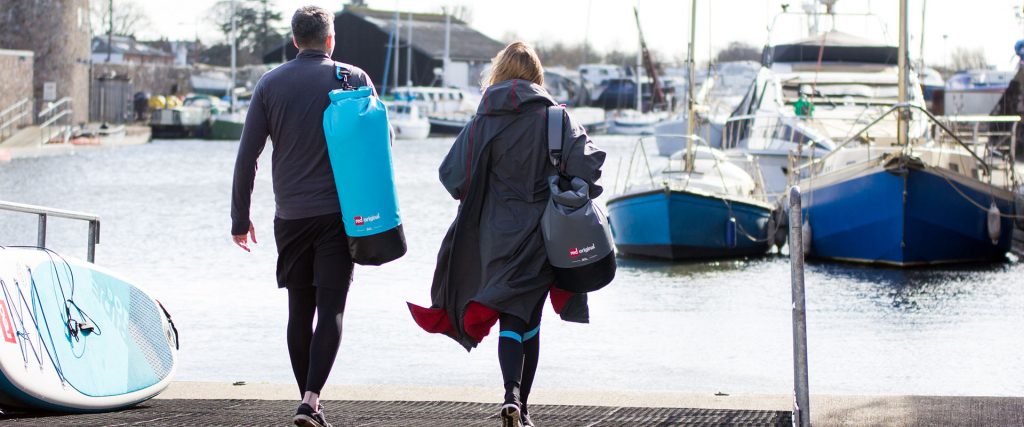 Inflatable paddle boarding: Preparing for your first day out on the water
Choose a public place to paddle
There will be plenty of time for big adventures on hidden waterways but now is the time to build-up your confidence, in an easy-going environment.
Select a calm place to paddle with easy access in and out of the water, ideally where other people are present and an area / waterway you are familiar with.


Grab your board bag
When you first unpack your Red Paddle Co inflatable SUP, you'll find it wrapped neatly inside your new all-terrain backpack. Featuring integrated wheels and a handy backpack carry system (check out all the key features here) you have all you need to transport your SUP to your chosen waterway. Don't forget to pack a leash and personal floatation device before setting out.


Plan your route and check the conditions
Plan the route you intend to paddle and make sure you check the weather conditions and wind direction before you set off. Even a gentle head wind can be hard work, especially when establishing your SUP technique and building your confidence on the water. Never venture further than you feel comfortable and remember to conserve your energy for the journey back.


Set-up your board and kit correctly
Once you have decided where you'd like to paddle it is time to un-pack and unroll your board and ensure you have everything you need for a safe day on the water. Layout your board on a clear flat surface and prepare your Titan Pump with the hose attached correctly.
- HANDY TIP -
Before you start pumping always ensure the valve pin is in the upper most position and springs back when pushed. If it is secured down simply push and twist so it pings up. We don't want you to learn the hard way - if the pin is down when you begin pumping, all your efforts will be lost when you remove the hose and you'll have to start pumping again!
Let's pump
Secure the red pump hose to the valve on the board by firmly gripping the hose at the point it attaches to the valve and twisting so it feels locked to the board. On the back of the pump handle you'll see a small red nozzle – begin by pumping with the red nozzle in position.
Our innovative plug mechanism is an essential part to ensuring you have complete control of the time and energy required to inflate your board.




The Titan pumps air into your board 50% faster than a single chamber pump and as such reduces the effort required to reach a higher pressure.
When pumping becomes too hard (normally around 5-8 PSI) simply twist and release the red plug and place it on the small black peg on the back of the pump to keep it out of the way. You will now find it easier to reach the higher pressure required (18-20PSI).
Take a Friend and SUP SAFE
While we are big advocates of solo paddle boarding, it is much more fun to head out with a buddy and share the experience. Always ensure you run through those all-important safety checks; Is your board inflated to the correct PSI? Is your leash secured correctly and your PFD in the correct position? Check, check, check!



PACK YOUR DAY PACK AND HAVE A GREAT DAY ON THE WATER
If you intend to head out for a full day on the water, ensure you have all you need with you and secure it on your SUP using the bungee's located at the nose and rear of the board. Pack essentials in your dry back, such as spare clothing and warm layers, just in case you take a little tumble into the water.
Use a high-quality roll top dry bag for your bigger items and an easy access day bag to store your communication device, snacks, refreshments and wind resistant jacket.