Return to blog
A Red Original Outdoor Adventure to Lake Annecy
Red Original
Posted by Ross Montandon
As you know we're keen advocates of an Original Adventure! Whether it's an after-work run, midweek paddle, lunchtime bike ride or you're loading up the car for a weekend camping trip! An Original Adventure can take many forms. As we were heading out to take part in the Red Paddle Co. Dragon World Championships 2019, we decided to have a little (Red) Original Adventure of our own before the competition took off exploring the outdoor adventure mecca of Lake Annecy and it's surrounding area. Instead of keeping this to just our own Instagram followers, we wanted to share with you some of our best spots for swimming, hiking and biking in this picturesque location.
Lake Annecy: Hike, Bike, Swim
Lake Annecy stretches a sizeable 14km and sits in the Haute-Savoie region of France. A day trip away from the popular resort of Chamioux and only 30 minutes from the airport city of Geneva. Packing up and getting out into the mountains has never been easier.
The lake itself is the epicentre of all activity, paddle boarding, kayaking, water skiing, hiking, cycling, paragliding...the list goes on. The onlooking towns bring the community and buzz to lakeside living. The focal point to all life and activity in the valley, wherever you find yourself; in the towns, hiking or just cruising to the next coffee shop you will find yourself catching superb views of the lakes cool waters.
Where to Stay when visiting Lake Annecy
The region is a hub for outdoor holidaymakers who refuse to sit and soak up a tan. The Lake itself is home to multiple villages with everything from hotels, to campsites and camping pods. With something for everyone, there's plenty to keep everyone happy. For us, we settled for the small town of Talloires home to this year's Red Paddle Co. Dragon World Championships. A 20-minute drive from the larger town of Annecy.
Outdoor Activities around Lake Annecy
Wild Swimming is becoming increasingly popular, a welcomed accompaniment to bolt on after a day biking or hiking. Or quite simply a fun pastime for the kids as you soak up some welcomed sunshine. Whether you're a swimsuit wearer or you're all in on the wetsuit, we couldn't help look at the blue waters without wanting to take a dip! Who wouldn't? We managed to find a few top spots for enjoying a refreshing swim.
Our Favourite Swimming Beaches of Lake Annecy
Beach of Talloires
The event site for the 2019 Red Paddle Co Dragon World Championships was located just a short walk away from the adventure town of Tallories. This public bathing spot is the perfect location to cool off and take the plunge and soak up some rays. A family fun environment allowing you to park up on the lush lawn and soak up the scene. In height of the bustling summer months, the beach does have a small entrance charge which means the beach can be monitored by lifeguards ensuring the little ones are safe if they're in tow. The popularity of the beach is amplified with its easy access to the town which features the friendly Basecamp coffee shop (also a great place to hire bikes).
Marquisats Beach Annecy
If you're looking for a little more town life or perhaps fancy break from exploring the lakeside town of Annecy. The Marguisats beach sits a short walk or quick bus ride from the town centre. This managed site similar to Talloires is a popular spot with families looking to cool off, soak up some rays or catch up with friends. An ideal spot to enjoy some cooling laps or grab a coffee and enjoy the ever-changing view of the lake.
La Brune Beach
Sometimes all you need is a small beach and a lofty spot to escape and relax. La Brune Beach is just the place, it's smaller than other municipal beaches but this little spot has all you need to catch a much-needed dip after a day adventuring. During busy months lifeguards are on stand by and floating chairs are available for disabled swimmers, making it the perfect spot to simply float and relax.
Plage d'Albigny
One of the biggest bathing spots on the lake Plage d'Albigny is beautifully maintained with flowered beds, a pier and a large grassy area for sun bathing or that obligatory game of rounders. Lifeguards are on duty throughout the summer and the use of showers and restaurants are an extra perk.
Multiple Activities Biking, Hiking....
Off the water, the outdoor sports opportunities are endless depending on your adrenaline. Paragliding, rock climbing and trail running are all available in the bucket loads!
For the more relaxed adventurer, there are plenty of opportunities to get up high for a sunset picnic or amble. We've put together a few options, however, it's worth popping into the nearby tourist information to get up to date information on the best routes. We found all information sites and centres to be super helpful in sharing their knowledge of the area.
For an afternoon stroll
The Roc du Chere sits between Menthon-Saint-Bernard and Talloires, this lovely protected nature reserve is home to a rocky outcrop which creates a cool and shady spot in warmer months. A small path leads you to a viewpoint overlooking the village of Talloires and from here you can enjoy a picnic or for the more adventurous a scramble down to the lake and some cliff jumping can be enjoyed.
For a mini-adventure
An ideal circular walk beginning in Tallories you begin with a gentle climb towards the church of St Germain. You will soon begin snaking through a few small hamlets which then turns to a lofty woodland. You soon arrive outside the church where you will find superb sweeping views of the valley floor, just make sure you take your camera!. From here, return back to the lakeside through the village of Verel and a wooded path that'll bring you to the Pont du Fer and cascade a picturesque gulley of rushing water tumbling onto the rocky hillside that suddenly gives way to a rather spectacular waterfall
For the adventurous
Scramble, ramble and clamber up to Mont Veyrier which offers up breathtaking views over Annecy. There are several routes to choose from but we advise popping into to the local tourist office to pick up a map to help keep you on track as the routes vary in difficulty, however, all will provide a great trip out!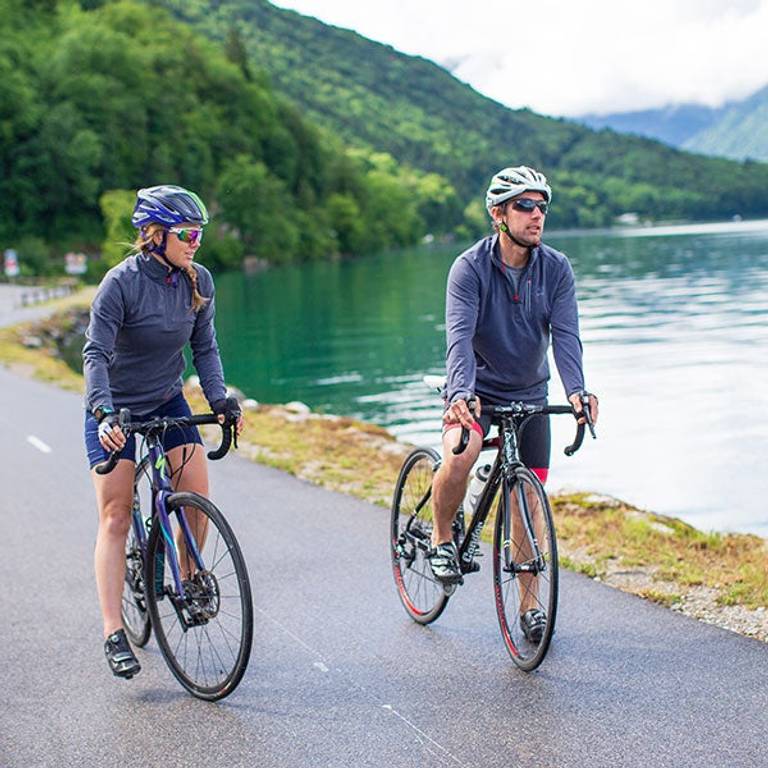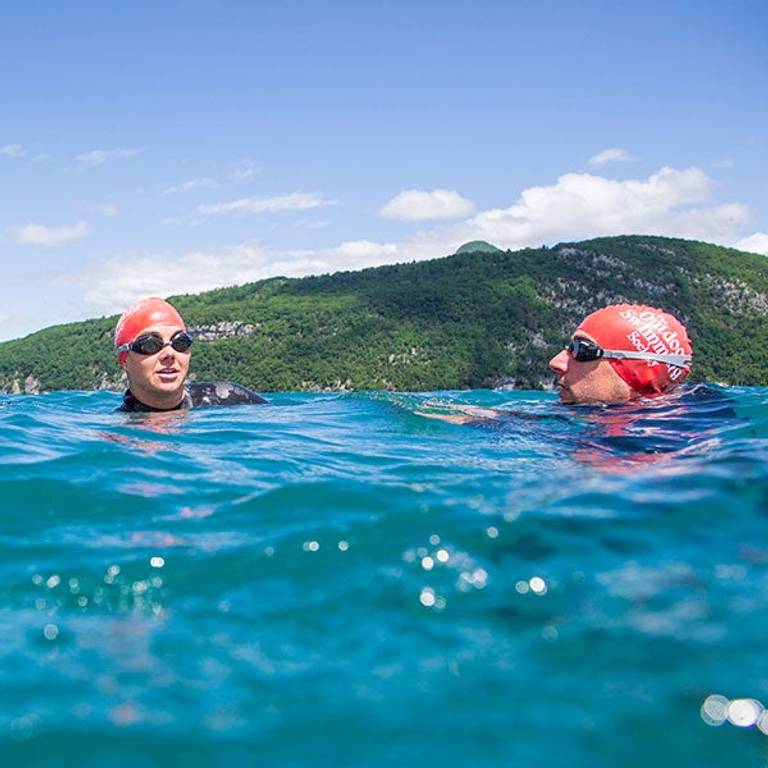 Biking and Cycling in Lake Annecy
Biking is a popular pastime in the surrounding area of Lake Annecy with a little something for everyone. For those looking for the uplifts and steeps the uplifts of Chamonix lie only a short 1.5hr drive away. If you're looking to take in the lake from two wheels and make a day of it, then an enjoyable day can be spent cycling along the parameter of the lake. The friendly cycle lanes separate you from the main road allowing you to take in the views and stop for a coffee or ice cream as you see fit.
Bike rentals are aplenty in most towns allowing you to chop and choose without the hassle of transporting your bikes.
Fancy a little more of a thrill? Overshadowed by the bigger biking resorts in the area there are still plenty of fun zippy trails to enjoy. Most bike rental shops have trail maps so you can find a route suitable to your ability or you can cherry-pick your own route with websites such as trail forks.com which boasts a huge range of routes in the area for you to get stuck into.
Share your Original Adventure this Summer!
The Haute-Savoie region is well worth the visit for those looking for a multi-activity holiday in the mountains. During our short stay, we didn't even manage to scratch the surface but it's most certainly on our revisit list. If you're heading out on an Original Adventure this summer make sure you share your photos @redoriginalaccessories and we would love to feature you.