Return to blog
A Red Ride Out: Challenges in the Outdoors
Brand
Community
Outdoor
Paddle Boarding
Stories
Posted by Luke Green
One of our mantras here at Red is to make the outdoors and paddle boarding as welcoming and accessible for as many people as possible. Yet, we realise the outdoors in a general sense can be quite intimidating for a lot of people, whether that is due to barriers such as ability, background, culture, or religion. We have an opportunity as a brand to make things easier for people to get outside, to inspire people and give them the support they might need to access the outdoors and break down any barriers they might face.
So, when we came to choosing our theme for the first UK Red Ride Out of 2022, we wanted to embrace that commitment within the overall theme for the weekend and asked all our guests to consider what challenges or barriers they might have faced and how they may have personally challenged the status quo of the outdoor industry.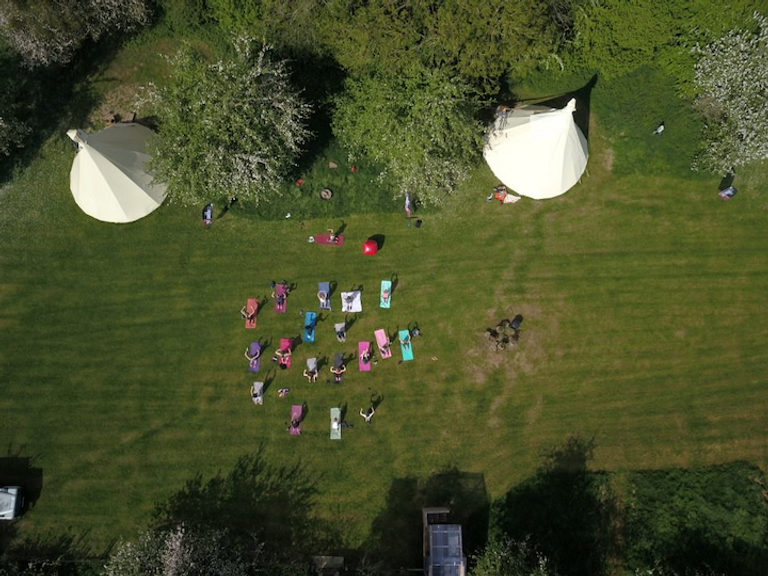 At the start of May, we invited a group of like-minded souls to come together for a Red Ride Out weekend to celebrate and share their passions for paddle boarding and the outdoors.
Our guests represented many different communities, abilities, experiences, and viewpoints. From experienced, novice and passionate paddlers, ultra-runners, yogis, climbers, hikers, adventurers, and general outdoor advocates. They each had quite different stories to share yet the minute they arrived at the glorious White House on Wye Glamping site, we realised they were an exceptional group of women, whose love for the outdoors would be a binding common ground for the weekend ahead.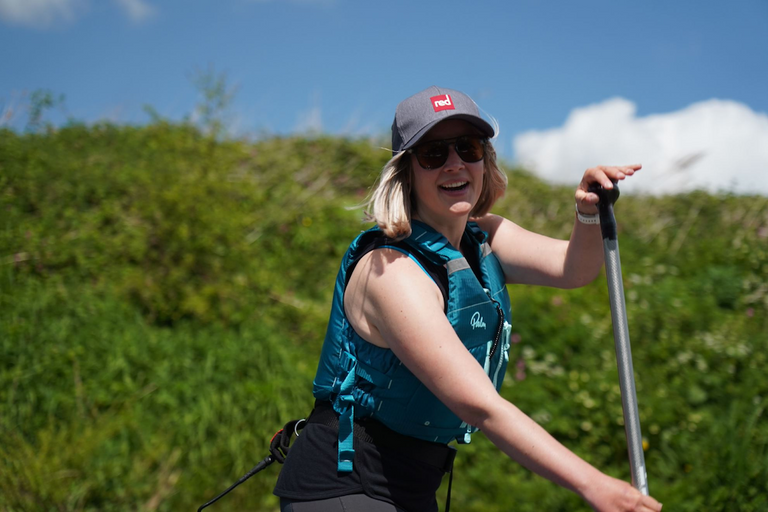 Situated on the beautiful river wye, in the lush green county of Herefordshire, we prepared a weekend of activities including paddle boarding, swimming, running, walking, talking, tasty food, a lot of laughter and time for reflection.
As we enjoyed our first night immersed in nature, we came together for our first fireside chat of the weekend with Red Paddle Co Ambassador, Hayley Browning. Hayley shared her journey of setting up her new SUP business, and shared her challenges, learnings, and personal growth.
"When I'm outdoors I feel empowered… You know you're in the right place when you're surrounded by people who totally 'wow' you, make you feel excited to follow everyone's next chapter, feel like you've gained 25 new cheerleaders who'll join you in seeing how the outdoors can bring so much opportunity and life."

Hayley Browning, Red Ambassador, @hayleyexplores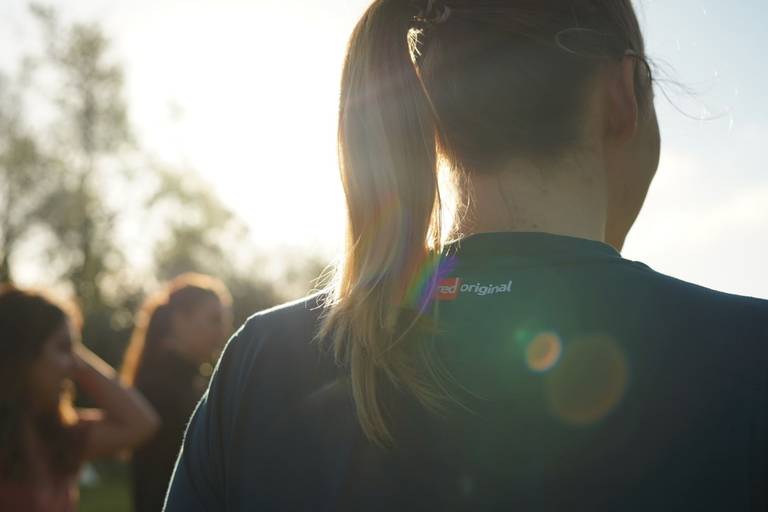 Following a night nestled in our shared Tipi tents we awoke to nature's chorus and the warm morning rays got us ready to tackle a 5K run along the riverside. Exhale Coffee ambassador and Asics front runner, Alex Long, led the way as we took to the track and got our bodies moving for the day ahead. While some were keen to run others took their time to slow the pace and walked the route together.
"To say I was nervous about being invited to the Red Red Out weekend through @yourexhale would be an understatement. The thought of being amongst so many incredible women was quite daunting, and I felt slightly unworthy and overwhelmed. The minute I stepped into that circle of spectacular women around a campfire all my concerns disappeared.
I met women who have faced, overcome, or are still battling challenges of the outdoors and the outdoor industry. Thought provoking chats, and emotional stories, it was a pure and brilliant example of women supporting women and overcoming barriers."
Alex Long, Exhale Coffee Ambassador, @alexsophie_
Fully energised we fuelled up for the day ahead with Tribe Oat Pots and more Exhale Coffee. We prepared our kit for a full morning on the water, with the group arriving at the river with a combination of nerves and excitement.
The section of the Wye from the campsite has quite a flow from the get-go and we were promptly reminded about the weekend's theme as we got ready to dig in against the flow. Kitted up with buoyancy aids and quick release leashes we had all we needed to remain safe on the water and after a few top tips from our SUP experts Lucy and Hayley our group of passionate paddlers embraced the challenge and showed the river and each other what they were made of.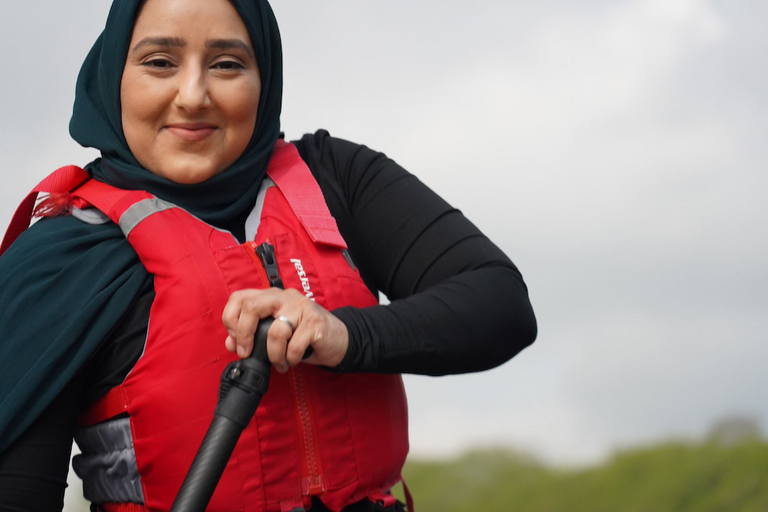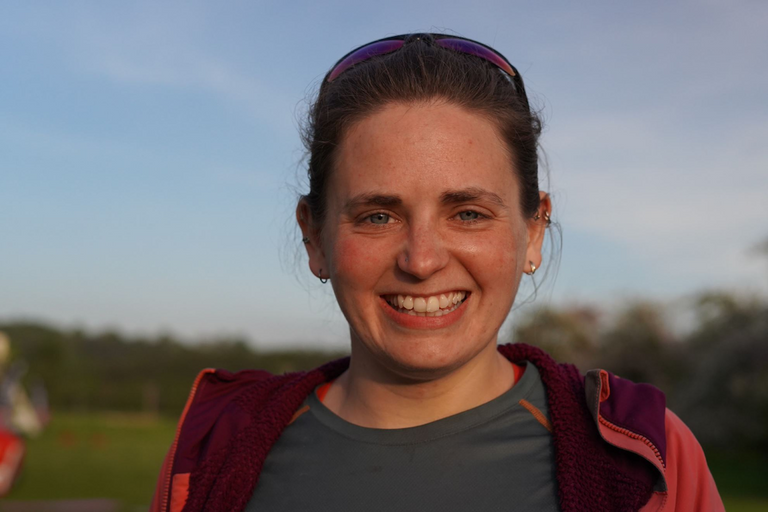 "My heart is so full of love for the outdoor community right now. MY community. There were women from all walks of life and all stages of their SUP journeys. From complete beginners to strong women who have turned their hobby into their business. From women of colour, women with larger bodies, and women who look a bit like me too. We discussed our individual paths and the challenges we have faced along the way. We talked about our goals for the future, and we listened intently to others with a deep desire to just understand, acknowledge, and be there for one another, knowing that we didn't have to justify ourselves to anyone. Knowing that each of us is enough. Knowing that we understood each other on a deeper level, where you didn't have to explain your seemingly 'a little bit crazy' life choices.
Events like the Red Ride Out are so important for us to be able to connect with like-minded people. It's easy to forget that we are only human, just like everyone else. But times like these can really help you to remember that you're not alone. And that there are people out there that will celebrate and support you just as you are."
Gee Jackson, Grangers Ambassador: @geeadventurous
Once back on the riverside it was time for a group dip in the chilly water. For some, this was this first time in the water in a long while and a reminder of how good it can feel to push yourself out of your comfort zone.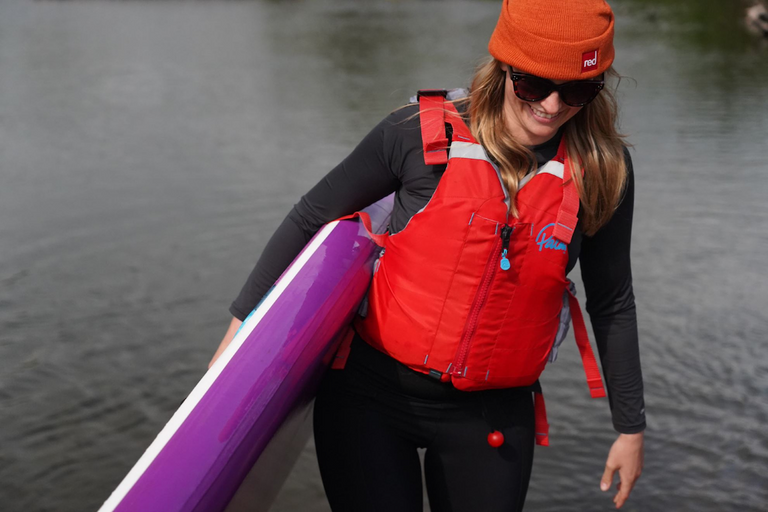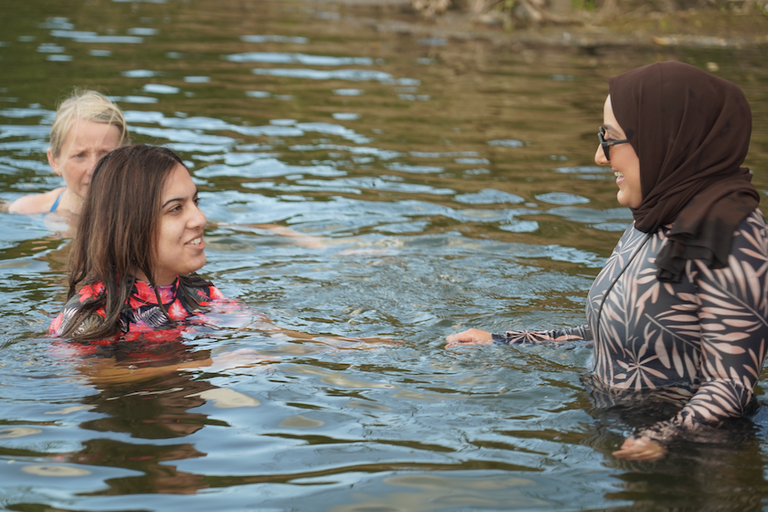 Back on dry land we warmed up and changed under our Pro-Change Robes to join Jess Birchall on the grass for a gentle winddown flow. A steady-paced yoga session, incorporating gentle movements in the sunshine allowed us to connect to nature, and one another and stretch out the body, ready for a chilled-out evening ahead.
The long evening sun shone on, and the group enjoyed some well-earned pizza and beer before a fireside chat led by Charlie, from the Red team, where we explored our guiding theme Challenging and Challenges in the Outdoor Space.
The discussions naturally flowed with stimulating and frank conversations about our own experiences of being in the outdoors and the barriers we still face – from not having access to right or affordable kit to outright racism and discrimination. Everyone had something to share, and it demonstrated how impactful real-life human connections and discussions can be.
The weekend really was everything we envisioned when we first created the idea of the Red Ride Out - a chance to step outside, reconnect, paddle, and find a place and community where people can truly feel like they belong.