Return to blog
A SUP Adventure Under The Stars with Stephen J Reid
Camping
Location: UK
Paddle Boarding
Posted by Lydia Burdett
We invited YouTube outdoor enthusiast Stephen J Reid to upgrade his adventure by embarking on his first paddleboard camping trip in a remote location in Northern Ireland.
Not one to shy away from a challenge in the great outdoors, Stephen sussed out a secluded freshwater lagoon off a thin spit of land in County Antrim, accessible only by SUP.
Joined by Gavin Knox from Good2Go Paddleboarding, the duo set off on their escapade armed with all the essentials needed for an overnight SUP'ing trip under the stars.
Let The Paddleboarding Adventure Begin
Stephen opted for Red's 12'0" Compact, a board designed with the adventurous paddler in mind, allowing him to reach his remote camping location with ease.
The board proved to be the perfect companion, giving great manoeuvrability despite being loaded up with all the kit required for a night under canvas.
The calm conditions paired with the 12'0" Compact's superb stability even meant Stephen could capture some epic drone footage using his SUP as a launch pad.
When they arrived at their camping spot for the night, a stunning spit of land surrounded by nothing but nature, Stephen got to work unpacking his kit for the sleepover SUP trip.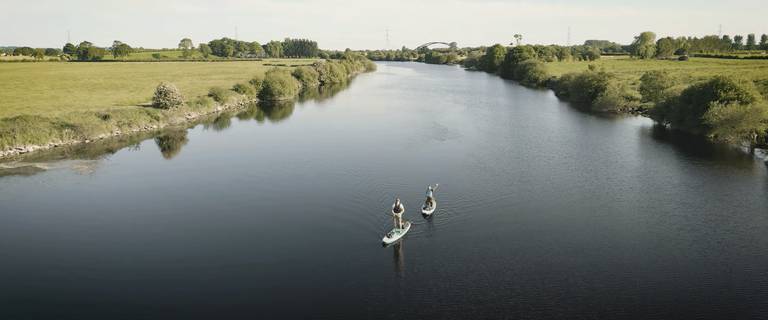 Stephen's Top Packing Tips
First up was a Red SUP Buoyancy Aid, a must for anyone looking to push their paddleboarding boundaries, which Stephen also pointed out makes a great camping pillow.
Another top packing tip is to ditch your sleeping bag in exchange for a Red changing robe, with its waterproof, windproof and super soft fleece lining guaranteeing a cosy night's sleep.
A self-confessed tech-y with a love for filmmaking, Stephen found Red's waterproof SUP Deck Bag a dream come true, keeping valuables like his beloved drone dry yet easy to reach.
Other camping essentials including a Jetboil Stash Ultralight Stove meant the hungry paddlers could cook up a steak panini before heading out on the water once again for what turned out to be a glorious sunset.
Camping Under Canvas With A SUP
Back on dry land, Stephen and Gavin rounded off their day on the water with a campfire before retreating to their tents with nothing but a full moon and nature's song for company.
They arose the next day to a misty morning and some confused-looking local cows, no doubt mystified by the appearance of their paddleboarding human companions.
Breakfast was eggs boiled up in water from a GRAYL® Water Bottle Filter – another piece of essential paddleboarding camping gear – before the pair hit the water and headed for home.