Return to blog
Firestone Teal Where Water Seeks it's own level
Products
Red Original
Posted by Ross Montandon
It's a brisk wake-up call on a chilly Spring morning for these regular swimmers in the waters of Firestone bay. In a season where the weather is still settling into its own routine, a gaggle of friends break the morning silence with their own warm conversation to keep them comforted before an invigorating start to their day.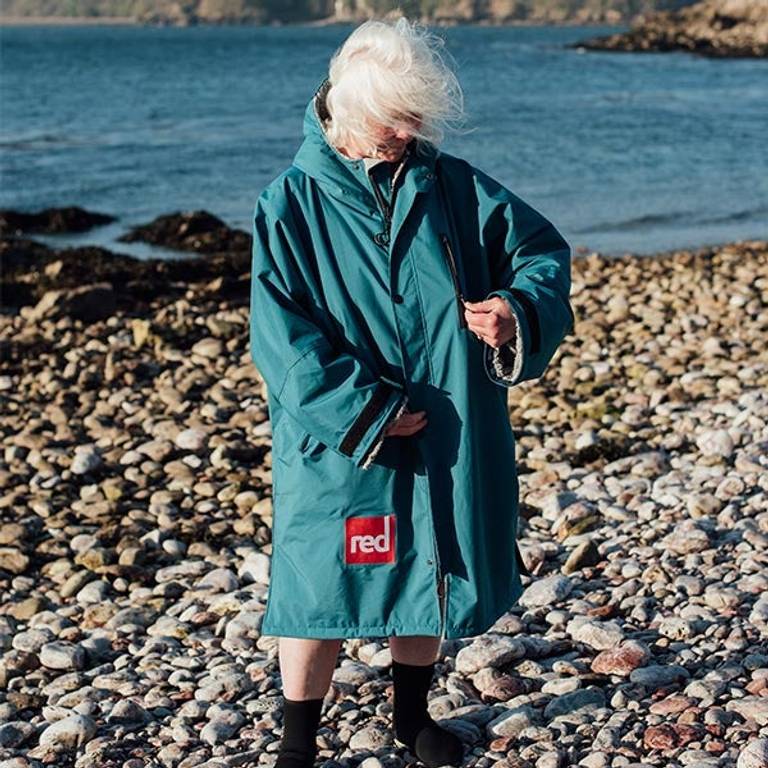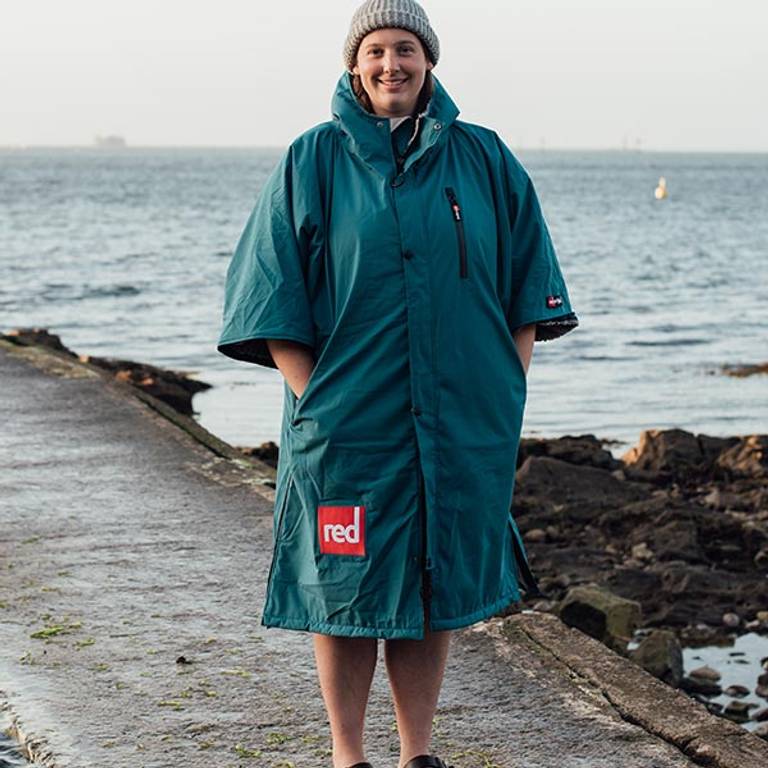 Down by the water
Firestone Bay has been a welcomed hang out for this collection of friends for many years. Wild swimming has the raw power of bringing people together from all walks of life and meeting early doors on a chilly spring morning to take the plunge will no doubt help form pretty firm friendships. Starting the day swimming in fresh clear waters is like nothing else in giving you a sense of empowerment in whatever the day decides to throw at you.
This tidal swimming pool at Devils Point has for centuries been a home for families saying goodbye to their loved ones on Royal Navy ships. History runs deep in the teal waters of Firestone bay. Today the comings and goings of ships passing by on their way to the HM Devonport Dockyard provide a reminder to the valuable role Plymouth played in World War II.
Now in slightly different times, renovated William's Yard is home to many trendy bars and restaurants. On this sunny but windy morning the warm glow and glamour of the night before is locked up and long gone. The cocktail glasses are exchanged for insulated bottles of hot chocolate, and the patio heaters for Changing Robes. However for those in the know, the water clear and fresh is inviting after a busy working week.
"There's a lot we can learn from the water. Some days it's clear and still, others it's turbid and stormy. Wild swimming has taught me how to cope with change in a world of uncertainty whilst giving me routine and purpose." Jaz
Wild swimming doesn't take itself too seriously. As an activity it combines a strong sense of humour, community, and that much needed ingredient to aid our mental health… the environment. We all have a personal connection with the outdoors and for many of us it provides a space like no other, it's changeable diverse behaviour can certainly teach us a thing or two which we can implement in our day to day lives. James, one of the swimmers who has been drawn to Firestone Bay as a swimming location for the last few years shares his relationship with wild swimming. "For me, wild swimming is the best way to reconnect with myself, with friends and with nature. I've also taken the swimmer's motto of "It's alright once you're in" and applied it to my life. There have been countless times both in life and in swimming, especially on those cold winter days, where I've thought to myself, I don't really want to do this, or I'll do it tomorrow instead. But I take the plunge and embrace whatever comes my way".
I've also taken the swimmer's motto of "It's alright once you're in" and applied it to my life.
Like many activities the thought of doing it is often more dramatic and challenging than the actual task. As ever nothing shimmies you along like a bit of friendly encouragement, there's nothing like the challenge of dipping your toe in the cold clear waters to bring people together.
All walks of life
Firestone Bay has all the peace and beauty we look for when seeking our outdoor beauty spot and it's long-lasting heritage to the City of Plymouth draws people from their busy lives out to enjoy it in all seasons. For this group of swimmers, the real essence of space and peacefulness comes from the joy of taking to the water and sharing it together.
There's a phrase I'd heard before, that "Water seeks it's own level". I'd never really given it much thought until I started swimming at Firestone Bay. We were all different folks, but with like-minded souls that were called to the shores. We found each other amongst the kelp, and forged incredible friendships in the briny. Heather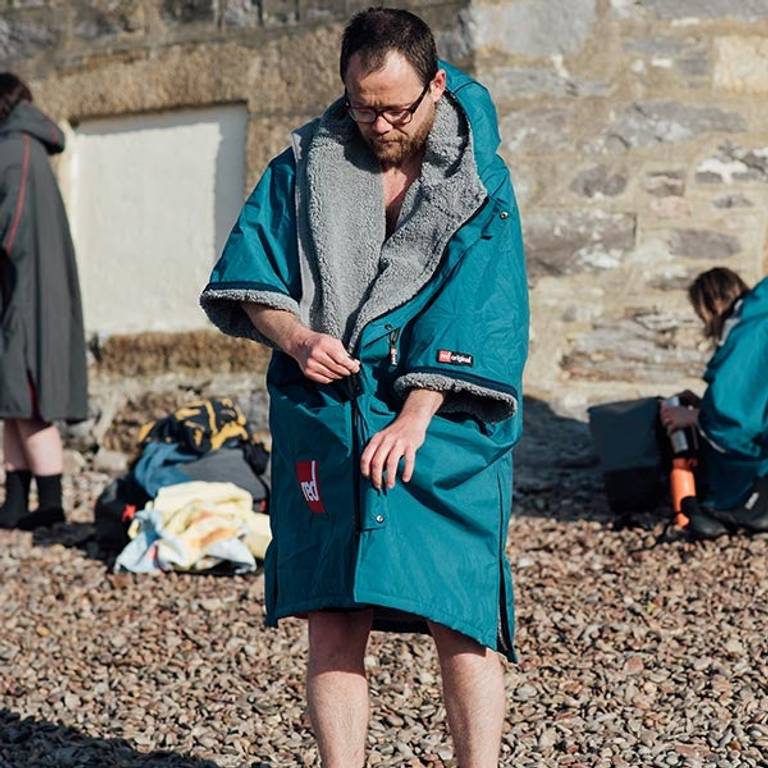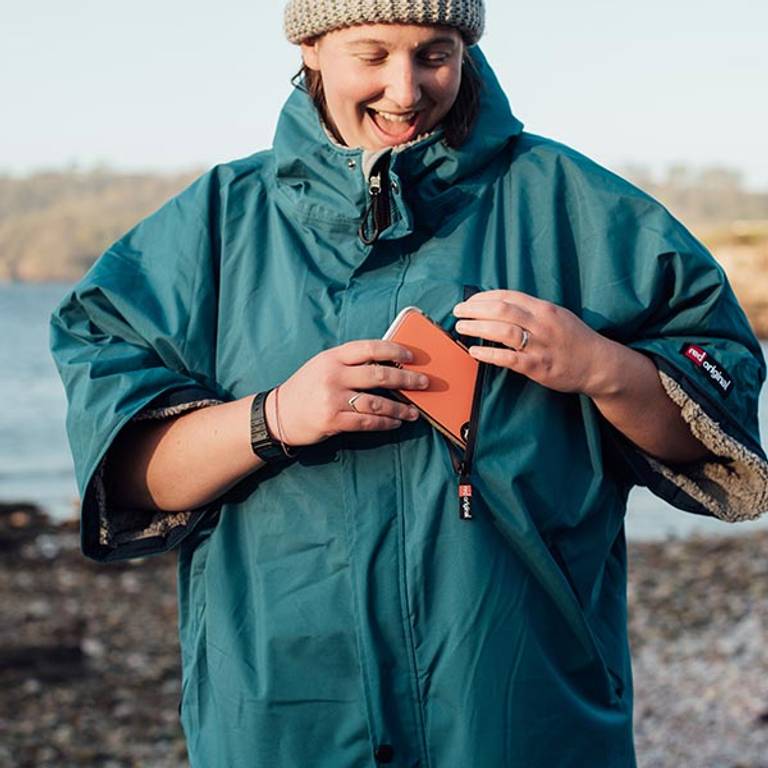 It is from these stories, anecdotes and the beauty we enjoy that have inspired us to create our latest Pro Change Robe, Firestone Teal. We wanted to create a colour that could remind us of our favourite places. Those cold days, the windy days and the ' my word it's cold days!' These are all experiences that draw us to the outdoors, in the waters and on the hills. For our 8 friends it is these experiences that will bring them back to Firestone Bay for many years to come.