Return to blog
Good Inflation - Why the Best Inflatable Paddle Boards Cost More
Responsibility
Posted by Jess Davies
Over the past decade we have seen the inflatable SUP industry transform and grow into the competitive market it is today. There are now hundreds of inflatable SUPs available to purchase in stores and online, so it can be difficult to know which inflatable paddle board is right for you and at a price you can trust.
As the industry grows and becomes saturated with mass produced, single-layer and fusion inflatable boards, we are seeing more and more people having a poor or unsafe time on the water due to cheap and poorly manufactured products.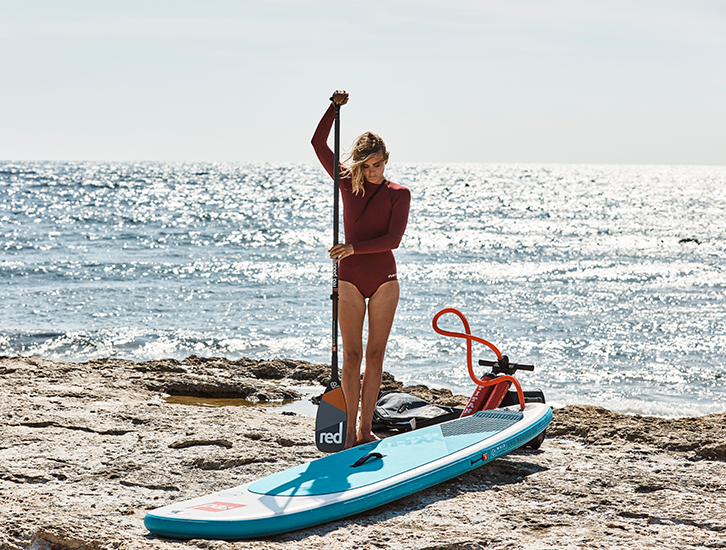 Here at Red Paddle Co, we have spent over ten years dedicated to making only the very best, safest and most reliable inflatable paddle boards in the world. As one of the very first inflatable paddle board manufacturers in the world, our in-house product design team scrutinise every part of the production process, innovation and design so everyone, anywhere in the world, can have the very best paddle boarding experience.
There are many reasons why our boards are more premium than other inflatable boards on the market. Here are a few key reasons why you really do get what you pay for with Red Paddle Co…
Complete control on production
We are the only inflatable paddle board brand in the world that produces our boards in our own private facility, meaning no other inflatable board comes close. Our extensive in-house innovation, design, research and testing process ensures every aspect of the boards, bags, paddles and pumps meet our unrivalled standards before a single product goes into production.
By managing our own production facility and supply chain, we have complete control and can dive into every detail at every stage of production before submitting it to the industries toughest and most rigorous quality control process. This end-to-end approach is what we call TEC AIR and is just one of the things that really sets Red Paddle Co apart from any other inflatable SUP brand on the market.
The very best chefs
It takes us an average of 72 hours to make each and every paddleboard. Working with some of the very best product engineers and craftsmen in the industry, our design team are constantly developing and reviewing production to ensure each, and every design spec is translated and crafted exactly how we calculated it.
Almost every inflatable board in the world is made in China and produced in just a handful of facilities switching between, inflatable SUPs, bouncy castles, airbeds and any number of other inflatable products. In comparison, our private facility is an extension of our UK based team and focussed solely on producing Red Paddle Co boards. We have spent years establishing the very best relationships whilst working and evolving our own expertise with some of the very best manufacturers and suppliers in the world.
This experience and knowledge of our craftsmen is demonstrated in our low global warranty rate of just 0.5% meaning you can paddle safely and with confidence no matter how big your adventure.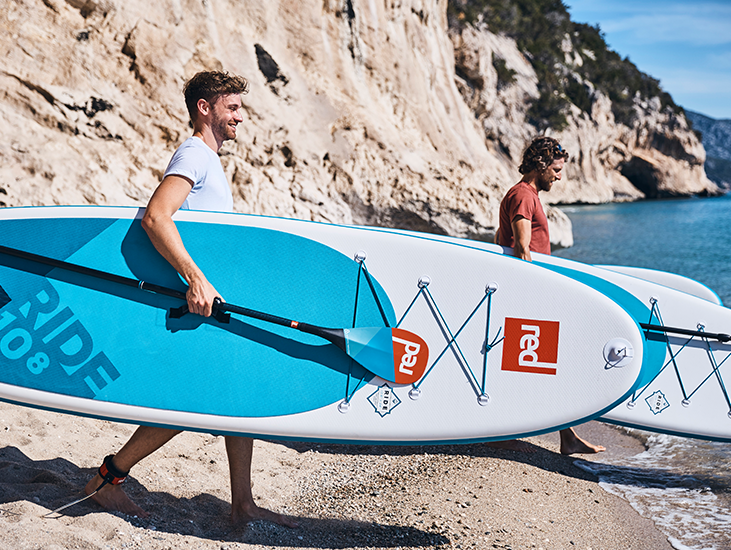 The very best ingredients
You may be surprised to learn that the vast majority of inflatable SUP's, at the mid to low price point, are mass-produced single layer (also known as Fusion) with minimal to no quality control checks, throughout production. Even some higher end products take just eight hours to make. Here at Red Paddle Co we have never been comfortable with the performance, safety or reliability of these boards and have made it our goal to continue to use the very best 'ingredients', technologies and materials in all our boards. It's why in 2016 we developed MSL, a trademarked super strong and highly durable material which is exclusive to Red Paddle Co. By using MSL our boards deliver unrivalled performance and stiffness whilst reducing the amount of adhesive used through welded lamination, decreasing weight by up to 2kg in comparison to double layer boards and eliminating air loss.
Furthermore, all Red Paddle Co boards exclusively use Henkel glue. As the world's leading manufacturer of adhesives, we have tested and selected only the best adhesive so every board can withstand anything from icy cold waters to super-hot days at the beach. A cheaper board simply cannot offer you this reassurance and under hotter temperatures, there is a high chance the glue will fail; leaving you with an unreliable, unsafe and wasteful product.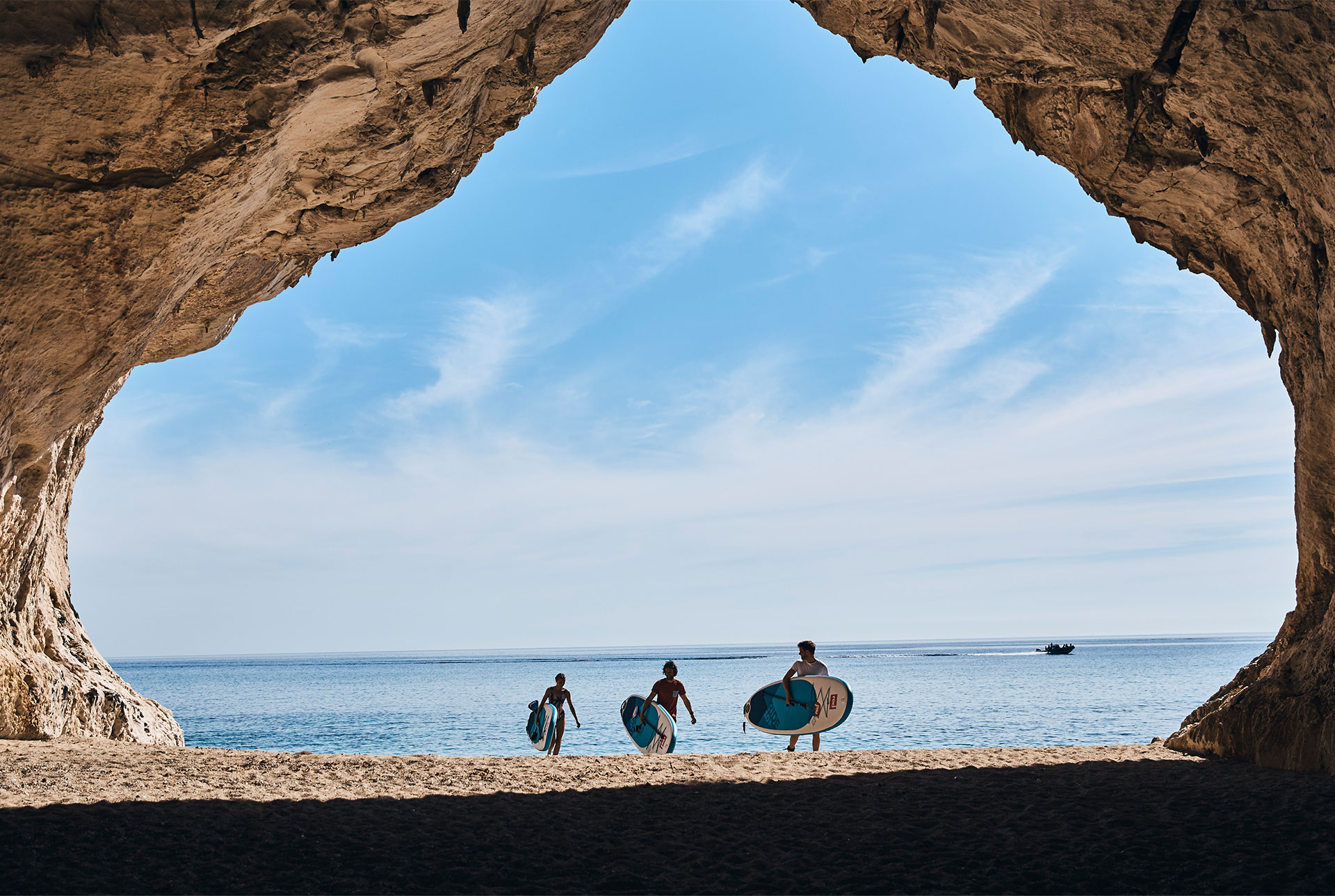 Reliability and Durability
Our boards are sent to over 60 countries worldwide so are tried and tested by tens of thousands of customers. All Red Paddle Co boards are made using MSL technology, our industry leading, high density, drop-stitch material, which is exclusive to Red Paddle Co. The high-definition drop stitch technology makes every single board superior in terms of quality, stuffiness and durability. Why does this matter? No matter how big your plans, whether it be playing in the shallows with family and friends or escaping for an epic multi-day adventure you should hit the water knowing your board won't let you down. It's why we ran over our board with a 22-Tonne digger to prove it and the results speak for themselves!
The Best Experience
The beauty of having an inflatable paddle board is being able to roll it up, throw it on your back, in the car or on a plane and head off on your next adventure. Here at Red Paddle Co we never compromise to ensure you have the best experience both on and off the water. Our Red Paddle Co All Terrain Backpack is made using ultra tough fabric and reinforced, double stitched nylon threads (used in racing sails) to cope with anything life on the road throws at it. It also features high-spec, fully integrated wheels and super wide, padded shoulder straps with waist belt so you can simply throw it on your back or cruise along at your leisure.
There is no point in building a board that can withstand almost anything if you can't get it to a pressure that'll deliver unrivalled performance. It is why we developed the world's first purpose built, double chamber SUP pump. The Titan Pump halves the amount of time and effort it takes to inflate you board allowing you to make the most of your time on the water.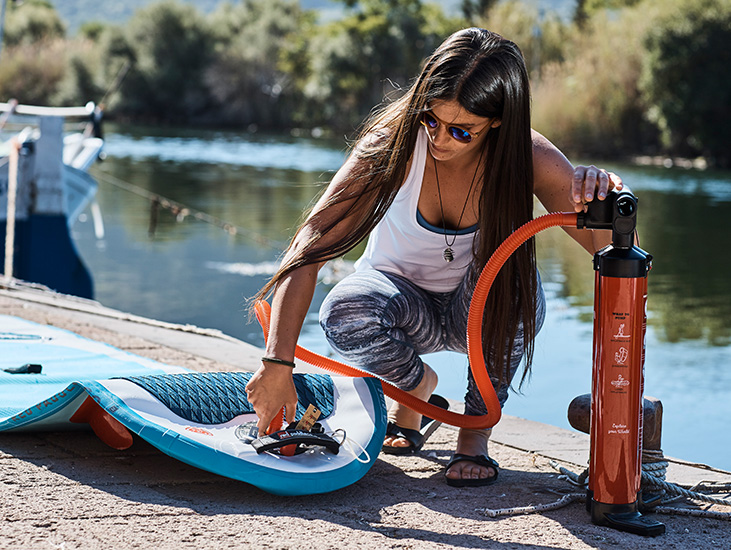 Added Extras
Our expert customer experience team is always on hand to support and provide guidance on our products so you can really make the most of your time on the water. Our Clubhouse, members area can be accessed by any Red Paddle Co board owner and features how-to guides, places to paddle, offers and rewards. Simply register you board for an extended two-year warranty and enjoy everything Red Paddle Co can offer as we are here for your journey.
We hope this guide has given you a little more insight as you continue your inflatable SUP research. If you need any more help with finding the right board for you, feel get in touch with us on our live-chat, drop us and email or take a look at a few of our recommended boards below. We hope to see you on the water soon!