Return to blog
How Long Should A Paddle Board Paddle Be?
Posted by Alex Clasper
Finding the right paddle is just as important as finding the right SUP, but how long should a paddle board paddle be? This is a really important question that we get asked a lot at Red. Choosing the right length paddle is essential for providing you with maximum efficiency and comfort whilst helping to prevent injury. More specifically, it will enable you to do the following:
Maintain better balance and control on your board

Keep a good posture

Conserve energy

Learn advanced paddle strokes more easily
It's clear that choosing the right paddle is essential, but exactly how long should a paddle board paddle be? As a general rule of thumb, it's recommended that your SUP paddle should be between 8″ to 10″ taller than you are. However, there are two other crucial factors that it's important to take into consideration. These are:
The Type Of Paddling You're Doing
Whether you're touring, surfing or racing, the type of paddling you're doing will play a big role in determining how long your paddle needs to be. If you're touring then it will need to follow the general rule of being 8″ to 10″ taller than you are. However, if you're surfing then your SUP paddle will be shorter. This is to provide you with greater manoeuvrability and strength. Racing paddles on the other hand are longer in length and should be approximately 10″ to 14″ taller than you. This provides you with a longer and more powerful stroke. However, depending on the kind of racing that you're taking part in, if you're racing in sprints, you may want to choose a shorter option for paddling more aggressively with shorter, powerful strokes.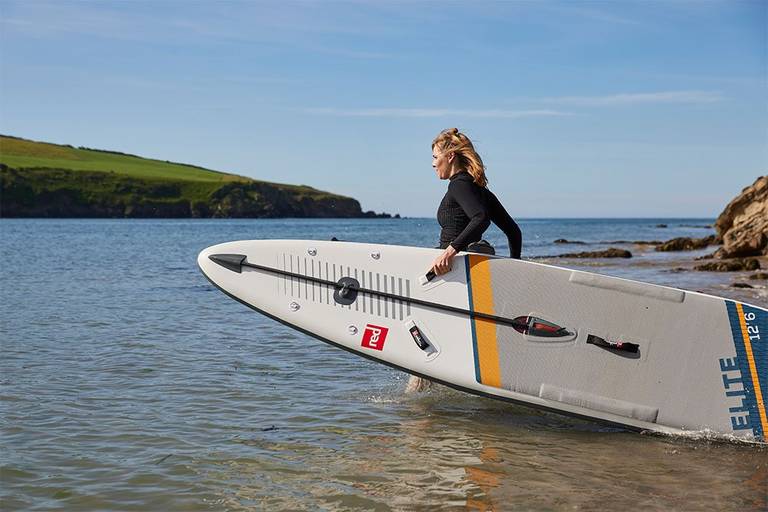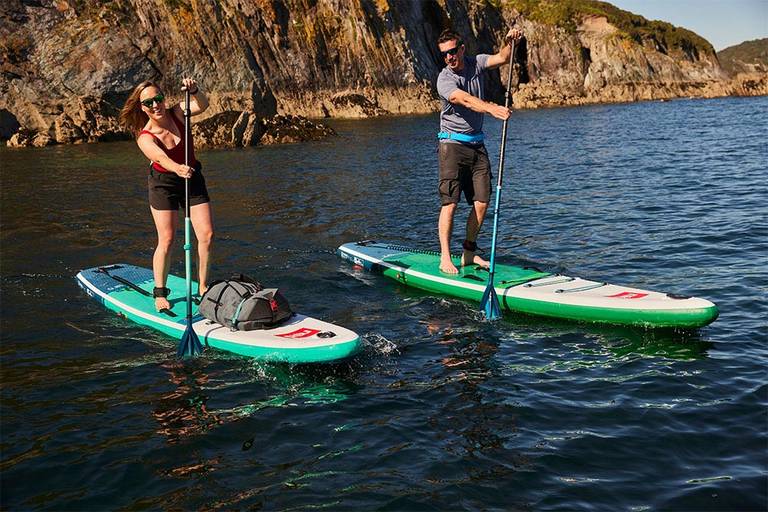 Adjustable Vs Fixed Length Paddles
Another really important consideration to make when choosing SUP paddles is whether to choose adjustable or fixed length options. The benefit of adjustable options is that you can adapt them to suit different activities, meaning you can use them for touring one day and racing or surfing the next. It also enables you to tailor the paddle more specifically to your height requirements, helping to improve overall comfort and performance whilst you're out on the board. Not to mention, if you're sharing a board with others then you can also share the same paddles and adapt them to suit your needs as required.
Fixed paddles are perfect for those that will not be sharing their paddle with other users and are set on the type of paddling they will be doing. Fixed paddles will be lighter and more efficient but do have their limitations. When deciding on the right height to cut your fixed paddle always start longer than you expect as it's easy to take more off rather than replacing the whole paddle shaft if you cut it too short!
SUP Paddles From Red Paddle Co
Now that we've determined the answer to the question "how long should a paddle board paddle be", you're likely to be wondering where to choose the best paddles to suit your requirements. Knowing that having the best SUP paddle is equally important as having the best board, we've put a tonne of testing and innovation into creating the ultimate selection of adjustable and fixed length paddles. All our SUP paddles are made from either alloy, hybrid (carbon and glass fibre) or high end carbon. This ensures that they are lightweight yet durable.
The range includes our Prime SUP paddles which are perfect for beginners or those interested in general touring, whilst our Ultimate carbon SUP paddles are perfect for racers or surfers that are looking to give their best performance. The latest addition to the collection is our 5-piece collapsible paddle which packs down compactly into 5 pieces for easy transportation. Our Hybrid tough adjustable paddle is a great option for shallow paddling, and we even have a Cruiser paddle that's designed specifically for little ones!
For help finding the perfect paddle to suit your individual requirements or if you have any further queries regarding "how long should a paddle board paddle be", please don't hesitate to get in touch with the team.