Return to blog
Inflatable Paddle Board recalls – But NOT Red Paddle Co
Posted by Jess Davies
Reassurance from our Founder and CEO – John Hibbard 
If you've landed on this page, then you're probably aware of the inflatable paddle board recalls that are currently happening and you may be wondering whether we are involved. First and foremost, I wanted to reassure you that Red Paddle Co boards are NOT part of the recalls. There are several reasons why we are not involved that are important and that I would like to share with you.
With the growth of SUP over the past 15 years it was only a matter of time before there was a major production issue. We've always felt this would come from brands that are made in shared facilities on mixed production lines. As demand increases so does the pressure on the people making the material and building the products. We've doubled down on our processes in periods of high demand to ensure we are doing better than before and ensure we have control over the products that carry the Red name. We'd rather fall short on production quantity than deliver products we are not proud of. 15 years is a good teacher, and we like to think that doing what we do from the very earliest days of SUP puts us in a position that we know what we are doing and are delivering on our promise to Never Compromise.  
I don't want to speculate on what has caused this current wave of recalls but there is a reason we make our boards the way we do and ultimately where we do, and this comes down to 15 years of board building experience. From the very early days of building boards, we knew that a lack of control and process will quickly land you in all sorts of trouble. It is for that reason that we make our boards in our own private facility and we do not use shared factories or production lines for any of our products. We also don't make boards for anyone else – despite what some companies claim. We've heard it so many times before "built in the same factory as Red". This is just not true. Our facility is set up just to make our boards, we have no interest in making boards for anyone else.  
Our focus has, and will always be, material knowledge and product design. Good Inflatable paddle boards are incredibly complex products to produce well – it is not something that can be rushed for the pursuit of dollar returns. We feel that the only option is to have complete understanding and ultimate control of every element, no matter how small and that starts with product design.  
Many things that might become issues later down the line are tested and smoothed out during the design and sampling stage. Our highly experienced in-house design team are constantly working together with everyone in our supply chain to ensure we are reading from the same page and working towards shared goals.  
  There are many ways to trip up when making an inflatable board, but if we focus on the elements that effect the structural integrity, which appears to be the issue with the current recalls then they can be narrowed down to heat, humidity, adhesives and process.    
Our facility is climate controlled because humidity plays havoc with materials and adhesives. There have been many times over the years where we have made investigative visits to other manufacturers and been horrified by the complete lack of control around temperature and humidity and general conditions. It's the number one thing to get right. If you can't control the environmental conditions, then you can't build a consistent product, regardless of if there is a Typhoon or periods of extreme temperatures (both hot and cold). We would often see a lack of cleanliness in and around the production area. Dust and loose material mixes easily with adhesives and creates further issues. We've always aimed for a level of cleanliness that is more like a laboratory. No outside footwear is allowed and only tables that you'd be happy to eat your dinner off are allowed to be used for board building. These are the very basic controls. We closely control the temperature and humidity not only in the areas where we make the boards but also in the material storage and final finished product areas. Doing this means we can be clinical in the build process and design out fail points.    
All inflatable boards use some element of adhesive. Don't believe those that say they have fully welded boards or that by some magic they don't use adhesives – it's just not true. A good mix of welding and adhesives will give you the best result. We found that there was no off-the-shelf adhesive that could withstand the heat and pressure that an inflatable SUP board must endure. Therefore, we work with experts to create custom adhesives that steer away from nasty additives. By creating our own custom adhesives we ensure they are REACH Compliant and can withstand abuse.
Handling adhesives is an important part of the board building process. It needs to be mixed correctly and it has a short "pot life" (the amount of time before it is no longer effective). Mixing adhesives takes time and precision. We've seen large batches of adhesives made up in some facilities to speed up the production of boards and extend the time between mixing sessions. The likelihood is that by the end of the shift the adhesive is no longer effective, and any product made in this period will fail. Over the years we have reduced the quantity of each batch to get tighter and tighter controls and therefore improve quality and consistency of the finished product.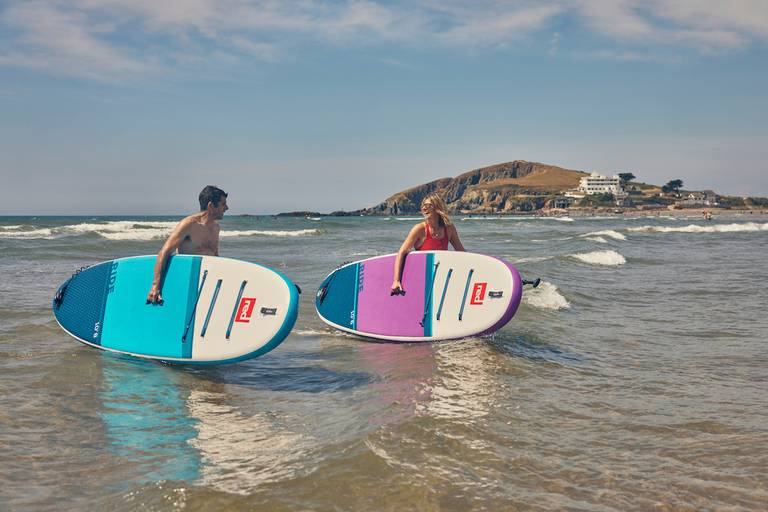 It's not easy to make a good board but it is easy to rush through a high number to hit targets and make a quick sale. We don't set any targets for finished boards, and we don't pay piece rates (where staff are paid per number of finished products). With no clear process or the wrong process, you quickly lose control. Every stage of building a Red Paddle Co board is controlled. This is not a mass-produced inflatable paddle board product. It doesn't matter if it is checking incoming material or parts, or the many detailed QC stations along the way, each step has a clear process and clear resolution action if issues are found.
This does mean it takes longer to build a Red board and while, just like any product, we still get the occasional isolated issue, it does mean we can be confident we aren't walking ourselves into widespread issues that require a recall. It also means we can sleep at night knowing we are doing everything in our power to make the best products that our customers are taking out onto the water. For us, it is about quality, safety and performance. When we started in 2008 it was about creating a solution to allow people to paddle without compromise. We wanted to inspire adventures on the best boards available. We weren't jumping on a bandwagon, we were setting our own course and coming up with innovative solutions. Nothing has changed.  
Our in-season warranty rates are below 0.5%, which when you consider our boards are sold in over 50 countries and used by water sports schools and beach clubs, this is a number we are exceptionally proud of. This is the reason we can offer a 5-year warranty. We've been making boards for 15 years and have data and experience that allowed us to commit to this level of cover. It's concerning when you see companies offering extended warranties that are longer than the company has been trading for. We didn't offer an extended warranty from day 1. We wanted to learn and improve everything we did until the data showed us that we could offer an extended term that wouldn't sink the ship and we weren't over promising and under delivering. Even after 5 years of use we see warranty rates of below 2 %, which is a phenomenal result for a hand-built product that is used in some of the harshest environments on earth. Despite these low rates we still have a dedicated customer experience team who are on hand to support and guide customers and offer quick support if needed.
I hope that has shone some light onto what makes Red, Red and why we do what we do. We are a passionate team of paddlers who continue to focus on the things that matter the most.  
If you are caught up in one of the inflatable paddle board recalls and would like to talk to us then please don't hesitate to get in contact. We will respond quickly.