John Woods, an ambassador in Australia, Melbourne, calls himself an adventure paddler as he paddles everywhere from lakes, to rivers, to the ocean and the bays. His sense of adventure allows him to end up in some beautiful places, while he loves the anticipation of not knowing what is around the corner. Since buying his first 13'2" explorer in 2015, he has done over 1400km of new paddles in Victoria, Australia.
Although John is a master on all waters, he does particularly enjoy the Australian river paddles. He took on an epic adventure paddling along the ….. ,which was a 6 day paddle. 4 nights camping and 1 night in hotel at end of paddle, with no phone reception, for the 5 days he had to be super self - sufficient with carrying extra repair bits and spare parts.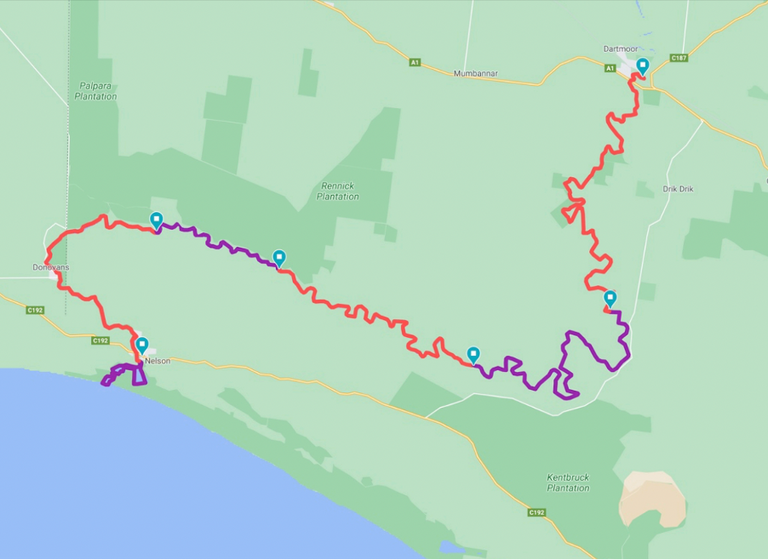 Daily Diary;
Day 1 - 26kms. Terrain for the first 5 km, paddling with portages. Ending up at the campsite by moonlight which was one of the highlights of the paddles.
Day 2 - 22kms. Early morning, no wind and the river widens out. Arrived at the campground just as the sun is setting.
Day 3 - 18kms. Each campsite had great launching and exit points. Each campsite on this paddle was dedicated to water paddlers only and were remote. We were lucky as we had all our campsites to ourselves.
Day 4 - 10kms. Today was meant to be our easy day with a late start and early arrival at the next camp but a strong wind decided to go against us which made it a very hard long paddle. We also had rain and found nice shelters to sit it out.
Day 5 - 18kms. We decided to get up early and paddle so as to get a head start on the wind that we knew we would face later in the day. The conditions were perfect for the first 4 hours and then the rest was hard into the wind. All part of the adventure. The last photos shows how we got back to our motel which was 1km away. Loaded both boards and gear up on my wheels and pulled it all up the Main Street.
We caught up with him to chat more about this and why he is so drawn to that Aussie lifestyle.
Can you tell us a bit more detail about the River you paddled on and why you chose this river and route?
The Glenelg River is 350km long and is located 400km west of Melbourne, Australia. I love to explore and try new sections of water. Due to the remoteness and the length of some sections, I decided to camp paddle 100kms over 6 days with a friend.
What did you pack and how did you load up the boards? Any tips you can share?
I had to be totally self-sufficient due to the remoteness. The main items were a small lightweight tent, sleeping bag, food, water and safety equipment.
Look for lightweight items, the weight of items can add up quickly. Weigh items as you pack and have a trial run loading the paddleboard - making sure you have enough anchor points and space to stand and move the paddle. I also carried a small camp chair that I used at the camping ground and also on the paddleboard.
Do not compromise on safety equipment for these types of paddles. Good quality dry bags are important - a wet sleeping bag is no fun.
I paddled with a friend and some items we could share. Good coordination and use of lists ensured we didn't miss anything.
A lot of the areas you camped at we pretty remote, any advice for paddlers looking to do a similar river adventure in Australia, including safety in remote spots?
Safety is really important, especially in remote areas. For this trip through the Glenelg River National Park camping is only allowed in designated canoe river camp areas. It was still a very remote location with a few days not seeing anyone else and no phone reception. I carried a PLB (personal locating beacon) in case of an emergency and left an itinerary with family members. Offline maps were extremely helpful.
Other useful items for safety: First aid kit, head torch, extra food, purifying tablets for water and bottles with filters, pump and repair kit in case of a puncture, spare paddle, rechargeable USB batteries to charge phones and lights.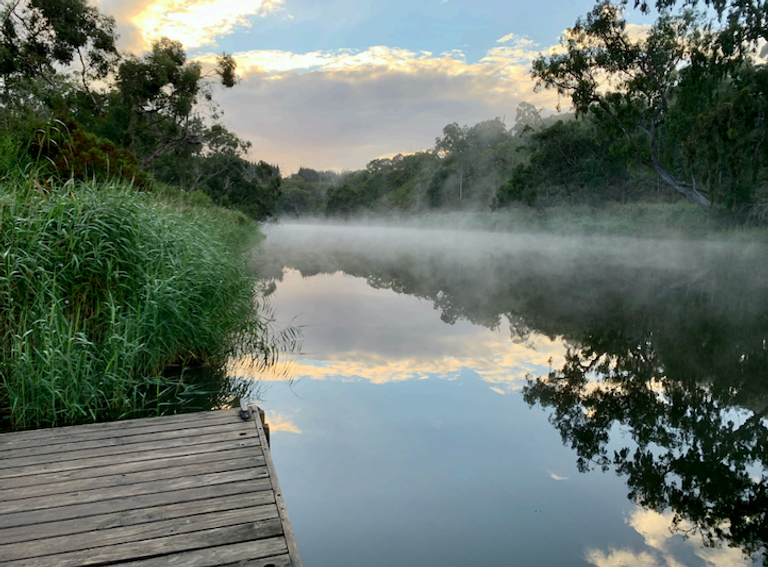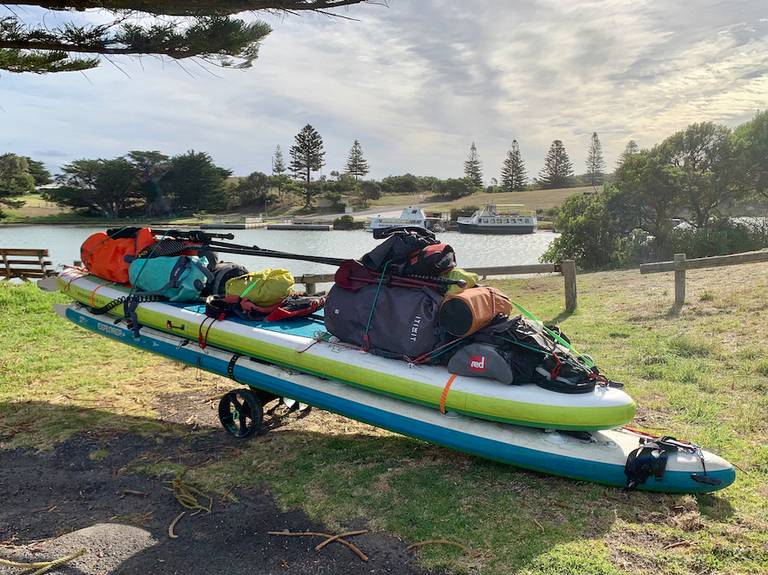 What was your highlight of the adventure?
Traversing through fallen trees, rocks, reeds and low water to make my way along the river. This type of paddling is so interesting as you never know what's around the next corner.
What were the conditions like, and did you have any challenges along the way?
There are a couple of sections of this river that are known to be impacted by the wind. The wind pushes through a section with high walls on either side. You have to be prepared for this and also the impact it will have on the time it takes to complete the paddle. Practice runs before multi-day trips help build up stamina.
Another challenge was the distances between camps. Normally I measure distances as part of the planning, but this time I took the distances from the National Park guide and didn't re-check. On the first day, the distance was 27km and not the 22km on the guide. This meant paddling in the dark using torchlight looking for the campsite. Offline maps helped as they showed the current location and the campsite.
What are your favourite places to paddle Australia - Do you prefer inland waterways or coastal paddling?
Victoria, Australia, my home state is my favourite place to paddle. Victoria is very diverse with lots of different types of paddling: rivers, lakes, bay and ocean. I have paddled over 1000km in Victoria and there are many more places to explore.
I like new paddles and the planning of adventures. Looking for launching points and exit points is also a great way to explore new towns and areas.
You have an old 13'2 Voyager board and have now got the new V-Hull voyager. How have you found this board?
The new V-Hull voyager board is a great looking and performing board with lots of new features. The shape helps it cut through the water really well and tracks much better than the previous models (2015 and 2018).
More tie-down points are also super helpful for longer trips. On the previous models, I had to add extra ones. The position of the handles also makes it easier to carry and lift out of the water.
Compared to the 13"2' explorer I have there is way less flex when I'm standing on it which is a big improvement.
Lastly, where will your next touring adventure take you? Any SUP challenges in the pipeline?
I have just completed the Goulburn River which is 480km long which I completed in 31 sections. It took me 3 years to finish this river mainly over weekends with up to 3-hour drives to get to some sections.
My next multi-day camping trip will be the Wallagaraugh River which is 500km's east of Melbourne. This trip will be harder to plan as there is not much information on it.