Return to blog
Meet the Models: FIONA OSMASTON
Community
Posted by Jess Davies
Continuing our 'Meet the Models' series, I caught up to Fiona Osmaston, one of the amazing ladies who kindly took part and paddled in our Ride sunset photoshoot in Devon.
----------------
As passionate paddlers, I'm sure we can all remember the first time we set foot on a paddle board and took our very first wobbly strokes on the water. For me, it was on a choppy sea in Brighton and on a hard board no less! We stayed out for hours, and had great fun playing around in the waves.
Well, like many of us, that first day on the water for Fiona left her with a burning desire to get back out there and do it all over again. Unfortunately, life had other ideas and following that first lesson on the water she did not step foot on a paddle board for another three years.
----------------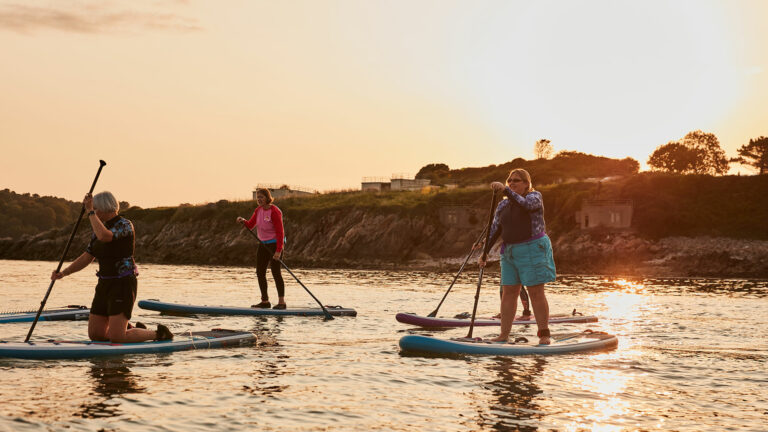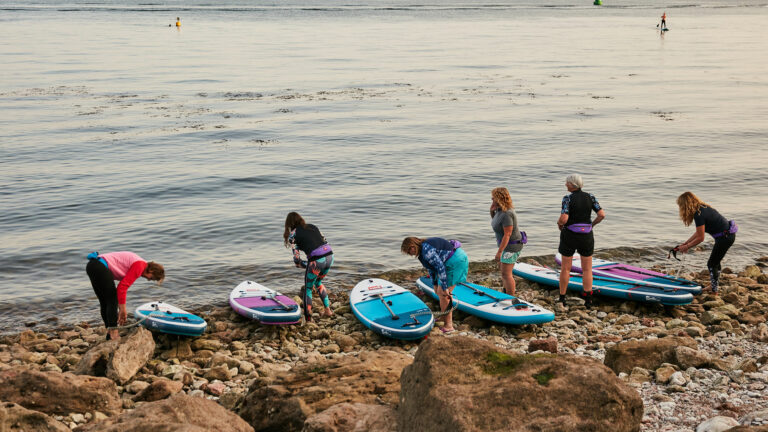 Fiona's paddle boarding story is one of recovery and resilience and we are incredibly grateful she chose to share her own experience with our SUP community.
Hi Fiona, could you tell us about your first experience of SUP…
My first experience on a paddle board was on a glorious summer day in August 2017. I had signed-up my husband, Nick and myself on a group paddleboard lesson at the Mount Batten Watersports Centre in Plymouth. Our instruction was clear, walk to the water carrying the board, get on, kneel, stand up, paddle - it was fantastic. It didn't matter that we fell off the boards we'd had our first SUP adventure and paddled to the end of the Mount Batten pier into the Plymouth Sound, it was great fun and a huge feeling of success, achievement and a burning wish to do it all again.
On our return home however, I had a letter from The Primrose Breast Care Centre at Derriford Hospital. They were inviting me to come up and have a repeat mammogram and that was the start of my breast cancer journey. A new mammogram followed by an ultrasound and punch biopsies confirmed that I had breast cancer.
It took some three years of breast cancer treatment before I ventured on a board again.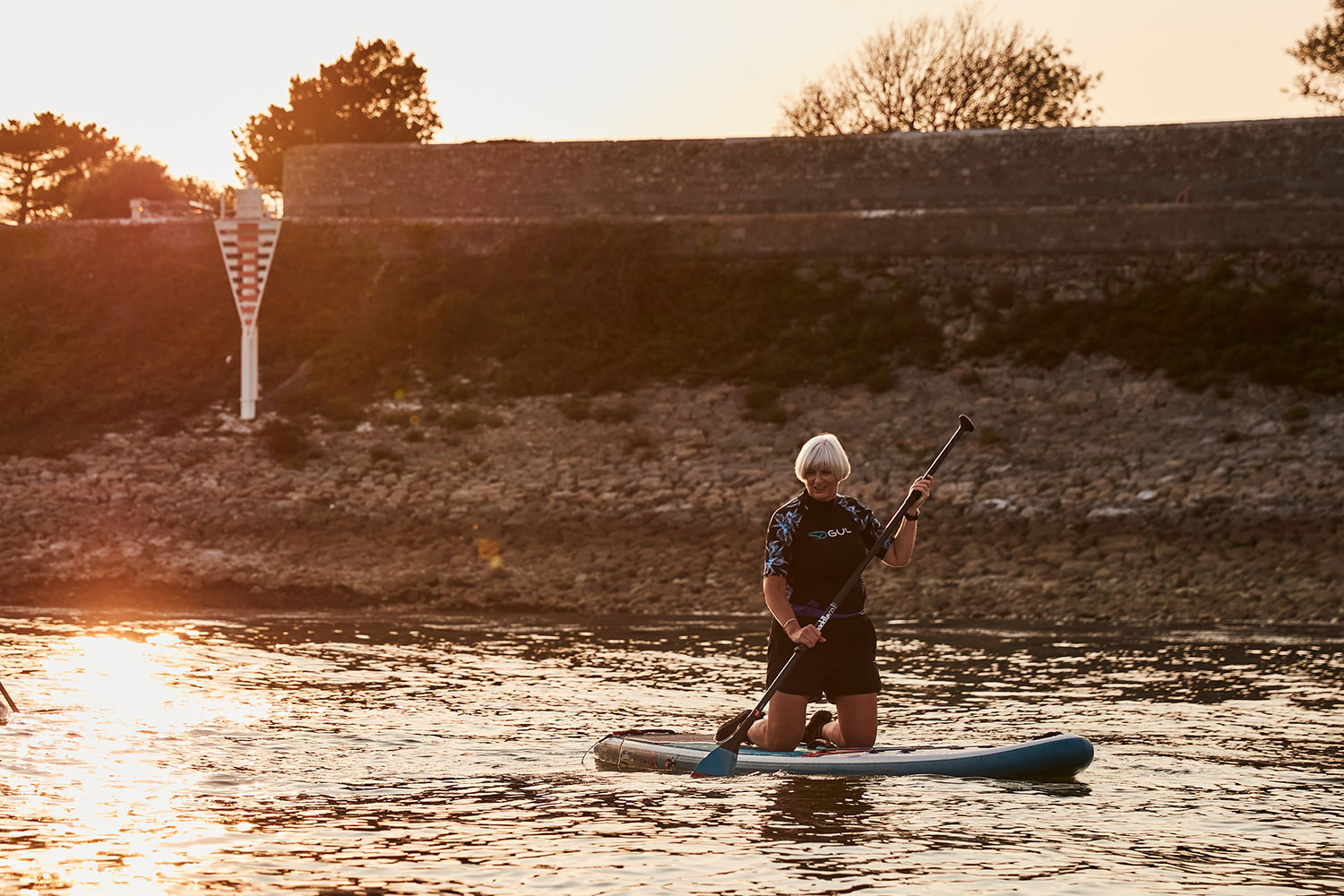 Thankfully you returned to the water this year - how has paddle boarding helped with your recovery?
Without doubt, paddle boarding this summer has helped get back to the old me - physically and mentally. There is something challenging and fulfilling about being on the water. I still class myself as a novice and I'm happy to learn. I enjoyed a couple of lessons in July 2020 on the River Exe, to further my skills such as climbing back on the board and standing with more confidence and learnt how to turn and go forward!
In terms of my recovery - firstly there was the confidence issue, was I strong enough to get out on the water, would I be able to balance, could I sustain any length of time on my paddleboard? Thankfully the answer was yes.
My scars from mastectomy and reconstruction surgery had healed enough and the Pilates and physiotherapy had strengthened my core so I could balance again, and I could paddle without my new boob being an issue. Paddle boarding is a whole-body workout on the water, my body had let me down by having cancer, but out on the water I felt more connected, it didn't matter that I'd had a mastectomy and reconstruction. On the water I was whole.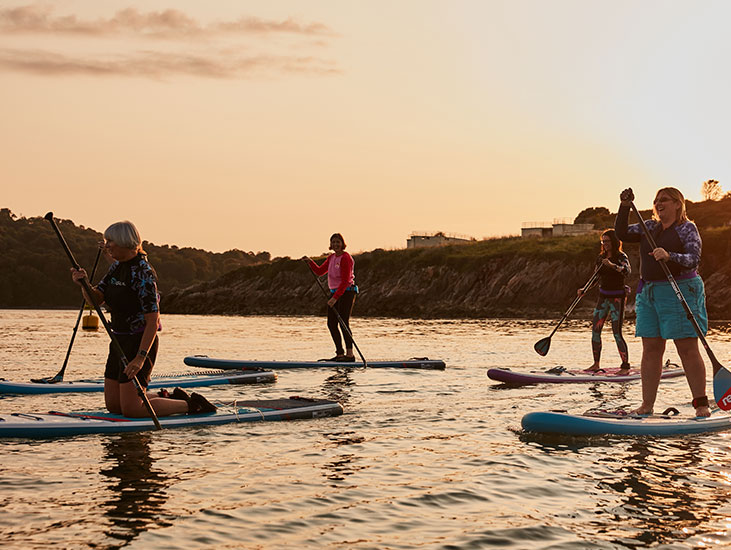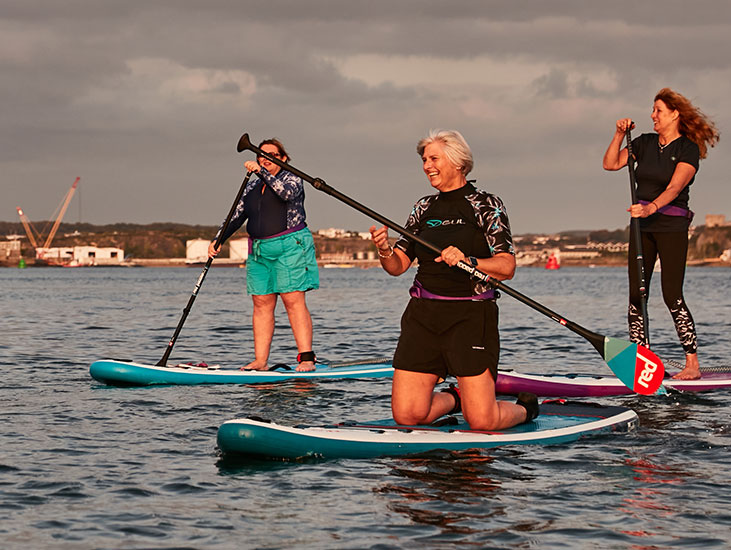 "Once out on the water, I couldn't think about anything other than my immediate environment, the movement of the water, the serenity of feeling the sun on my face, the enchantment of being on the beautiful South Devon waters"
2020 was a challenging year, yet during your treatment and recovery how did you cope and how has paddling supported your own wellbeing?
Throughout my treatment and reconstruction, I was excellent at putting on a brave face. I teach full time at a large secondary school in the heart of Plymouth - my suits and lanyards acted as my armour. No two days are the same in a school of 1400 students and I absolutely thrive in my job as part of the leadership and geography team and developing new teachers. From 7.45am each morning to whenever the day ends, I have non-stop social interaction with colleagues and students.
Sadly, Covid 19 meant that once in lockdown we had to teach remotely. Although we remained open to the most vulnerable students and those of key workers - because I'd had cancer as I was considered high risk and so the social interaction was lost and that buoyancy of being really busy was diminished. So, with time on my hands I had the opportunity to really reflect on what had happened to me over the past three years - the cancer, the reconstruction and trying to come to terms with what the new me was like and not liking her much. On top of that, the sadness of my lovely dad dying in a terrible way and isolation brought me to a very low point and a bleak place.
"As soon as I had my own paddle board, I could see light at the end of the dark tunnel."
The greatest impact from paddling has been on my mental wellbeing. Once out on the water, I couldn't think about anything other than my immediate environment, the movement of the water, the serenity of feeling the sun on my face, the enchantment of being on the beautiful South Devon waters - a double whammy for me as a geographer being able to paddle on flooded rias and along dynamic coasts.
Being on my paddle board has a restorative quality particularly when paddling on the River Tavy at Lopwell Dam. This is one of the most beautiful areas in which to paddle and where I feel at peace. You can't help but relax and feel your mood lighten when on the tidal river in a tree lined valley. It is almost a form of meditation as your mind quietens as you focus on the repetitiveness of the paddling strokes, whilst shifting your weight and trying to stay balanced on the board.
What other benefits have come from your SUP experience?
Being part of the paddle board community has opened a new social experience too, from group paddles with strangers and new friends on Facebook - a group full of kindness and fun. I've experienced such generosity from experienced paddlers who are willing to coach, encourage and just have a laugh no matter that I am new to the sport.

I was fortunate enough to join the Red Paddle Co gang and ladies over 50 at the Royal William Yard one evening. It was fabulous getting to try out new boards, in a new location for me - on the sea. We were made so welcome and the vibe was so positive. I'd never met these great ladies, but we had the common bond of just loving being on the water. It didn't matter that we had different levels of experience and that I was the newest to this activity, they were encouraging, and we laughed all evening.
It took a while to find my sea legs, but I smiled, laughed and managed to stand up eventually. I really enjoyed the entire experience; you are never too old to try something new and the benefits are immense, and you learn something new about yourself every time you are on the water.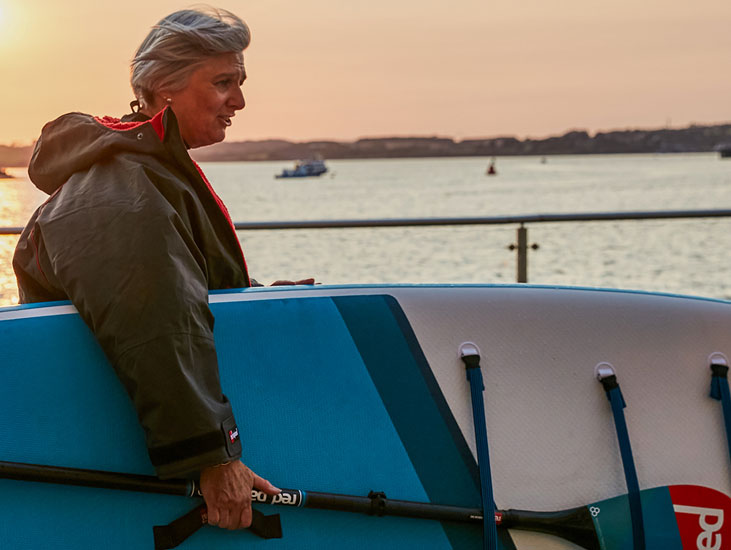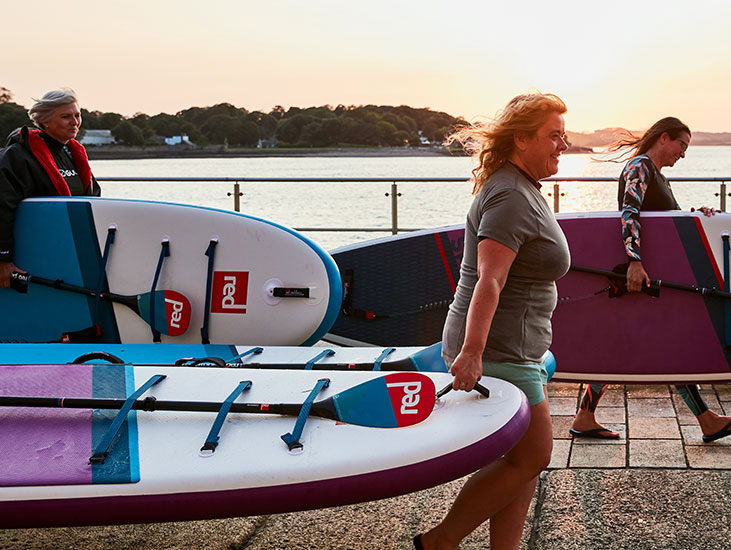 "I'm so keen now that I hope to organise a paddle for Primrose in the future as a way to raise funds for the Breast Care Unit and the amazing team who've seen me through the past three years."
From your own experience, what advice would you give to someone who wants to try paddle boarding or a new activity but doesn't know where to start?
The advice I would give is just give it a go. Google SUP lessons - there are lots of organisations out there and all the people I've had tuition from have been passionate about their own enjoyment of being on the water and generous in the way in which they really want you to have a good time and join in.
To begin with you don't need to buy anything as most SUP Schools provide you with wetsuits and a suitable board and paddle based on your experience. Once you have mastered the basics (which I reckon you can do in a couple of hours) the rest is all confidence and practice. Then when you've got the bug you will want to become, rather like me, the "all the gear, no idea" woman. I was thrilled when my own paddleboard arrived and couldn't wait to get out on the water. Your family and friends will see you in a new light and they will want to join in too. You become the easiest person to buy presents for whether that's PFD's, caps, changing robes, lights, dry bags etc. It is a win, win situation.
I'm so keen now that I'd like to organise a paddle for Primrose in the future as a way to raise funds for the Breast Care Unit and the amazing team who've seen me through the past three years. These healthcare professionals give so much of themselves to support the women in the South West area and it is through their compassion and treatment that I've become a trustee of The Primrose Foundation and would love to use the power that SUP has given me to help and support others.
A huge thanks again to Fiona for sharing her SUP story – it just goes to show there is always time to try something new, no matter your age or background and even if it takes a while to get back out there, the water really does have the power to pick you up and help you find strength when you might need it most.
FEATURED BOARDS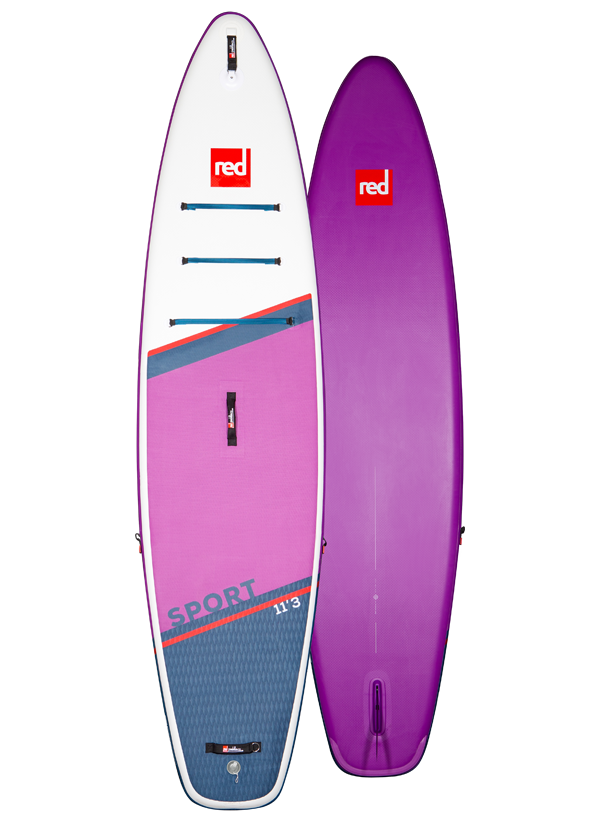 11'3″ Sport SE SUP Board Package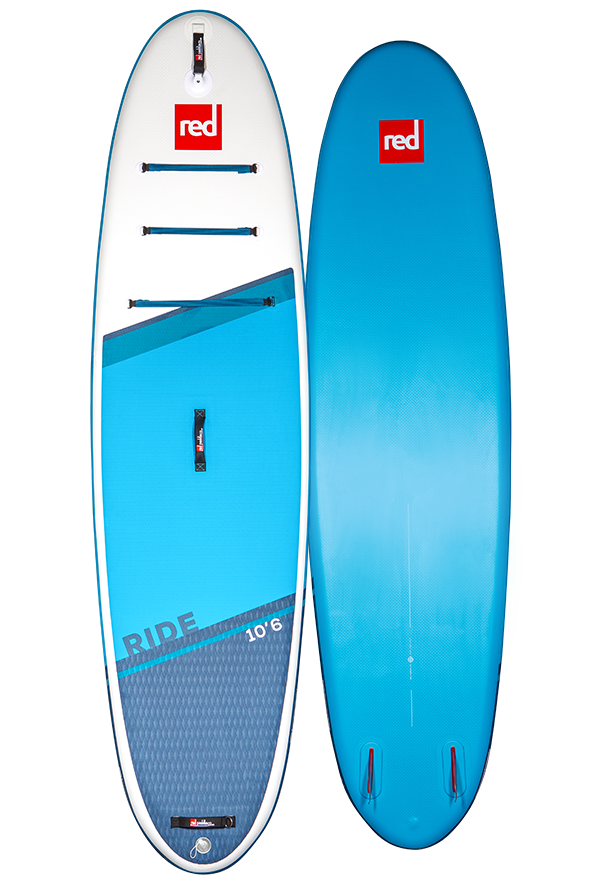 10'6″ Ride MSL SUP Inflatable Paddle Board Package