Return to blog
Adventures are a Family Business
Family
Kayaking
Running
Posted by Ross Montadon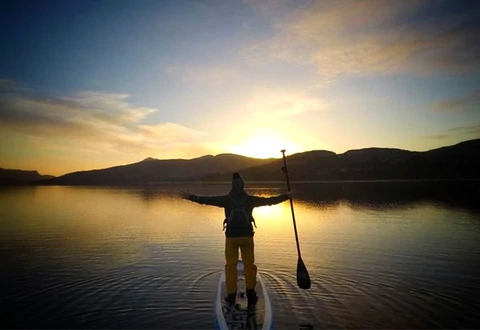 Let's Meet Dale
This week we touched base with keen photographer and recent outdoor Dad, Dale Mears on how he manages to make time for his adventures with his young family.
'The outdoors for me is an escape from day to day life, there is nothing better than the adventure of a good mission whether it is the journey there, the activity itself or the recap on the day in pub with friends.'


Adventures from the door step
Dale is no stranger to the outdoors as a former whitewater kayaker and keen photographer. He's managed to find a balance between spending time with his family and fitting in a sneaky adventure whenever he can. Dale calls Nottingham his home which, despite having no coastline, is a great location for all types of watersports including an on-tap, year round whitewater course to feed his whitewater kayaking hunger. In between sessions on the whitewater course, Dale's interest in photography developed into an accompanying hobby capturing his friends on camera. From kayaking the natural progression into paddle boarding evolved. The easy access the sport allows enabled Dale to enjoy being on the water whilst slotting it in around work and family life.
"I love an adventure that tells a story. Memories are important especially now adventures are a family business."
We asked Dale what it was that he enjoyed so much about the outdoors, "It's sitting on a river first thing in the morning with dew running off the banks and trees, light glistening off the water, the fresh air and smell of the outdoors, the waking up to a light frost and hopping on the sup and braving the fresh morning mist to explore, nothing beats it."
During the day Dale is a Design and Technology teacher as well as a new Dad. Dale manages to juggle the work life balance by exploring from his doorstep. Nottingham is home to multiple waterway networks consisting of rivers and canals which symbolise a lifeline for the post-industrial workings of the midlands. Being able to paddle the local canal networks which used to move materials across the country, is a nice little history lesson. Many of the local canals and rivers have opened up to footpaths and cycle paths. Ideal for when Dale has the family in tow. For Dale when time allows, he loves an adventure to North Wales or Scotland.
The time my daughter was 5 weeks she had already been to Snowdonia and around Cwm Idwal so I guess we will started her young!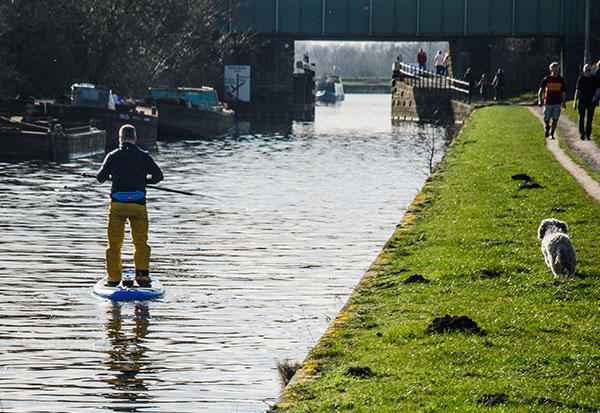 The Online Paddle Boarding Community
Dale's passion for paddle boarding and photography led him to create a popular social media page (Standup Paddle UK) which is an online community for sharing photos and stories. We wanted to know why it was so important for Dale to create a social page for an already populated and image friendly sport.
I noticed that apart from on Facebook there was not really a big community vibe on Instagram. There were many pages sharing photos of ladies in bikinis on paddleboards and hunky chaps but this for me was far from what I had experienced paddle boarding. This led to setting up @standuppaddleuk ultimately it started as a feature page to share the UK sup communities' adventures. Now we have two admins, we are starting to get a lot more interest around reviews and are keen to run some meets this year. The page has grown quickly and has a lot of support from paddlers from all over the UK and afar so we are excited about how we can help grow this over the coming months and years.