Return to blog
Red Original FAQ: Everything You Want To Know About Aqua Shoes
Posted by Luke Green
If you spend a lot of time in or around the water, aqua shoes should be right at the top of your wishlist. Watersports can demand a lot from your feet and although many water activities tend to be associated with going barefoot, you can and should still care for your feet in the water. Having teamed up with Clarks to create some of the top-performing aqua shoes on the market for men and women, we like to think we know a thing or two about aqua shoes. With this in mind, here are the answers to everything you want to know about this essential type of footwear for water enthusiasts.
What Are Aqua Shoes?
Aqua shoes, also knows as water shoes, are comfortable and lightweight footwear designed specifically for use in and around water. They are designed to protect your feet from nasties when transitioning from land to water and offer grip, whether you're walking over slippery or uneven wet surfaces or when standing up and gliding across the water on your Red paddleboard.
What Are Aqua Shoes Made From?
Aqua shoes are usually made from a quick-drying mesh fabric that is suitable for use in water. Many pairs also have some element of neoprene involved and may look or feel more like 'wetsuit shoes', though Red's aqua shoes are completely neoprene free. Instead, the Red x Clarks aqua shoes are constructed from a range of recycled and technologically advanced materials like Bio EVA and recycled rubber. The lightweight properties of the materials used to make aqua shoes keep your feet comfortable throughout the day and are an example of just one of the many benefits of aqua shoes.
Can You Swim In Aqua Shoes?
Aqua shoes are suitable for pretty much any activity that involves water in some way, meaning that you can swim in them! The breathable open mesh means that our aqua shoes will self-drain rather than fill up with water. Do bear in mind that aqua shoes will still feel different to swimming completely bear foot, but they are ultimately a great choice if you are planning to swim somewhere new or need to protect your feet while getting into the water.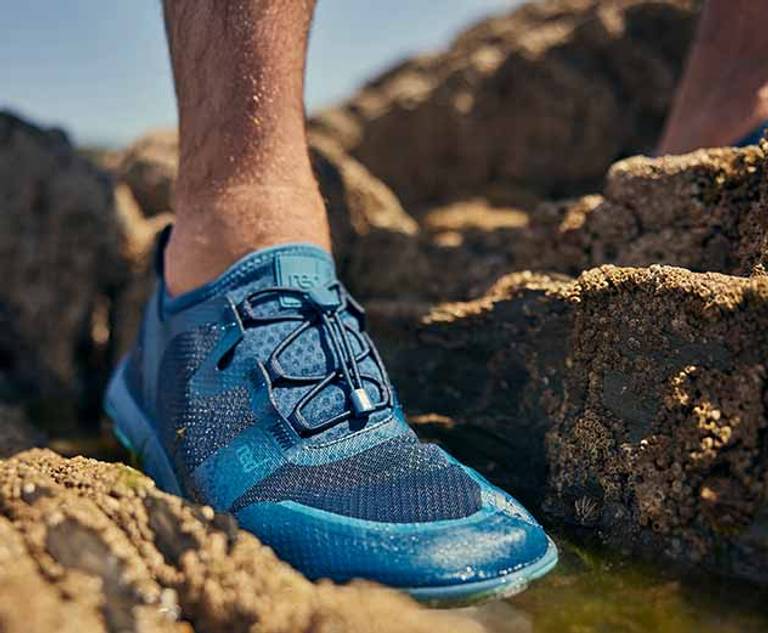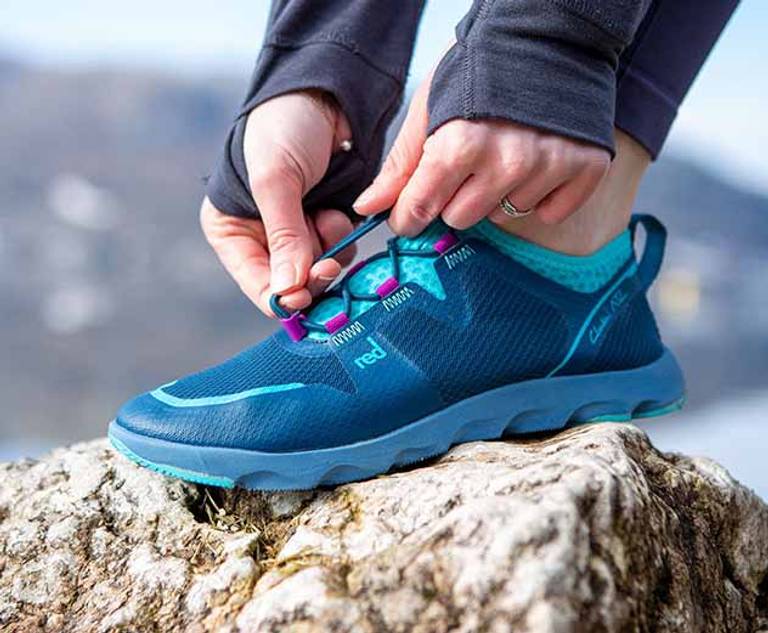 Can You Wear Aqua Shoes Out Of The Water?
You can and are encouraged to wear aqua shoes out of the water to protect your feet. Aqua shoes can be worn pretty much anywhere you want to wear them, meaning that you don't have to keep changing your footwear throughout the day. Whether you want to be protected from splashes around a busy home, slip them on to run some errands or fit in a quick workout, the ergonomic low-profile design of Red's aqua shoes makes them incredibly comfortable for a huge range of everyday activities.
What Is The Difference Between Aqua Shoes And Socks?
When you're looking for the perfect pair of aqua shoes, you might also come across aqua socks. Aqua shoes and aqua socks are actually very different so it's important to understand which is more suitable for you. Unlike aqua shoes, which are sturdy and supportive enough to double up as an everyday shoe, aqua socks recreate the feel of being barefoot during water activities. They are often used as necessary insulation for scuba diving and other watersports. Though aqua socks are more lightweight and can be more flexible than aqua shoes, they do not offer the same levels of protection that you might need when moving between terrains.
So there you have it, everything you need to know about aqua shoes! We're sure you will agree that aqua shoes can really enhance your experience in and out of the water. If you need any advice on the best type of footwear to wear for your favourite activity or want to learn more about the Red x Clarks aqua shoes, don't hesitate to get in touch with the expert team at Red.