Return to blog
Red Paddle Ultimate SUP UK road trip
Brand
Posted by Jess Davies
Join us this summer for our ultimate paddle board road trip 2017!
During the first week of August 2017 we will be packing up our paddle boards and hitting the road in our very own Red Paddle Co bus! We'll be stopping off at some of the very best paddle boarding locations the UK has to offer so expect plenty of fun competitions, summer time vibes, and the best SUP advice from the Red Paddle Co team!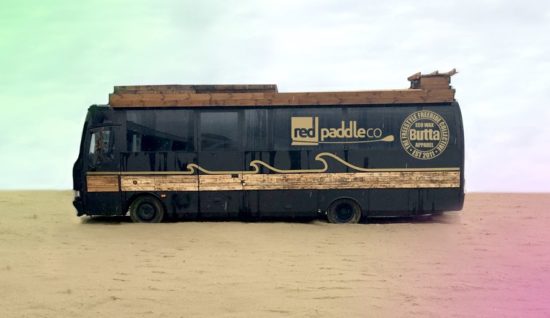 Our week-long road trip will see us host six amazing Red Paddle Co events full of FREE SUP activities. Whether you're looking to hone your paddle boarding skills or try it out for the very first time, we will be on hand to make sure all your questions are answered! And, for those of you looking for a touch of relaxation, we'll have a qualified SUP yoga instructor on hand to help you master your downward dog on the water.
THIS EVENT HAS PASSED!
Each stand-alone event will vary slightly in terms of the activities on offer but we're certain you'll have a SUP'er time!
You can expect:
Beginner and Advanced paddleboarding sessions
SUP Yoga classes
SUP Fitness classes
Competitions to win amazing prizes
Organised SUP tours
Races on our multiple person 22'0" Red Dragon and XL Ride boards
Music
Food & Drinks
Red Paddle Co Guru Bar
Pop-up shop to buy a paddleboard
Meet our lovely Red Paddle Co team
Fancy taking part in one of our fun-filled activities? Just head over to our Ultimate SUP UK Road Trip event page and select the specific activity and location you are interested in. Each event works on a first come, first serve basis so be sure to get your name down pronto!
Click on each location below for more details on what we have in store for your local event:
Saturday 29th July, Bray Lake, Maidenhead: Kicking off the Road Trip in style, we are coming to Bray Lake, an idyllic peaceful paddle boarding location in Maidenhead!
Sunday, 30th July, Tallington, Lincolnshire: Our second stop takes us to stunning Tallington Lakes for a jam-packed day of paddling fun!
Tuesday 1st August, Manly Mere, Cheshire: We stop off in the beautiful Cheshire countryside to set-up SUP shop at the picturesque venue, Manly Mere.
Wednesday 2nd August, North Dock, Llanelli, Wales: The 4th leg of our road trip brings us to Wales, in the heart of the Millennial coastal dock, overlooking Camarthen Bay.
Thursday 3rd August, Wake Up Docklands, London: We hit the big smoke and invite you busy city-goers along to enjoy a Red Paddle Co day of FREE SUP fun!
Saturday 5th August, Newquay, Cornwall: Our final pit stop brings us back down south to the beautiful scenery of the South West coastline.
Finally, we'd like to give a big shout out to all our key partners and friends who will be playing an integral part in making this a truly epic road trip.
LIZZIE CARR
Red Paddle Co comrade Lizzie Carr, will be joining us at our first pit stop in Bray Lakes. Lizzie hit the headlines back in May when she became the first female to paddle board across the English Channel. Lizzie will be on hand to talk about her challenge and her mission to clean up the plastic that's polluting our waters. She will be running several SUP 'plastic patrol' action sessions on the lake and educating you on how to stop problem at its source.
LULULEMON
The truly wonderful Lululemon team will join us in London and will be parking up their 'Om The Move' mobile meditation bus. Throughout the day the team will be inviting you to hop aboard and unwind your mind and body in an hourly meditation session. Sessions will be running from 12pm-5pm, so be sure to get your name down. They will also be bringing their latest seasonal pieces so you can leave feeling suitably calm and looking the part.
SUP YOGA WITH SARAH SIMMS
Qualified SUP yoga instructor Sarah Sims will be with us at Bray Lakes, Tallington and London. Sarah will be offering a mixture of taster, improver and SUP fitness sessions. So, no matter what your level of ability or experience; her enthusiasm, expertise and support are sure to see you achieve more than you thought possible on a yoga paddle board.
RABBLE - PLAY HARD
The guys from Rabble will also be running intensely fun 'exercise' classes at the London event, featuring immersive team games, suitable for everyone to take part and enjoy.
DAFFY'S GIN
Daffy's gin will be on hand in London to provide us with a refreshing tipple (or two) to help kick off those 'Après SUP' vibes!
FATBOY
Our friends from the lifestyle brand, Fatboy will also be supporting us throughout the trip. So once all the fun's been had, you can kick back and relax in one of their ridiculously comfy Lamzac loungers.
We can't wait to meet you all - See you on the road!
Robyn x