Return to blog
The Origins of Paddleboarding | Jimmy Martinello in Myanmar
Ambassador
Paddle Boarding
Posted by Lydia Burdett
When you think back to the history of paddle boarding and where it all started - "Its Origins" - your mind tends to think towards Hawaiian and Polynesian Surf Cultures. However, there is evidence that other cultures contributed to the origin story in their own way - exploring tropical waters for both food and pleasure. Stand Up Paddling is the perfect mode of transport to aid survival and adventure.
Red Ambassador Jimmy Martinello went on a hunt to discover more about the global Origins of paddling standing up.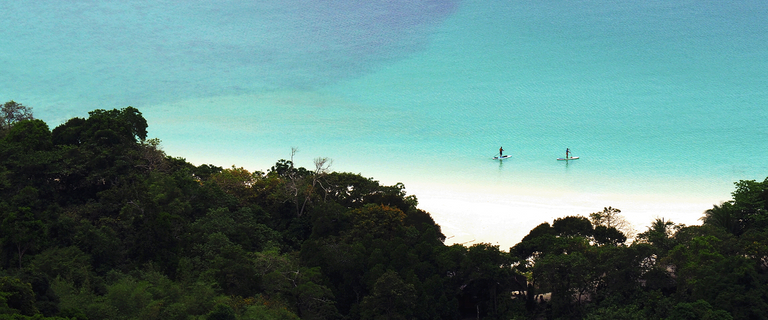 Ten years ago I was gratefully introduced to SUP paddle boards by a good friend Todd Lawson and things just took off, I had watched for many years Stand-Up Paddle Board surfers catching beautiful waves around the world but I was still so keen on just surfing that I didn't think of all the amazing things you could do with a paddle board. The adventures and explorations it can take you on, surf yes, paddling rivers, oceans, and lakes absolutely! It just opens a whole new wave of opportunities and a whole new outlook.
The Red inflatable SUP boards got my attention right away. Because they are so light, you can travel with them. Because they are so very tough and durable you can take them anywhere. You can roll them up and pack them into a bag and head into the mountains, explore alpine lakes and rivers or jump on a plane and take the board with you.
This leads me to this past year traveling to Myanmar (Burma) a country that has been on my radar since I graduated high school. A country that was then closed off to the rest of the world, holding so much mystery and history that you would only hear stories about and see a few images of what a remarkable and diverse country it was and the beauty that it held. I so wanted to go there when I was 19, but the places I wanted to visit at the time were cut off from the rest of the world. For most of its independent years, the country has been engrossed in rampant ethnic strife and its myriad of ethnic groups have been involved in one of the world's longest running and ongoing civil wars. In 2015 Myanmar voted in its first democratically elected government in more than half a century. Swathes of the country, off limits for so many years, could now be freely visited.
With the country slowly improving and travel becoming easier, a plan was formed in 2019 to visit.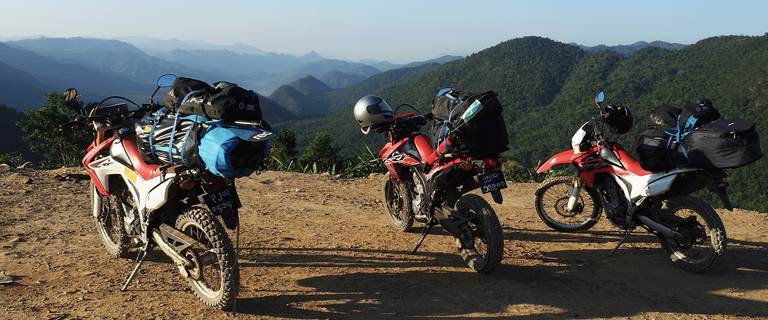 After spending two and a half weeks exploring and paddling around the beautiful Mergui Archipelago and the stunning temples of Bagan via motorbikes with paddle boards strapped on the back, we were delighted to enjoy some chill time at the mysterious and beautiful Inle Lake. I had read so much about its fringed marshes and floating gardens; where stilt-house villages and Buddhist temples rise above the water, but books can never really compare to how it is in real life. Another reason that drew me to this remarkable place was the stories about the unique style of paddling used by the local fisherman.
Arriving in the late afternoon on our motorbikes, we pulled our boards off our bikes and began pumping them up just before sunset. Setting out into the evening light was a dream come true, a special feeling to paddle along its borders. The water was like glass, serenely calm, every paddle stroke a moment of peace and release, heading out into the wild mystery and unique history of this magical place.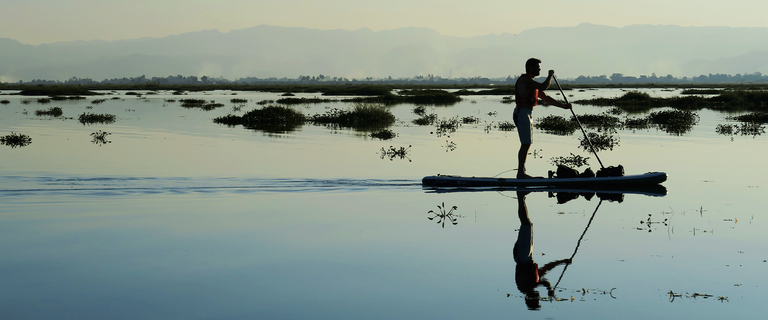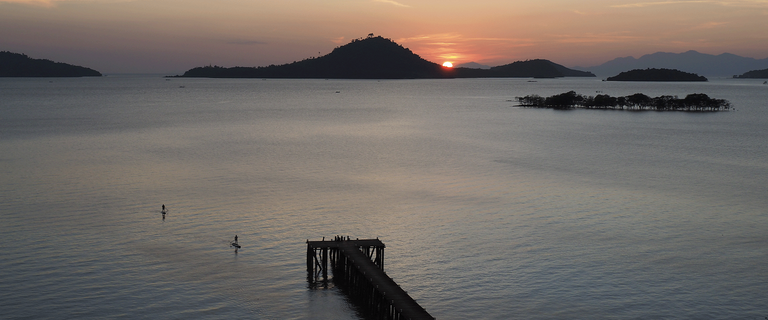 It was inspiring to bump into the local fisherman along our paddle to see and share their unique techniques of leg paddling and fishing. They are known for practicing a distinctive paddling style which involves standing at the back of their boats on one leg and wrapping the other leg around the oar. This unique style evolved out of necessity. The lake is covered by reeds and floating plants, making it difficult to see above them while sitting, the standing position provides the paddler with a view beyond the plant life and reeds. Their special technique allows them to keep one hand free for using nets and other implements to catch fish. It is a seriously delicate balancing act, which I tried a few times but ended up falling in the lake, they take standup paddling to another level. These skills have been acquired over many years of practice since childhood and they make it look so easy.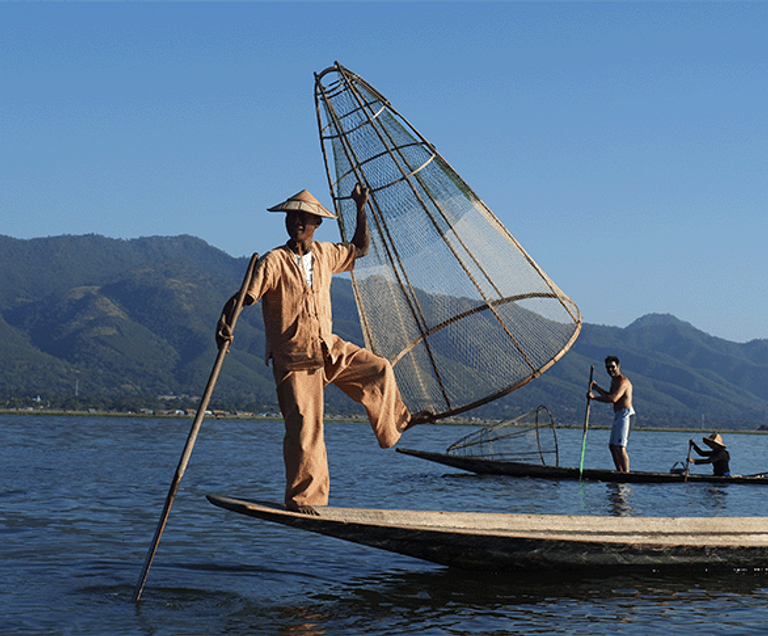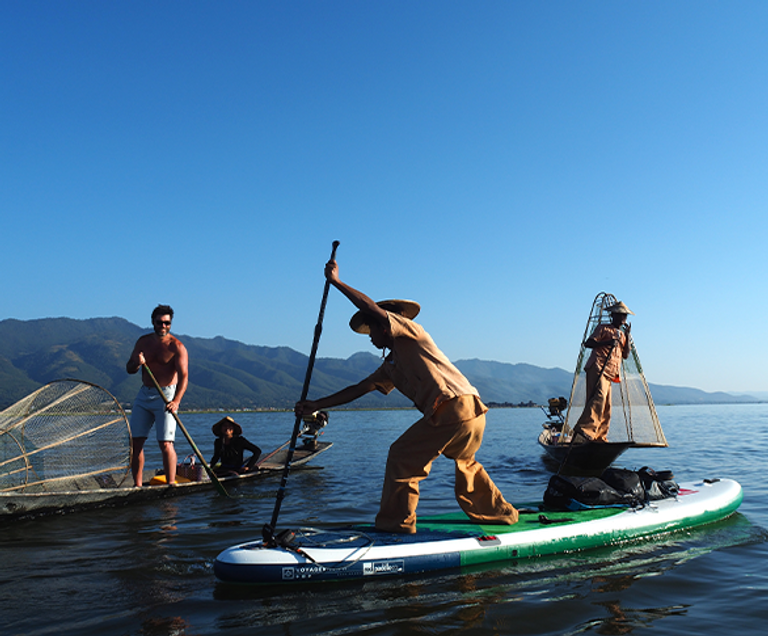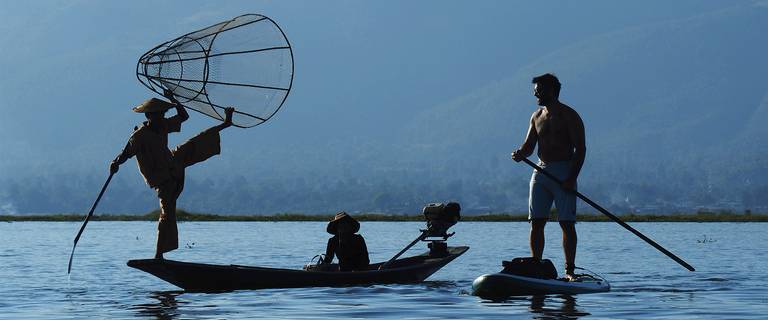 They gave us a lesson on how to use the nets and their unique style on how to catch fish. In exchange, we shared with them the futuristic concept of inflatable paddleboards— a concept they couldn't believe at first but loved once they tried. In just a few short moments of instruction, they were paddling in such a sweet style. Together we shared great laughs and memorable moments that will stay with me forever. It really got me wondering where the origins of Stand-up paddling come from. Was it just from Polynesia and Hawaiians or was there an influence from right here in Myanmar and how the local fisherman have been paddling for generations and generations? Either way, it has been a technique evolving for centuries and used in so many ways from survival, travel, and adventure to catching a wave or paddling off into the sunset.
Paddle in hand, from fishing boats to carved out wood blank SUP surfboards to now the evolution of inflatable paddle boards, the influences and origins come from all over the world and from generations of paddlers. A fascinating Origin Story that I still ponder today.