Return to blog
What Does B Corp Certification Mean For Red Paddle Co?
Posted by Alex Clasper
Since our inception in 2008, a commitment to equality and sustainability has always been at the heart of everything we do at Red Paddle Co. We always strive to keep our impact to a minimum, without compromising on innovation and quality when creating our range of paddle boards and equipment. Now, 15 years later, Red Paddle Co has achieved the ultimate mark of our commitment to the planet and to people: becoming the first UK paddleboard company to get a B Corp Certification.
Whether you've never heard of the term B Corp before, or are wondering why it is so important to us to get certified, this handy guide will explain what a B Corp is and how it relates to Red's ethos of encouraging people of all ages to enjoy the water in the right ways.
What does B Corp mean?
B Corp is a voluntary certification that any company in any sector can strive to achieve. B Corporations are companies that meet specific and verified standards when it comes to social values and environmental impact, as well as transparency and accountability.
While a lot of these standards cover the way a company produces and manufactures goods, B Corp standards extend to every corner of a business, including the way employees and treated and rewarded.
There are over 6,000 B Corps currently certified across the world, from clothing and footwear to food and drink, and Red Paddle Co is proud to sit among these.
B Corp Criteria
Becoming B Corp certified is a lengthy and thorough process, which requires a company to meet specific criteria. This criteria depends on a number of factors, including size, ownership structure, industry and revenue.
However, B Corp Criteria can be summarised by the following clear components:
1. Pass the B Impact assessment
The BI Impact assessment is a way of measuring a company's social and enviornmental impact. The assessment takes place online and the impact criteria leaves no stone unturned, covering how diverse the workforce is to how much waste the company produces.
To pass the assessment, a score of 80 must be achieved. Red Paddle Co scored 89.5, so now it's up to us to maintain our score, or even better, keep improving!
2. Be accountable to all stakeholders, not just shareholders
The second set of criteria for B Corp certification is to do with the organisational structure of a business. This means that we have to carefully assess how what we do impacts all of our stakeholders, from our staff, to our customers, and anybody that uses UK waters.
The Red Foundation ensures that we are always giving back to our stakeholders. We support a range of charitable organisations to make paddle boarding and adventuring outdoors accessible.
3. Publicly share performance
Owning up to all of your actions can be daunting, but doing so is essential criteria for achieving the B Corp certification. For Red Paddle Co, this means we have to share our performance via a public B Corp profile. On our public profile, you can find further details about our B Impact score in all of the essential categories: governance, workers, community, environment and customers.
Why did Red get B Corp certified?
At Red Paddle Co, getting B Corp certified just made sense. We have always tried to be responsible in everything we do, without compromising the quality of our SUPs and gear. For example, we've been shipping our Red paddle boards in compostable packaging since 2021, so that your order is great for the water, and even better for the planet.
As we've grown, we feel our duty to the planet more than ever. Becoming a B Corp means that Red Paddle Co can continue to develop, and extend our planet and people first ethos to even more areas of what we do. B Corp companies have to re-certify every 3 years, meaning there is no opportunity to let up on social action and social innovation.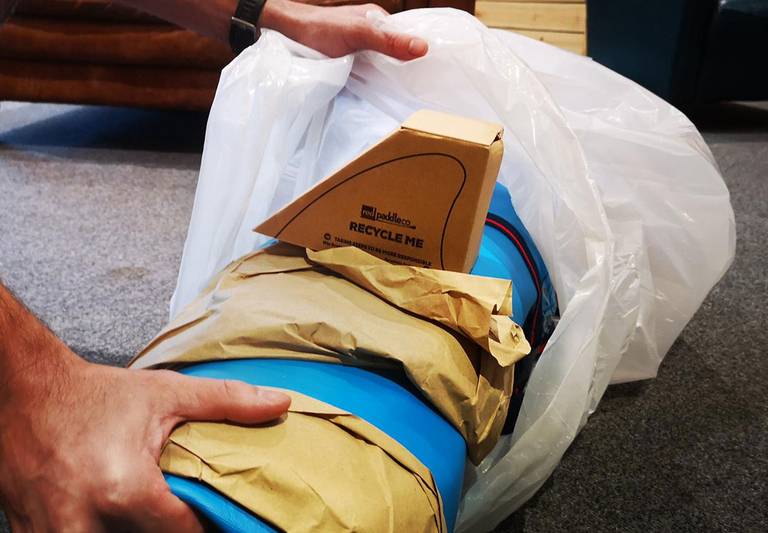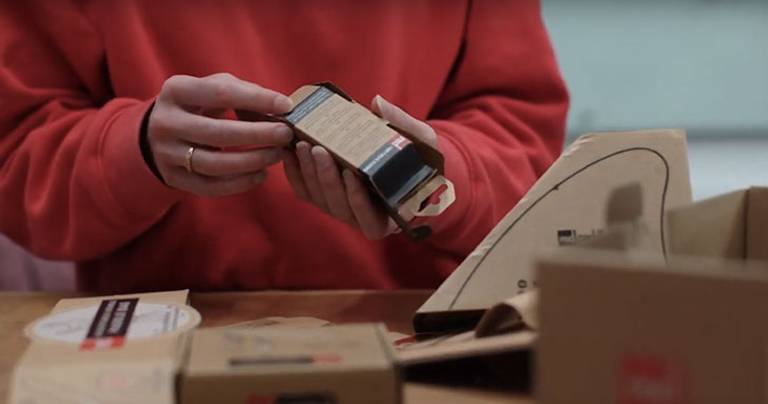 What does Red's B Corp certification mean for the future?
Now, Red Paddle Co are taking steps to be even more responsible. We operate a 'Taking Steps' principle, which means we are always striving to improve our processes and give even more back to all stakeholders. Some of the ways that we are doing this and maintaining our B Corp certification include:
Rolling out sustainable packaging to all of our products
100% compostable packaging is our ultimate goal and we're not far off. Now we've rolled out out compostable plastic packaging for our boards and pumps, we want to ensure that all plastic packaging is replaced with our greener alternative.
Red's designers are exploring other ways of innovating our packaging, such as soy-based inks and corn starch.
Designing with the Circular Economy in mind
The principles behind the Circular Economy are simple: reduce landfill by moving away from single-use materials that can't be repaired and choose materials that can be re-used instead.
Limiting waste is great for the planet and, better still, there's no reason to sacrifice efficiency when working by the Circular Economy model. Red's Titan Pump cuts the time it takes to inflate your paddle board in half, while being easily recoverable when it comes to the end of life. We're continually finding ways to work in this way, and limit how much we add to landfill in turn.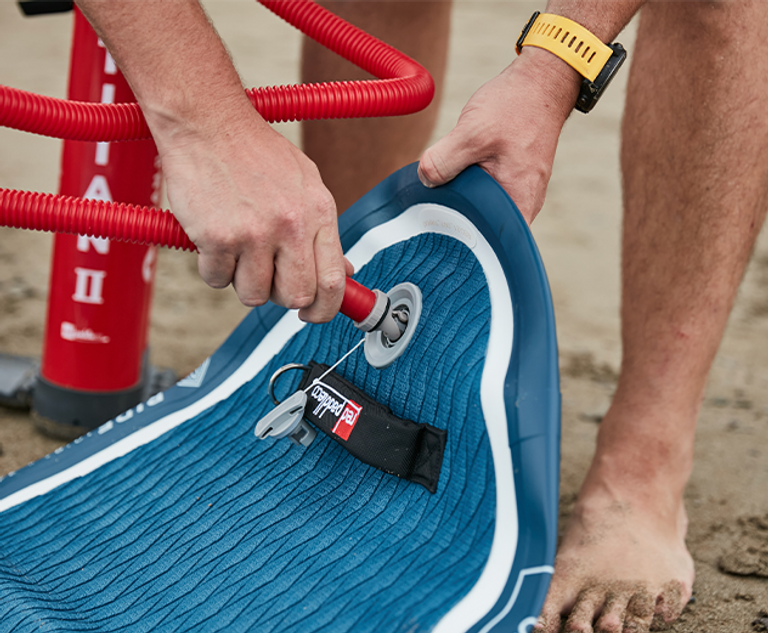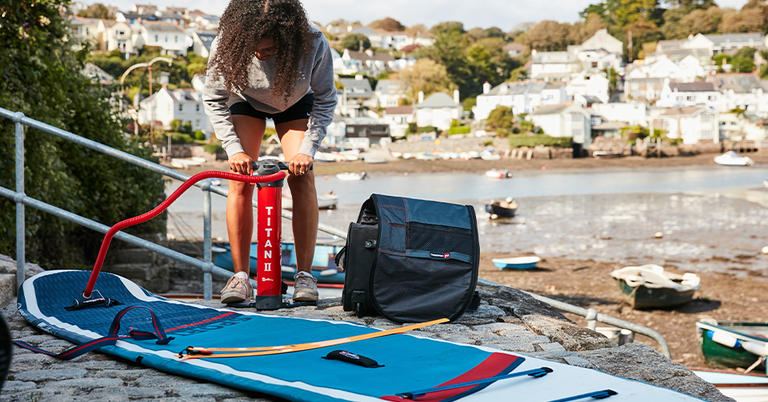 Staying committed to safety
As well as being mindful towards the planet, B Corps are required to put people first too. Our range of safety videos do just that, and we are committed to finding new ways to make sure that you can access the water safely and enjoy all that is has to offer.