Return to blog
Winter Water Safety Tips For Paddle Boarders Of All Levels
Posted by Luke Green
Just because it's cold and grey doesn't mean you have to pack your paddle board away. Paddle boarding in winter is still great fun. You just need to ensure that you're taking a few extra winter water safety precautions to stay safe in the more hazardous conditions that winter presents. Regardless of your experience, safety should always be a top priority when you go paddle boarding, but more so than ever when you're out on the water during the winter months. Enjoy a safe session on the water during the colder months by following our essential winter water safety advice:
Think About Your Location
A lot of winter water safety involves good preparation and planning. Look for locations where there are plenty of good access points for launching and landing, plenty of places to go ashore, and minimal boat traffic. You should also look for spots that are protected from wind and waves. If you are a beginner, you should avoid paddling in tidal waters, and stick to paddling in flat water while you build your skills. This is particularly important for winter water safety, where the water conditions are likely to be more dangerous than during the summer.
Check The Weather Forecast
Checking the weather forecast is an essential paddle boarding safety tip for any time of the year, however it's particularly crucial for winter water safety. Weather conditions during the winter can be a lot harsher, creating more hazardous paddling environments. When checking the weather forecast, pay particular attention to the wind and air temperature. Wind creates choppy conditions that can destabilise you or throw you off course, whilst cold temperatures can be dangerous, particularly if you fall in the water. If you are heading to a lake or river, avoid going after heavy rainfall, as this increases pollution and debris, whilst causing water levels to rise to a dangerous level.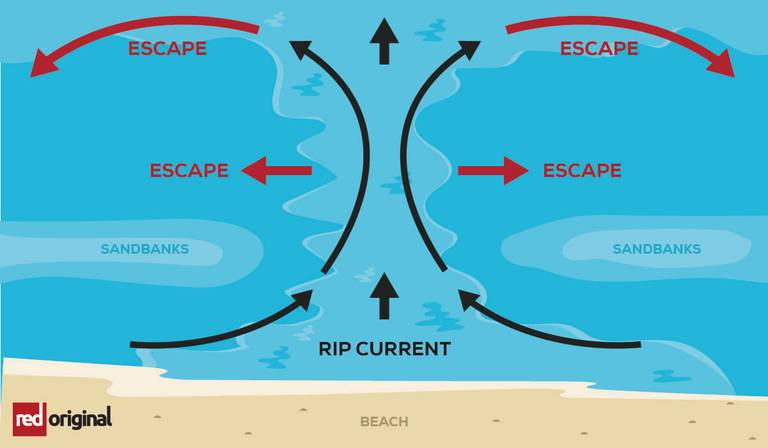 Check The Tides
If you're planning on paddle boarding in the sea during the winter, you need to be particularly cautious of dangerous currents, rip tides and choppy conditions. That's why essential winter water safety advice for paddling in the sea is to check the tide times in detail before you head out. Slack tides (in between high and low tides) are generally the best tides for paddle boarding as movement in the water is more minimal.
Wear A Wetsuit Or A Drysuit
Regardless of your experience level, you should always wear a wetsuit or a drysuit when paddle boarding in the winter. You don't know when conditions might cause you to fall in the water, and it's essential that you're wearing a wetsuit to keep you warm in the water. A wetsuit is easier to move in than a drysuit and so a wetsuit is the more suitable option, unless the temperature is extremely cold.
Keep Your Hands And Feet Warm
You should also make sure that your feet are kept warm by wearing wetsuit boots. When choosing wetsuit boots, you need to make sure the grip is suitable for your inflatable SUP. Don't hesitate to get in touch with our team for advice on which boots are suitable for your Red Paddle Co SUP. Wearing wetsuit gloves will keep your hands warm, which is crucial for allowing you to keep hold of your paddle firmly and move without any difficulty.
Wear A Buoyancy Aid Or Personal Flotation Device
As an absolute minimum safety requirement, and only if you are a confident swimmer, you should wear an Airbelt PFD that attaches to your waist. In the event of an emergency, you will need to pull the bladder out using the grab handle and place it over your head to inflate. Otherwise you should wear a buoyancy aid that is at least 50N (beginners should always wear a buoyancy aid). These precautions are essential for helping you stay afloat in the event that you end up in the water, and are crucial not only for winter water safety but for paddling at any time of the year.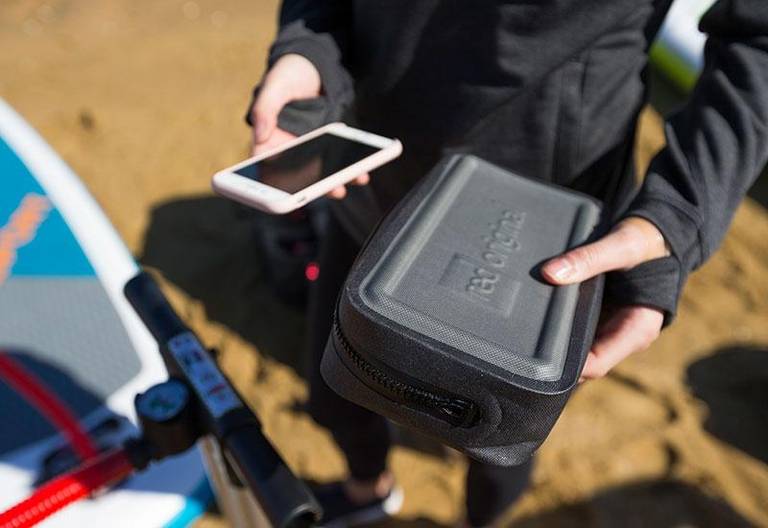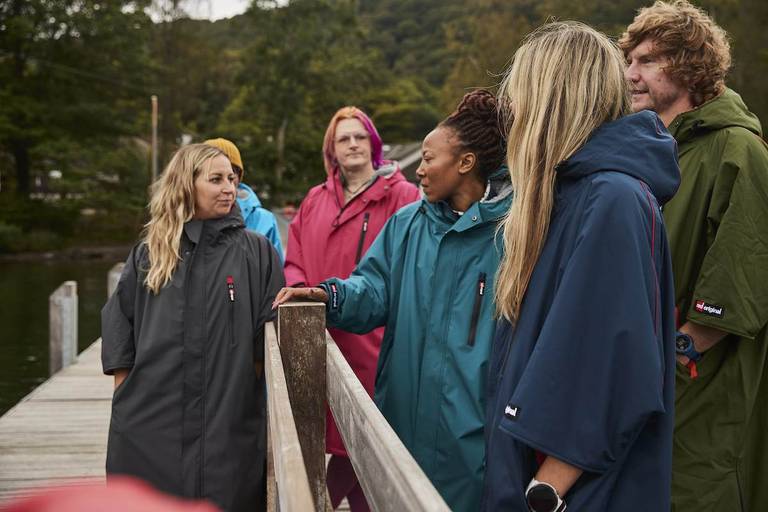 Put Your Leash On
Wearing a leash is essential not only for winter water safety, but for paddling during any season. If you're paddling in flat water, you should wear a Coiled SUP Leash, and if you're surfing you should wear a Straight SUP Leash. Attaching your leash to our Quick Release Waist Belt means that you can quickly detach yourself, in the event of an emergency, and if you're unable to reach your ankle.
Paddle With A Mate & Bring A Phone
Paddle boarding with a mate is a lot more enjoyable than paddling on your own, however it's also a lot safer. You can look out for each other and call for help if necessary. You should also bring your phone out with you so that you can call the emergency services if required. If you are paddling in the sea you can call 999 and ask for the coastguard. You can carry your phone in our compact Waterproof Pouch that attaches easily to your board or around your waist, so that you can take essential belongings out on the water with you. It features a YKK watertight zipper, so you can be confident that the contents will be kept completely dry and secure.
Be Aware Of Cold Water Shock
Cold water shock is one of the biggest risks in winter water safety and so it's important to know what to do in the event that you end up in the cold water. The cold temperature can cause your breathing to become more rapid, which can trigger panic. If this happens, the key is to stay calm and fight your instinct to thrash around. Instead, float on your back, until you can control your breathing and call for help.
Warm Up Properly
An essential part of winter water safety is warming up after you exit the water. If you have been in the water, it's essential to dry off and warm up as soon as you exit the water in order to prevent an 'afterdrop' which occurs when your body continues to cool down once you're out of the water. Warm your body up gradually, i.e don't jump in a boiling hot shower straight away, and keep yourself warm. The Pro Change Robe EVO is perfect for helping you warm up after paddle boarding in the winter. It features a super soft moisture wicking lining, waterproof outer shell and windproof baffle to provide extra protection from the wintery elements. Remember to bring a warm drink in an insulated stainless steel water bottle and something sugary to eat, as this will help to warm your body up.