Return to blog
How Thick Should A Paddle Board Be? Red Paddle Co's Guide
Posted by Alex Clasper
Choosing the right size paddle board isn't just important for ensuring you stay afloat! Aside from ensuring the board supports the rider's weight, the size of the SUP also determines how manoeuvrable it is, and it's suitability for different activities. For example, a racing board is longer and narrower than a general all-round SUP in order to improve speed. We discussed the importance of choosing the right length paddle board in our previous blog, but how thick should a paddle board be & why is this important?
Why Is Paddle Board Thickness Important?
An inflatable SUP needs to have a certain amount of thickness to ensure that it has enough rigidity and stability to support a rider's weight on the water. However, if the board is too thick, then riders will have trouble feeling "connected" to the water. The increased surface area also makes the SUP more susceptible to getting blown about in the wind. If you feel like you're sitting too high above the water then you're likely to feel unstable, particularly in choppy conditions.
How Thick Should A Paddle Board Be For All-Round Use?
When looking for an inflatable paddle board for general recreational use, you'll likely come across lots of SUPs that are 6″ thick. The main reason for this is that they are cheaper and quicker to make, requiring less expensive materials and more straightforward manufacturing processes and technologies. Whilst a 6″ board will do the job of getting you out on the water, it won't provide you with the best stability, and will provide more limited control. The only exception to this is high quality, thicker boards, that have been purposefully made for specialty paddling, like racing or touring.
With this in mind, the optimum thickness for a general all-round paddle board is 4.7″. This provides you with the perfect amount of stability to ensure you feel grounded and stable on the water, whilst providing optimum manoeuvrability, responsiveness and glide. Your weight is supported, whilst ensuring that you still feel connected to the water and more in control.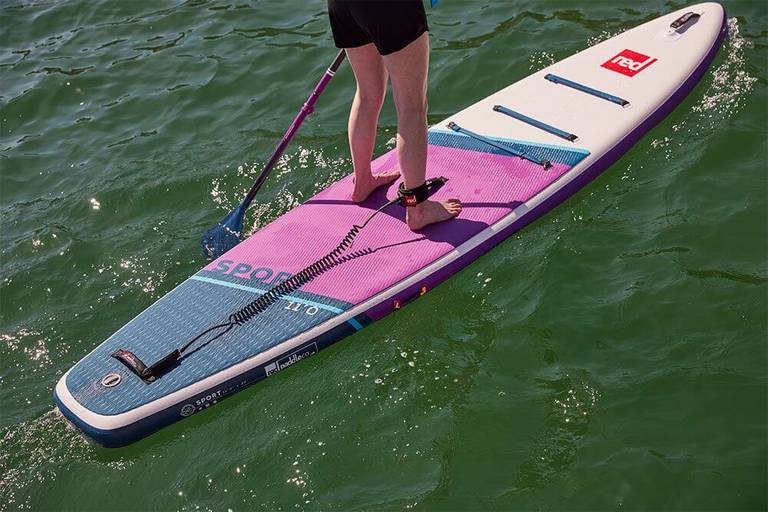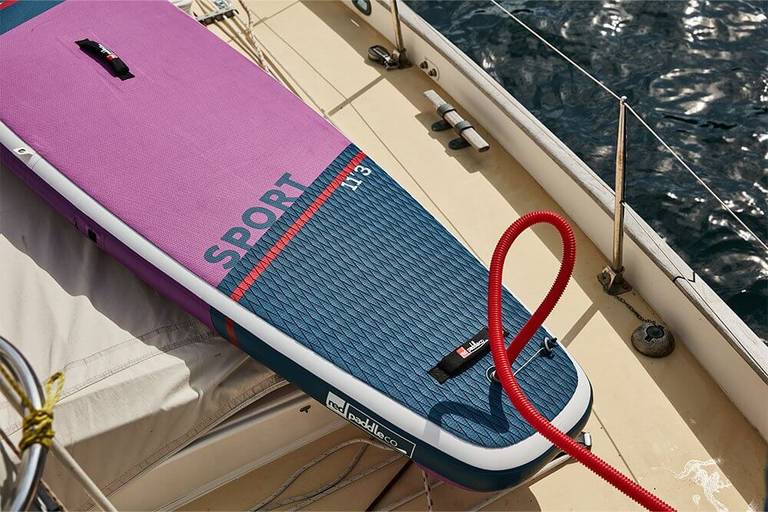 When discussing the question of "how thick should a paddle board be", we emphasised how boards with different thicknesses tend to have different design and tech qualities. At Red Paddle Co, it's the use of our exclusive MSL technology that enables us to create a thinner 4.7 ″ board enabling each board to be "thick for purpose". High density drop stitching provides a stronger, stiffer core without needing to increase thickness. Being 22% thinner than the average board, the 10'6 ″ Ride MSL provides riders with a lower centre of gravity, enhancing stability and control thanks to the reduced surface area. Another benefit of this reduced paddle board thickness is that the SUP is a lot quicker to inflate and less effected by the wind.
Is There A Place For Thicker Paddle Boards?
So we know that thinner is best for general all-round use, but how thick should a paddle board be for specialty paddling? Ultimately, this depends on the type of paddling that you're doing. Racing and touring boards for example both benefit from being thicker. Touring boards need to be thicker so that they can be loaded with extra kit. The displacement V-Hull on Red Paddle Co touring boards ensures that the nose breaks the surface tension of the water and keeps you gliding through your paddle stroke, so you can paddle longer with less effort.
Racing boards benefit from being thicker as this allows greater stiffness to help reduce the performance gap to full carbon boards.
If you have any more questions regarding "how thick should a paddle board be", or would like guidance on finding the perfect SUP for your requirements, please don't hesitate to get in touch with us.