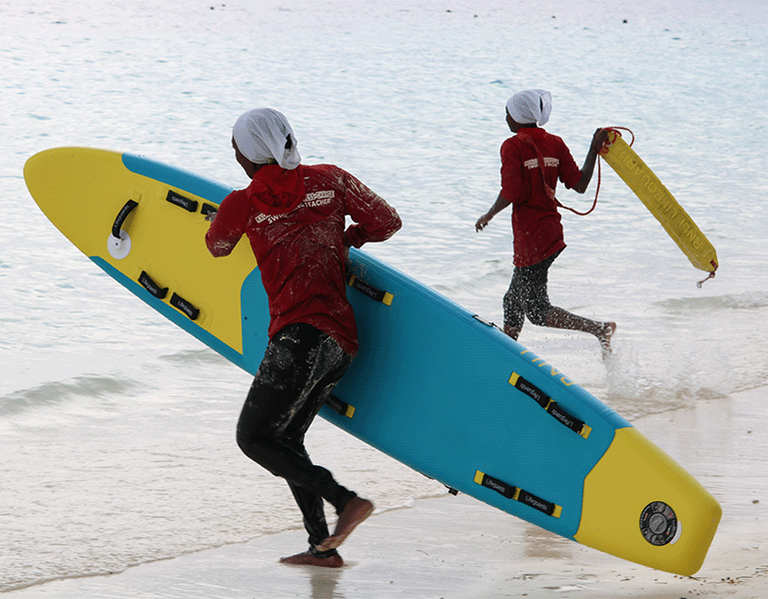 Inflatable Rescue Boards
Our Inflatable Prone Rescue Boards give the perfect balance between high-end lifesaving performance and practical usability. It is a highly durable and cost-effective piece of Lifesaving Equipment and are a fantastic substitute for a traditional hard board: whether for Training or Lifesaving purposes, in a surf or flat-water environment. Just like your Lifesavers, our boards always Perform Under Pressure.
Super Tough Inflatable Prone Board Construction
Packed full of incredible features and patented innovations the Red Rescue Prone Range is built to endure the harshest of environments. We use our industry leading technology MSL Tough™*: a high definition drop-stitch which is exclusive to Red and delivers a long-lasting outershell. Our 72 hour construction process is 10x the Industry average for an Inflatable Board and we have the industry's most rigorous quality control process, ensuring that we never compromise on stiffness, durability or performance.
The boards deflate and pack down into our specially designed backpack, made using rip-stop toughened materials and boasts a padded backpack system and integrated wheels for easy transportation. Our double chamber Titan 2 Pump reduces the amount of time and effort it takes to inflate your board by half and ensures you can easily get the board to the recommended pressure of 20psi. Pulling on over 10 years of inflatable technology and design experience – every aspect of your board package has been designed to deliver performance when you need it most. *Trademark registered by Red Paddle Co