This is the year to elevate your SUP experiences with a board that gives you the confidence to go further, faster.
Now in our 15th year, we are passionate about and dedicated to getting more people out on the water by creating the world's leading inflatable paddle boards.
We're here to guide you through the upgrading process to find the very best paddle board for you.
Why upgrade your paddle board?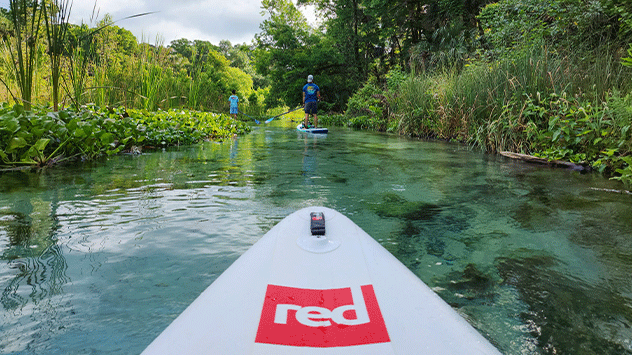 Why upgrade your paddle board?
More often than not it is the materials and construction of a paddle board that leave you feeling unstable and unconfident on the water. Cheaper materials and quicker construction methods produce boards lacking in rigidity and to compensate, often the thickness of a board (the depth between the top and bottom deck) will have been increased to add volume. This is counterintuitive as moves a paddler's centre of gravity further away from the water, making things feel unstable and unbalanced. The key to stability and progress is finding the 'sweet spot' for the board's dimensions and this can only be achieved if the right materials have been used and time and attention to detail have gone into constructing the board.
Why choose a Red Paddle Co board?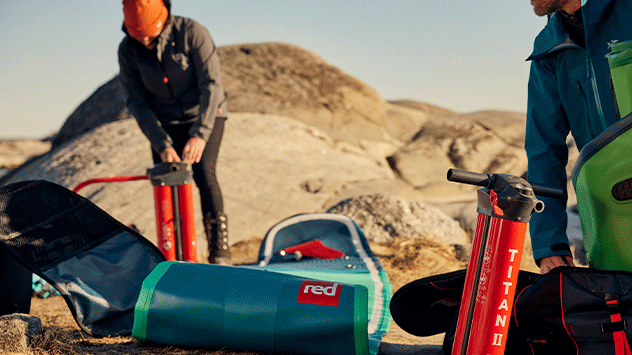 Why choose a Red Paddle Co board?
Here at Red we have been building boards for over 15 years and our design team has pinned down the 'sweet spot' for dimensions and thickness for all of our boards, offering performance-based construction that feels grounded, stable and safe, so standing up is no longer a far off goal but something that is perfectly achievable for everyone. You'll feel more stable, and more confident to travel further, faster. There's also the reassurance of our 5-year warranty, a dedicated customer support team in South Devon along with our dedicated network of highly experienced retailers and SUP schools across the UK.
Read more about our boards and how they're built differently
Upgrade to an All Round Paddle Board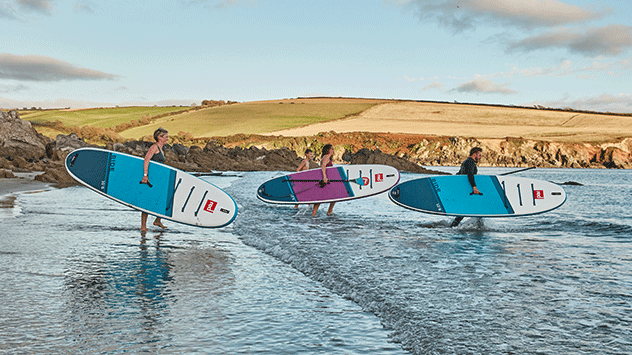 Upgrade to an All Round Paddle Board
Struggling to stand up? The Ride Range is the perfect place to start if you are looking to upgrade. Made using exclusive MSL technology, our Ride paddle boards offer unrivalled quality and innovation. They're great for beginners as well as seasoned paddlers who want all round performance and absolute versatility. The 10'6" Ride offers a smooth and stable ride to paddlers under 110kgs. The 10'8" Ride's additional volume offers exceptional stability, making it a great upgrade choice for larger paddlers or those planning to have a passenger. The 9'8" Ride is best suited for lighter riders under 75kg, as it's lighter, thinner, fast to inflate and super agile.
Upgrade To A Touring Inflatable Paddle Board
The perfect next step on from an all round board, touring boards have profiled noses and are longer in length. They make cruising effortless and are a great option if you want to load up your board to travel further as they offer fantastic stability.
Sport Paddle Board Range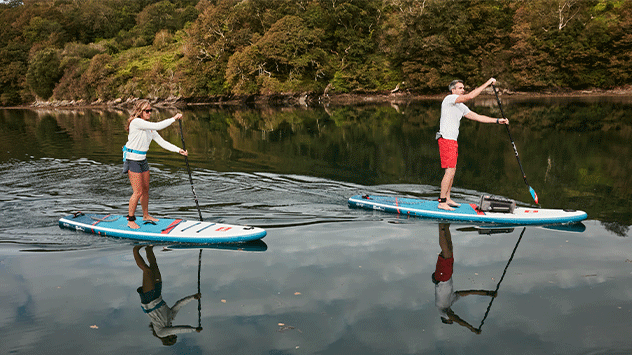 Sport Paddle Board Range
If you've been paddling for a little while, looking to up your game and want something a bit nippier, the Sport range of Red boards is a great first upgrade route. The sleek shape, speed tail and the drawn-out nose gives maximum glide across the water, meaning you can paddle faster and further for longer. Red's unique RSS battens also offer unrivalled stiffness... and it doesn't hurt that it oozes style. There are three Sport boards in the range designed for different sized paddlers.
Voyager Paddle Board Range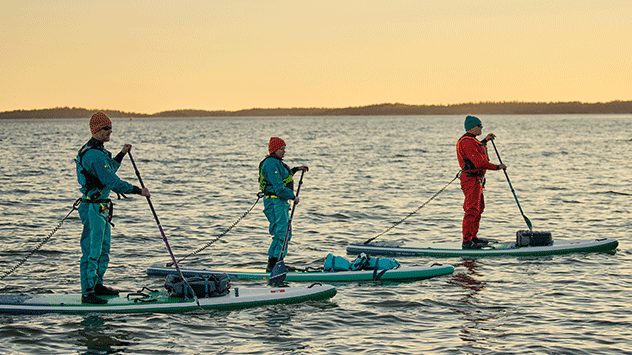 Voyager Paddle Board Range
THE ultimate touring boards - designed for epic adventures. Load them up and the world's your oyster! Designed to glide with ease, be super durable and offer unrivalled stiffness and stability, the Voyager range of board is the go-to for avid adventurers around the globe. Packed with innovation unique to the Voyager range including the V-Hull, allowing you to cut through the water and cruise like a pro, eating up the miles with ease. These boards are designed to be loaded up with gear on the front and rear of the board setting you up for multi day adventures.
Upgrade To A Compact Inflatable Paddle Board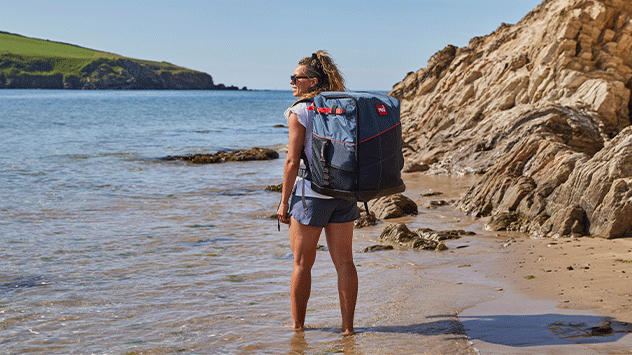 Upgrade To A Compact Inflatable Paddle Board
If you're looking for a board that can be transported easily as well as being stored where space is an issue, the Compact range is worth checking out. With 4 boards in the collection, the Compact board was 10 years in the making and is exclusive to Red. Packing down to half the size of a standard inflatable SUP, the Compact is a step forward in what an inflatable board can offer. Compact boards offer exceptional transportability without compromising on performance.