Return to blog
Avoid the Afterdrop the Art of Warming up
Outdoor
Safety
Swimming
Posted by Alex Clasper
The Afterdrop is a continued cooling of a person's core temperature during the initial stages of rewarming from hypothermia.
If you've spent any length of time outdoors or in cold conditions, it is most likely that you've experienced Afterdrop. Afterdrop is the rewarming after being exposed to the cold for a length of time. A common trait for surfers, open water swimmers and paddleboarders who weren't expecting to take a swim. As the body is exposed to the cold it shuts down circulation to your skin drawing blood to your core which helps keep the body warm. However, as you warm up the process reverses, the blood starts to recirculate in your extremities cooling as it travels. Have you ever experienced that slightly odd sensation of warming up immediately after submersion to then cool down? That is the afterdrop. So how do you avoid the afterdrop? Well here's a few tips to warming up.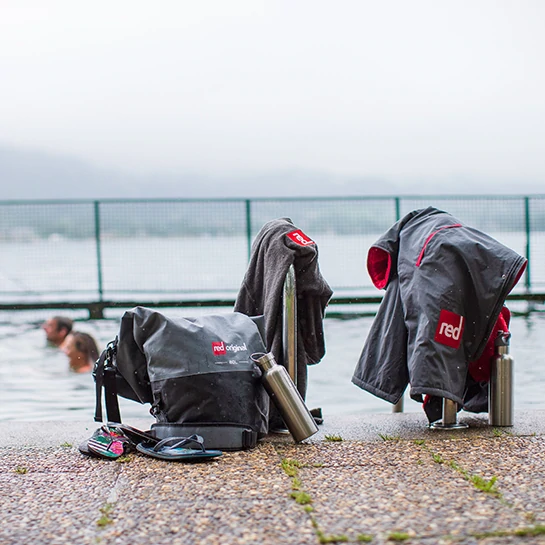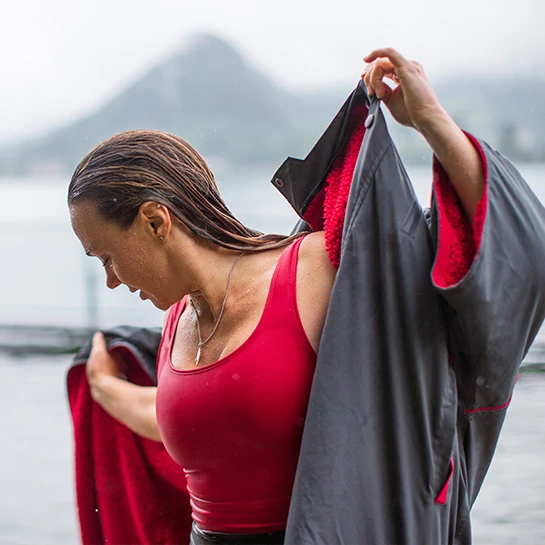 Warm up as you cooled down
One common mistake after spending a few hours either immersed in water or perhaps just a cool day outdoors. Is that you warm up too quickly jumping into a hot shower or jumping in the car and blasting on the heating. What actually happens is by jumping into a hot bath or shower you pull the warm blood that has pooled in your core to the rest of your body which ultimately cools you down.
As a rule of thumb it's best to warm up at a similar speed in which you cooled down. For example if you're out on your SUP and you take an un-expected tumble into cold water. That sudden shock as you hit the water will no doubt take your breath away. If you hop out and immediately get warm your body will recover pretty quickly. Getting colder over a longer period of time requires a little more care. As with a lot of adventure based sports, we are generally away from warm comforts usually for at least a few hours, sometimes days. As a good guide if we slowly feel the cold creeping in and get cold over a few hours we want to warm up slowly.



A guide to warming up the right way!
Drink a hot drink. The Red Original water bottle can keep your drink hot for 12 hours. If you're out with a group of kids or simply someone who isn't a tea or coffee person, hot juice is a firm favourite. Or alternatively just a bottle of hot water and a few camping cups and some sachets of soup or hot chocolate will help a lot.
Strip off the wet clothes. Time spent sat in even slightly damp clothes over a period time can really cool you down.
Eat. Having handy snacks in your car or out on the water is well worth it. Little and often is a good rule of thumb to follow, mini-chocolate bars with a little hit of sugar work well.
If you don't have access to a car with heaters or an indoor environment, try and stay out the wind. Windchill will cool your outer body temperature to the same as air temperature. Huddling up together and using the warmth of your friends can make a big difference.
If your hands are cold but you have no gloves sticking them under your armpits is a common hotspot for getting your fingers functional again.
Avoidance is better than cure
As with everything the best strategy is preparation. With the correct layers and a few spare items you can ward off any unpleasant chill.
Whether it's a bag of spare jumpers and jackets that sit in your car. Or perhaps a Pro Change Robe, which is handy to throw on as soon as you get off the water or back from a wild dog walk. If you have room it's always worth taking spare clothing with you. If you're out on your paddle board, the Deck Bag has plenty of room to store a spare Performance Top Layer, wooly hat or towelling change robe.

Are you wearing the correct clothing?

We've all heard that saying there's no such thing as bad weather just bad clothing. Well it's certainly the case. Layering up is an art-form in itself, the versatility of a good base layer can go a long way. Something like the Long Sleeve Performance top makes an ideal thermal layer to wear under a waterproof coat or jacket.

Check the weather

With all the apps and weather checking services these days, we have no excuse not to keep an eye on the forecast. The more we adventure year round and explore further the more important keeping an eye on the weather becomes. We advise keeping an eye on the forecast up to a week before you intend to venture out. This can give you a good indication to how wet the ground is if you're biking or perhaps which areas may be water logged after torrential rain.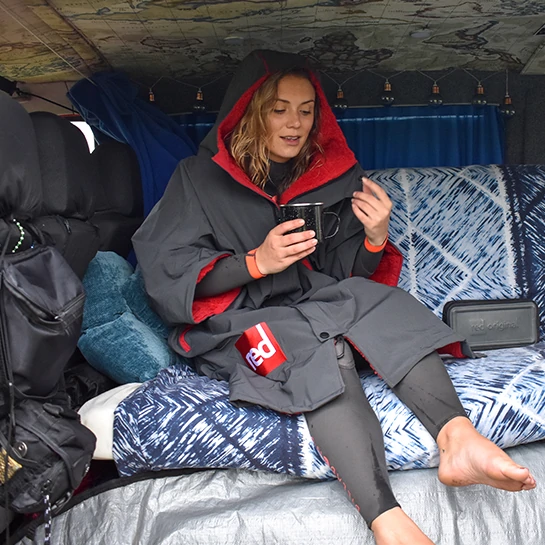 Sip a hot drink to help warm up your core temperature
Smart Adventuring
There is certainly an element of risk that is addictive for us when we go outdoors. And we certainly don't want to become too regimented every time we step outside the front door. That said with a bit of preparation and the correct kit and some spare snacks, you can avoid those uncomfortable chilly moments.Share your Adventure
If you're out on an Original Adventure remember to tag your photos @redorignalaccessories